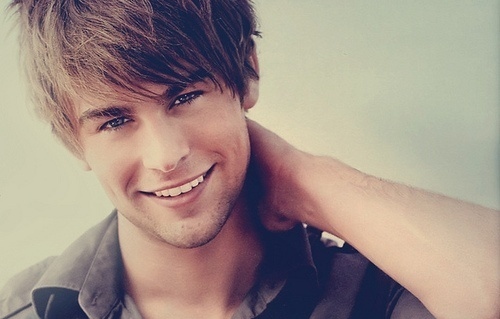 Full Name::
"Both work for me. . ."
Jack Sullivan but most people call him Mr. Jack
Age::
"Does my age bother, because if it does we can solve that problem. . ."
Twenty two
Gender::
"No need to check, the lack of boobs speaks for itself. . ."
Male
Role::
"I love my job. . . when there's actually something to do. . ."
B Staff
Appearance::
"Can't take your eyes off right. . ."
Jack has an absolutely gorgeous muscularly ripped body, every muscle of his body seems like it was sculpted with care. His eyes are stunning bright blue while his hair is a simple light brown that is usually in a total sexy mess. His skin isn't tanned but it isn't pale either and both of his ears have many piercings which he decided to make on his own.
He stands a little higher than six feet and has slow graceful movement but he often walks with his hands in his pockets and his upper back slightly hunched. The two things you will always see him with is a cigarette at the corner of his mouth sometimes lit sometimes not and also the bandages around his neck. Some people think that he has a bandage around his neck because he needs to keep his jugular inside and others think that he's hiding a war scar. . . Many things are told about his bandage around the neck but really it's just because he had his ex-girlfriend's name tattooed there and he doesn't want to let anyone see it.
Personality::
"Did you know that asking too many questions can kill you. . .?"
Jack is a pretty quiet guy with a lot of secrets and only a few people know about them. The way he walks and looks at you can be very intimidating and can make you feel minuscule but when you talk with him you find that he's a very outgoing guy with a lot of charisma and humor. The only problem is, he is a man of many faces. . . He can make people think he is the nice, social and sexy guy or he can also make you fear him like he was the Devil himself.
Jack will never settle a connection with someone because he doesn't like the part where he has to help the person out or listen to their problems. He is truly a heartless man with no feeling in him, but he will make you believe otherwise. Only his victims know who he really is. He will not only torture them physically but mentally and when he tortures mentally you will never forget it. It will make you go mad for the rest of you life, you will have nightmares of Mr. Jack.
But Jack wasn't always like this. . . he used to really be a nice guy, but that was before his ex-girlfriend who tore his heart out and turned him into who he is today.
Fears::
"There are only two fears I will admit to. . ."
~ Love
~ Not accomplishing his goal
Strengths::
"Do you really want to know?"
Jack has a way of entering into peoples minds and knowing exactly what will drive them to madness and he will do it until that happens. He is impervious to other people's suffering and he doesn't care what people think of him, he will do as he pleases with out a damn care in the world. He is also very strong because he spends hours a day training.
Weaknesses::
"My arch enemy, my nemesis, my dark side. . ."
His ex-girlfriend which would be The Doctor. . .
History::
"Entering my past does not mean you know who I am. . ."
Jack lived a simple life, he went through his glorious high school years then did college and became a psychologist. . . a very good one. He met all sorts of patients but he would always separate work from his personal life so that he would be taken into their madness or issues. Until he met the Doctor.
For him it was love at first sight, it was a new beginning in life. He enjoyed every second with her and never wanted to let them become only faded memories in his mind. He loved her. But then she left him and not even telling him up front, no, she left him a letter on the kitchen table one morning saying, "I'm sorry, but I guess we just weren't meant for each other."
That drove Jack mad. But he didn't curl up into a corner and slice his wrists like his patients would, no, he went after her. He tracked her down for months and then finally discovered that she worked in the Facility. After that, it was easy enough for him to get in because of his job as a psychologist. Now he is persuaded that he will make her feel miserable, he will make her regret her decision about leaving him and he would invade her whole world until she would cry out for mercy.
Sample::
"It's funny how people put you to a test. . . it all has to do with the mind. . ."
Jack Sullivan
"
Doctor
," Jack's Monday morning patient was on the edge of falling into a crying waterfall, "
I don't know what to do anymore, I feel as if no one cares, as if even if I were to disappear no one would notice my absence.
"
His Monday morning patient was a famous opera singer with serious solitude issues. If she didn't get enough attention she would try to suicide herself to see if anyone would notice, the problem is that her suicidal issues have been bringing her reputation down and worrying a lot of people that loved her. Since Jack was the infamous psychologist in the city they immediately came to him for help.
"
Tell me, dear
," Jack put away his notebook and bend forward on his arm chair, "
How many tickets have you sold for your next opera?
"
"
Thousands, but that's not the point -
" She was already getting the sniffles so Jack passed her a tissue.
"
And if you were to disappear, those thousands of people who can't wait to see your performance, how do you think they would feel?
"
Silence in the room, the woman blew her nose and wiped her eyes then she smiled at Jack who smiled back and then gave her a photo. It was a picture of her and her friends before she had become infamous in the opera business, "
Now how do you think your friends would feel if you decided to leave them? Open your eyes and you will see that there are so many people watching over you when you don't see it.
"
The woman cried on Jack's chest for a long while before it was time for her to leave. They had taken an appointment for next time and as she left in the car Jack noticed a woman, a very beautiful woman leaning against the wall staring at Jack. It was the woman of his dreams, the Doctor.
"
Do you want to cry on me too?
"