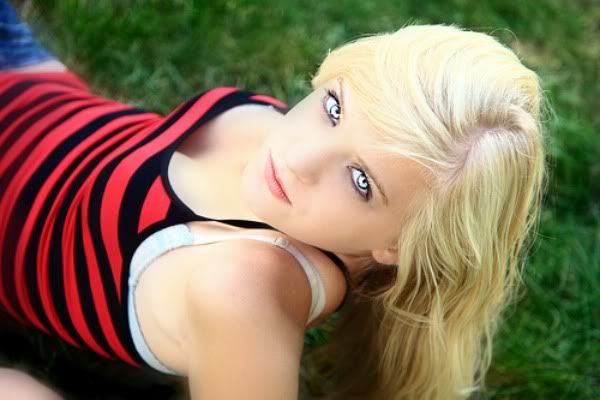 Characters Name:
"If you have to know... you can call me Shay." Shayla Marie Bones
Age:
"Age? Eighteen and crazy." 18 years old.
Gender:
"With a name like Shayla you think I'm a guy? Female
Role:
"Staff or subject? Oh please. You and I both know I don't have a disease." Subject
Description:
"Use your eyes genius. If you don't like it, that's your problem." Shay is tall and thin. She has a small structure with all the appropriate curves for a girl. Her hair is long and swings down to her hips in two long layers of white-blonde. At first glance, and in the sun, Shay's hair appears blindingly white, though it holds just enough of a yellow tint to be tagged as blonde. She has pale skin that, oddly complements the sheer white of her hair, making her appear to glow in the sunlight. Shay's eyes, like everything else about her, are pale as well, but peircing. Typically, they'd be a simple gray, but hers are much smokier with a metallic shine that, instead of gray, makes them an icy silver. These eyes are her most striking feature. Her style consists typically of a tank top with a pair of jeans, sometimes, she wears old sports tees or sweatshirts, and her jeans can sometimes be swapped for a pair of shorts. Her shoes are always the same white athletic ones. Not much of a princess, Shay nearly never wears makeup, lets her hair lay naturally, and has never worn a single skirt or dress.
Personality:
"Rules... I prefer to see them as... Guidelines." Shay is a rule breaking tomboy. She lives to rebel and if never listens when someone puts a task before her. She's always skipping classes and pranks are her favorite pass time. Getting out of trouble is also another specialty of hers. She's not often caught for she's sleek, but when she is, she lies with perfection. Shay isn't very feminine or girly and loves getting her hands dirty. Shes so full of energy and sarcasm, a lot of people can't handle her. Shay's a little lonely, but never shows it. She's not afraid to step up and get a bloody nose or black eye if needed.
History:
"What is this? An interrogation?" Shay was born into a poor family. Her mother was sick, her father was a horrible man, and her three older brothers all but raised her. Shayla's father was an abusive man while her mother was the most soft spoken woman alive. For ten years, her very existence protected Shay from her fathers beatings. And then her mother got sick and passed away. Her oldest brother was fifteen at the time and he did his best to protect her from her father. Growing up with three older brothers, she was raised to love anything that scraped knees, involved mud, or rebelled authority. Luckily, Shay was only forced to live with her father for three years until James (the oldest) turned eighteen and at thriteen, moved the four of them into a dime-sized apartment where they struggled to put food on the table every night. The Denva program would have never noticed her if it hadn't been for a single night in her fourteenth year. She'd gone out to steal some food for the sad little family, but had gotten caught. The police took her to the station, but instead of being punished, she found herself in a meeting with two strange doctors. They poked her and asked her personal questions, to which she lied to. They buzzed quietly to each-other about how she had no parents. How she'd be "perfect." When they were finished, they turned to her and told her that she might possibly have a deadly disease called Denva. She was not allowed to leave the station and her brothers were informed. They had twenty minutes in which to say goodbye and then they were hastily shooed. The two doctors whispered to each other continually back and forth, making her suspicious, and when they were done, they told her that they had confirmed their diagnosis and she did, in fact, have Denva. It took less then 22 hours for them to send her to the quarantined community where she now lives, bending the rules to the best of her ability.
Possible Romance:
"Me? Romantic. You're hilarious. Call me when you have a taker. Then we'll talk."