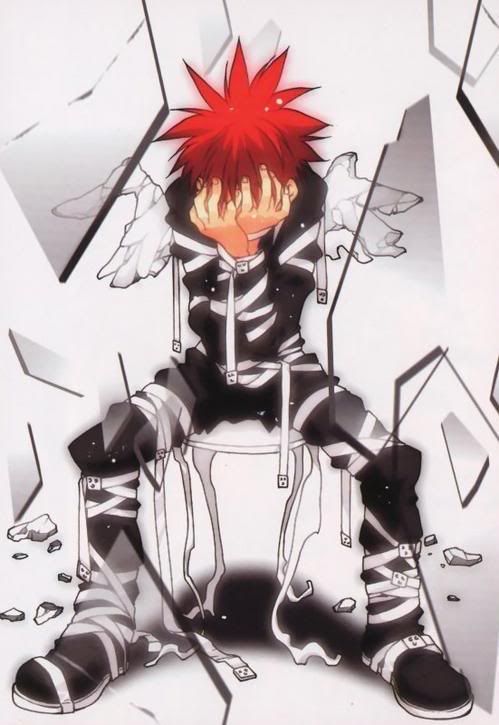 Role: Destruction Force
Full Name: Apocalypse Refrain
Aliases/Nicknames (if any): Ref
Title(s): Agent or Captain
Preferred name: Ref
Age: 20
Sex: Male
Sexual Orientation: straight but uninterested in relationships
Race: Demon
Height: 5'11"
Weight: 158 lbs
Build: quite muscular but wouldn't appear so at first glance. Very trim so almost no body fat.
Eyes: umber brown (look almost dark and moody)
Hair: fiery red, but slightly dark in color. It's stubborn, like him, and sticks up at odd angles. It's long enough so no one can tell if he has proper horns or not.
Tattoos and Scars: There are many. He has a series of sharp, ugly black numbers at the bottom of his hairline above his neck. They designate his rank and which demon he is. He has a red scar from when he was raked across his right eye for not paying attention. It starts a little above the eyebrow and hits the cheekbone. His name is tattooed vertically up and down his chest in a strange font. Even his biceps are covered in strange spikes and swirls with mysterious symbols strategically placed. He claims they are his magic symbols. Last, but not least he has a gigantic scar on his thigh from when he stabbed himself to frighten his superiors.
Appearance: all black outfit with combat boots and strange white belts is his work outfit in Hell. For his field work, he wears tight and dark jean-like pants, black shoes and a nearly see through wife beater. He also wears a cloak when he feels particularly aggressive.
Personality: very quiet, but scary when he is so because he means he is plotting. He hardly ever talks unless necessary, so if someone's getting chatted up that means he probably plans on starting with small talk and end up with you murdered and completely petrified by his words. His relationships have all consisted of him using people. Mostly the supernatural and him agree to use one another. In spite of all his scars and tattoos, he's incredibly good looking and uses that to make people do what he wants. His charm is astounding and can make a person follow him but his looks turn and strike pure fear into anyone. In Hell, they wonder why he doesn't go rogue as he is one of the most lethal weapons they have. Instead, he follows orders and does their missions for them. They usually send him out alone, except when he asks for soldiers which they immediately comply.
Weapons (if any): collection of daggers he keeps with him at all times. Also has a staff but only uses dark magic on supernatural beings.
Special Abilities/Skills: his strategy is pure genius which is why they give him the position of Captain, even though he doesn't ask for it. He can see the most evil act you have committed and will twist it to do as he pleases. He is one of the best killing machines ever.
Hobbies: making up new and inventive ways to kill people
Serious Flaws/Addictions/Disorders: extremely ultra-violent. He doesn't much care seeing as he's never known anything else. In fact, he's pretty proud.
Place of Birth: Hell
Now lives: Hell and spends his time either doing missions where they send him or going rogue and wandering
Relationship History: never had any real relationships, just using people. The humans never see it coming.
Willing to 'take it to pm' *winkwink*: it's complicated but I'd have to say no. He would do something like that but I'd rather just say it happened and not work out all the details, thanks.
Family: never had any. Demons are born from eggs so they can examine them for the good ones and eat the others.
Other Remarks: pure evil