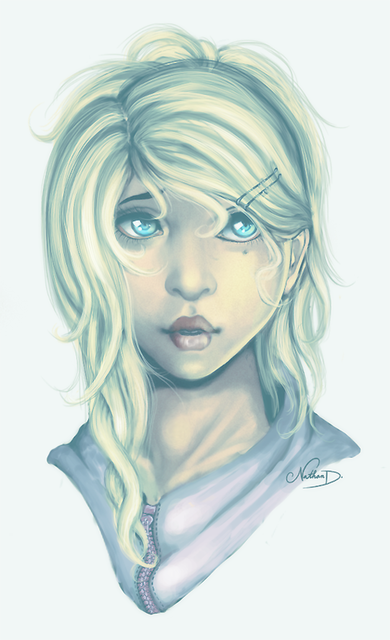 ©2009-2010 ~Kira-Miyuki
Name:
Coriel
Age:
28...no, 17! No, 52! No--Oh, well, bother, I can't seem to remember.
Race:
Nymph
Occupation:
Coriel has worked as anything from a dancer to a baker to an acolyte of an all male church (I'm sure you can imagine how that ended). Right now, (s)he's spending his/her time as an adventurer (also known as "between jobs/homes," to all of you who aren't aware of the status quo's view of adventurers). Oh, did we mention (s)he's a pretty good thief?
Alignment:
Chaotic Neutral Neutral Good (figure that one out and you get a cookie.)
Appearance:
Because (s)he is a nymph, Coriel's appearance is subject to change, and by George, change it does! (S)he can rarely be seen taking the same form twice, often choosing to go with more extravagant and whimsical forms over more conventional ones. His/her style of dress doesn't change very often, however, and most recognize him/her by that--currently, it is something of a cross between male and female garb, including a long, belted shirt and leggings to keep the cold away.
It is also important to note that Coriel often does not change the color of his/her eyes, which are a pale blue color. (S)he thinks they're pretty.
Personality:
Despite Coriel's apparent age, (s)he has a fairly hard time comprehending the ways of the world (s)he was born into, including the importance of gender roles and sexuality in everyday life. While (s)he is far from innocent, Coriel still displays a childlike naivety, and often does not understand things like sarcasm and innuendos unless (s)he is the one making them. That being said, (s)he can innuendo like a pro!
Being as (s)he is a nymph, Coriel is a very sexual individual, with plenty of practice at the art of seduction. This often goes to waste, however, as (s)he has a tendency to forget that his/her own body has breasts/dangling participles before making a pass at someone else's. After a brief explanation of Coriel's species, (s)he finds that most people forgive him/her, but still aren't so hot on the idea of sleeping with him/her.
Coriel is a pacifist, a self-proclaimed "lover, not fighter", with his/her head in the clouds and a lofty moral view of when it is right to commit acts of violence (i.e. never). No one has told him/her that food comes from murdered animals, so (s)he isn't a vegetarian, but (s)he might be devastated if it came to light that (s)he had supported this sort of murder. Tasty, tasty murder. (S)he also has the tendency to try to talk to whatever baddie has presented itself, rather than to try to fight it. This has led to many a scuffle.
Coriel's sense of humor is either childlike or very,
very
adult, depending on how (s)he feels at the time.
Powers:
The ability to change gender, appearance, at will.
Skills:
See above occupations for a vague idea of the number of handy skills that Coriel can do. (S)he is an exceptionally good pickpocket, lock picker, and general ne'er-do-well at present.
Weaknesses:
Will not strike first. Also, though cold iron does not affect nymphs the way it affects most fae creatures,
wearing
it can cause them considerable issue and discomfort.
Bio:
Coriel has lived a handful of human lifetimes, to the point where (s)he has a hard time keeping his/her story straight. And so do we.
Other:
Yay nymphs!