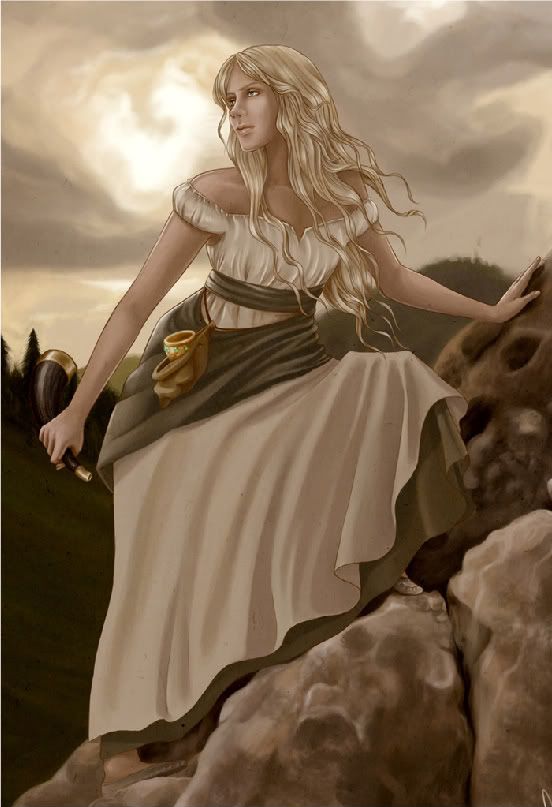 ©2008-2010 =Metalblackfae
Name:
Johanna Calimme Arista Greyes II
Age:
18 (old enough to know everything and too young to realize she's dead wrong about that.)
Race:
Human (and proud of it, too!)
Occupation:
Lady Johanna Calimme Arista Greyes II, princess of the land and daughter of King Alengrad. Also full-time fugitive--she's out past her curfew.
Alignment:
Chaotic Prissy (she'll tell you she's Lawful Good, but she's hardly lawful anything)
Appearance:
Light haired and grey eyed, Johanna might be considered attractive, at least by members of her own race. If years of being well-fed and spoiled in her capacity as the king's daughter have widened her figure at all, the effects have been well concealed by her corseted, courtly style of dress. Her figure is limber, almost boyish, with a modest bust and thin, delicate limbs. She is often quickly written off as not being good at anything, which is probably just as well, as she looks like she might be very dangerous with a sword. To herself and all parties around, of course, in a very unintentional way.
Her lineage can be traced through the lines in her face, shapely and well constructed, just like all the other inbred royals in the country's history. She wears her hair in a wide variety of annoyingly elaborate styles, appropriate for court but not so appropriate for expeditions in the wilderness.
Personality:
The Lady Johanna, daughter of His Majesty the King, is a proper princess, with all the manners of the most upstanding ladies in the court--and all the temper as well. When her specifications are not met, she is boisterous and demanding, and though she likes to entertain the idea that she is invincible, this idea is one that her traveling companions are quick to point out is all in her head. Headstrong and spoiled, Johanna is certain that she is exactly what any traveling band could possibly need, and so long as they cater to her whims, they will be happy to have her along.
No one else sees it that way, but let the girl have her delusions.
Because she has lived such a sheltered existence, Johanna is understandably naive and easily frightened. When she isn't giving orders to her companions, she is hiding behind them or getting them into some sort of trouble.
No wonder nobody wants to deal with her, eh?
Powers:
Johanna has no specific supernatural abilities, unless one counts her ability to annoy all living creatures within a 500 foot radius. Well, perhaps only creatures that have an intelligence score of five or more. So, all
sentient
creatures, then.
Skills:
Surprisingly, this princess is fairly clever, and specializes in MacGyvering her way out of otherwise inescapable situations, which has probably proved very annoying for any of the companions who have tried to be rid of her. She is the sort that could create a nuclear device out of a paper clip, a pair of scissors, and a jar of peanut butter, if any of these objects existed. This comes in useful on occasion.
She is also a surprising marksman--markswoman?--which would explain why she, unfortunately, had not starved to death before coming across her companion. After she got past the fact that it was a little icky, she decided that hunting small furry creatures was much more constructive than singing to/about them.
Weaknesses:
Johanna has very little training in magic or fighting. Why she decided to come along for this journey, one will never know.
She also likes things that are incredibly cute, and can be very flaky.
Bio:
Johanna has lived your average princess life, in your average royal household. Recently, however, she decided that she was fed up with life in the palace, and fled in search of a new way to go about things. This apparently included joining a brigade of fighters and mercenaries on their way to battle a gigantic terrifying dragon thing.
Don't question her logic, she's royal and that involves a little bit of inbreeding.
This section should be longer.
Other:
She matches everything. This means that she only purchases arrows with the same color feathering as the rest in her quiver, and that she often berates those around her for not doing the same.
I would say that certain characters particularly dislike her, but Hell,
everyone
dislikes her.