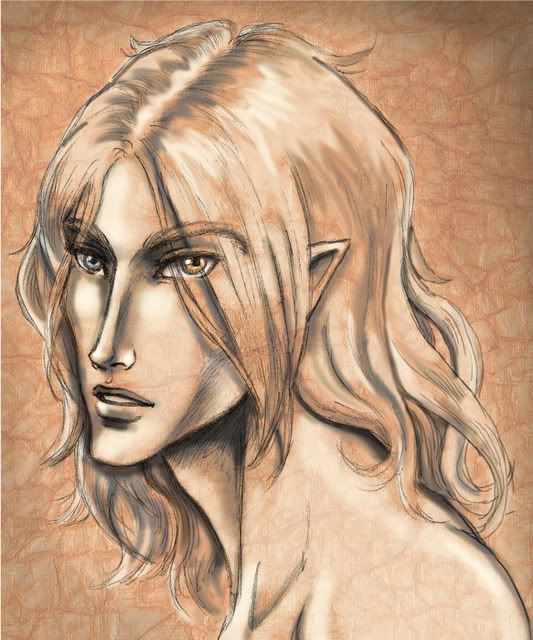 ©2009-2010 =temiel
Name:
Niall of clan Daerretyn
Age:
342
Race:
Sylvani
Occupation:
Niall's position is delicate and rare--he is one of the few ambassadors of the Sylvani people, on a journey to Emeralia. He isn't quite sure how he got caught up in all of this, but such is life, eh?
Alignment:
Neutral Good
Appearance:
Niall, like most members of his race, is tall, slender, and pale, his dark hair often pulled back from his eyes in the conventional Sylvan braids or tied at the back of his neck. His nose is a wee bit too long, and a bit like a hook, but don't tell him that--his appearance, in his mind, is flawless.
Niall carries much of his wardrobe with him, as many Sylvani do, and rather than waste money on a large backpack with very little usable gear, he has invested in having one particular pocket enchanted by a human wizard to contain his garb. It works a bit like a bag of holding, but will only accept certain types of objects (those that can be worn on the body). This is extremely useful for Niall, who doesn't realize that clothes weigh less than weapons, foods, camping gear, etc..
He is quite obviously pampered, and when he looks disheveled, you can be sure a very confused look follows.
Personality:
It is no surprise to many to find out that Niall is a Sylvani ambassador and that he is a pompous asshole all in the same breath. True, he's a
useful
asshole, and he generally has a good idea how the world works, but that does not always make up for the fact that he has practically no sense of humor. It has been speculated by those in his Lady's court that he has not gotten laid in quite a while, and that that might be cause for the strange behavior. He would assure you that this is not the case (but feel free to make your own decisions on the matter).
Niall is used to getting his way, which is quite evident from the way he speaks. He's often surprised to find he has no authority over members of other races, but he takes it in stride.
He's an unsociable old bastard, and some might even call him a curmudgeon--you know, minus the wrinkles. It's not that he'll stab anyone who approaches him, and it's not like he's nerdy and awkward. He's just a condescending old coot, and looks down on just about everybody.
It isn't his fault.
He wasn't loved enough as a child.
We promise, that's all it is.
Powers:
An adept magician, Niall is capable of minor healing magic and a fairly extensive array of elemental magic, including sweet-talking plants into growing.
Skills:
Like many adult Sylvani, he's skilled with a bow and arrow, and though his slender form would imply otherwise, a steel sword is not too heavy for him to swing. He's also a wonderful diplomat, and can be very charming when it doesn't involve having actual friendships and relationships with people.
Weaknesses:
He hasn't gotten laid in about fifty years (whoops, did we say that out loud?) and is prone to second guessing himself.
Bio:
Niall was not quite as pale as other Sylvani babies when he was born, and as such, he was taken by the Priesthood to be raised. However, when this not-as-pale-ness turned out to be an unfortunate condition involving the consumption of too many carrots on the part of his mother, the Priesthood had no idea what to do to him. His mother had no intention of taking him back--she was already carrying another child, and did not have the means to raise two. So, rather than raise him themselves or leave him out on the streets, the Priesthood handed him over to one of the city's many ambassadors. He was schooled and brought up in the profession, and has known little else--his life has been surprisingly static for someone who has lived so many places.
Rumors occasionally circulate about a brief affair between himself and the Lady of his court. However, rumours circulate about everyone and the Lady of his court, so either this is utter beeswax or she is quite the hussy.
Other:
He is rather fond of lavender. And green. And getting his toes wet.