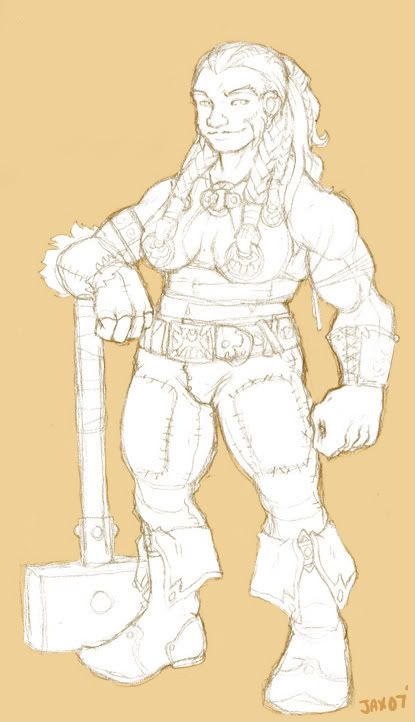 ©2008-2010 ~jaxthebat
Name:
Sigrid Kazagrim of Clan Greyfist
Age:
53
Race:
Dwarf
Occupation:
Mercenary, bounty hunter, exterminator--she'll take any job that means she can smash things.
Alignment:
Chaotic Good
Appearance:
Short, stout, with wild red hair that falls in braids over her shoulders and down her back, Sigrid is a classic example of a lady-dwarf. She will happily remind you that it's perfectly acceptable for she-dwarves not to have beards, and that many of them are born that way (though there are a few bearded lady-dwarves who have seeded a misconception among many that
all
she dwarves have beards). She does, however, have some bitchin' mutton chops. She comes from a land where darkness reigns and personal grooming is optional, and it often shows--while she will wash anything nasty from her hands if she doesn't want it in her food, and will generally bathe when a strange odor begins to follow her around, she finds a bit of gore or grime a harmless addition to one's reputation, and will only very seldomly undo the large braids in her hair to comb out any mud or other substances that have found their way into them.
This, however, is not to say she is an unwashed heathen. Her armor and weapons are of the finest make, gifts from her uncle, the Greyfist Clan's most promising smith. She takes great pride in them, and keeps them shiny and sharp.
Personality:
Sigrid's short temper and tendency for directness are both characteristics of her dwarven ancestry, but her clan would like to make the formal claim that they do
not
know how she ended up as such a violent individual. It is not so much that she's actively violent and unpleasant, of course--she just feels like any argument or problem that cannot be settled with violence isn't worth settling.
Despite this, she tends to be a fairly matronly individual, if in a bit of a bossy way. If you won't do something, you might as well expect Sigrid to march in, call you a sissy, and show you how easy it is. This is especially hilarious when the thing that needs doing involves being able to reach the second level of cabinets, but that doesn't happen very often. Sigrid also Does Not Approve of your inappropriate conversations, most of the time, though this often leads to people being surprised when she makes inappropriate comments herself.
Powers:
She can yell really loud and drink you under the table.
Skills:
She can yell really loud, smash things, and drink you under the table. She can also make you feel like a tiny baby weakling pants. It's kind of her schtick.
Weaknesses:
She has a tendency to drink too much and charge blindly into battles. There is no word yet as to whether these two things are related.
Bio:
Sigrid is the last living female member of the Greyfist clan, which means that much to her father's disdain, she'll likely end up marrying outside of the Greyfist clan. However, she'll have no part of that, and recently decided to earn a place among the men of her clan, rather than being married off. This sounds a little stereotypical, until one realizes that dwarf men basically have to go through the same ritual if they don't want to be married off to scary ladydwarves.
Other:
She can drink you under the table. Don't even challenge her, dude--your liver will stab you.