Q

uinn's Corner Restauran

t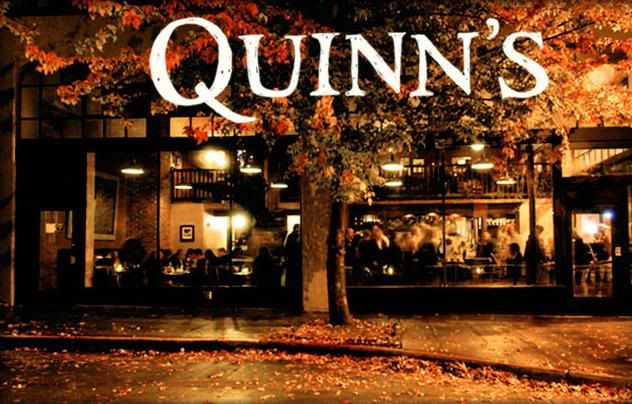 Overlooking Elliott Bay in Seattle, Washington, Quinn's Restaurant was built in 1957 on the corner of Pike Street and Broadway. The owners, brothers, Frank and Mark Quinn, passed on the restaurant to Frank's son in 1979 after he graduated college. James Quinn had gone to college for Business, but it was always known when growing up that he would take after his father and uncle's restaurant downtown in Seattle. It wasn't until ten years later that he met his wife, Mary, who now also manages the restaurant.

Well-known around the city to the locals and the tourists, word soon got around about Quinn's famous "local flavor"; seafood caught fresh right in the cold waters of the Puget Sound, wild cocktails, and 14 beers on tap. Quinn's Restaurant is now a favorite for amazing food, casual dining, breath-taking views of the salty Sound and beaches, live music, and friendly, energetic staff.

Over the years, staff at Quinn's Restaurant has come and gone. But then again, the restaurant business has never really been the typical workplace for one to retire. Some employees there now originally applied just to find temporary work while they got their life together, or pay off student loans. While some truly enjoy the work, and don't have the resume or ambition to work anywhere else.

So, this story will follow that staff of Quinn's Restaurant.

They are students, musicians, struggling entrepreneurs, mothers, etc. And while each of them are different in size, personality, and age, the Restaurant is the one place they are all brought together, no matter what they have going on in their life. Every night, drama is promised, as well as tears, and stress. All it takes is for one broken glass, one rude customer, or one argument with the boss to send everything downhill. Like a domino, one person's fall effects the rest.

Will the new staff be able to stand the busy weekends and teasing of the senior employees? With different personalities under one roof, can they all remain professional while on the clock? What happens when the aprons are off and restaurant is closed?

One thing's for sure...not one moment at Quinn's will be dull.
1. Refer back to the OOC often for time skips, and communication with other writers.

2. Be comfortable in adding your own twists and drama. It's an open setting, be creative!

3. Post often. Every character will be important.

4. I will not accept anyone who has a history of abandoning RPs, sorry!

Character profiles: No need to write a book, but please try to be descriptive, and include how long they've worked at Quinn's. Also, realistic pictures only, please.

Restaurant hours:
Monday-Thursday: 8am to 11pm.
Friday-Sunday: 9am to 1am

Happy hour (bar) - 3pm-7pm.
Back patio closed from 9pm-closing.
Taking place in...
Arcs are bundles of posts that you can organize on your own. They're useful for telling a story that might span long periods of time or space.
There are no arcs in this roleplay.
There are no quests in this roleplay.
Here's the current leaderboard.
There are no groups in this roleplay!
Welcome home, Promethean. Here, you can manage your universe.
Arcs are bundles of posts from any location, allowing you to easily capture sub-plots which might be spread out across multiple locations.
You can create Quests with various rewards, encouraging your players to engage with specific plot lines.
Settings are the backdrop for the characters in your universe, giving meaning and context to their existence. By creating a number of well-written locations, you can organize your universe into areas and regions.
Navigation
While not required, locations can be organized onto a map. More information soon!
There are no groups in this roleplay!
By creating Collectibles, you can reward your players with unique items that accentuate their character sheets.
Once an Item has been created, it can be spawned in the IC using /spawn Item Name (case-sensitive, as usual) — this can be followed with /take Item Name to retrieve the item into the current character's inventory.
Give your Universe life by adding a Mob, which are auto-replenishing NPCs your players can interact with. Useful for some quick hack-and-slash fun!
Mobs can be automated spawns, like rats and bats, or full-on NPCs complete with conversation menus. Use them to enhance your player experience!
Current Mobs
No mobs have been created yet.
Locations where Mobs and Items might appear.
You can schedule events for your players to create notifications and schedule times for everyone to plan around.
Add and remove other people from your Universe.
The Forge
Use your INK to craft new artifacts in Quinn's Bar & Restaurant. Once created, Items cannot be changed, but they can be bought and sold in the marketplace.
Notable Items
No items have been created yet!
The Market
Buy, sell, and even craft your own items in this universe.
Market Data

Market conditions are unknown. Use caution when trading.

Quick Buy (Items Most Recently Listed for Sale)
None
Discussions
Most recent OOC posts in Quinn's Bar & Restaurant