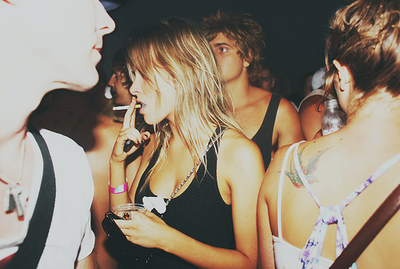 Name:
Catherine Fiona Littler
Age:
Twenty-one.
Hometown:
LA, CA
Occupation:
Cashier at Victoria's Secret | Hip-Hop Dance instructor
[
One
] [
Two
-On the left]
Cathy stands at around a regular height of 5'6, weighing very little due to the careless lifestyle she's been leading for the past year and a half. She's pretty, though, with large expressive eyes, strong facial structure and strawberry blond locks. The girl is quite the bombshell with legs for miles. She does look a bit used, however, too thin for any attractive curves and a pale skin tone.
Truth to tell, she may have recovered from a drug addiction, but her body still has a long way to go to return back to normal. Her hair was the first thing that recovered immediately, it's not thinning anymore and has become thicker and softer. Anxiety and anger issues are common handicaps to her social life, but she
is
getting better with it. The only problem now is the choice of friends. Overall, Cathy has an addictive personality, and as she may be hard to deal with sometimes, it's just her nature. Don't get me wrong, there is no excuse for her outbursts or her unexplainable behavior, but there's a reason behind everyone's little weird quirks, right?
The girl doesn't enjoy confrontation, but she does it herself. She's clingy and jealous, but also passionate and selfless to loved ones. However many problems there are with her, there are as many positive aspects to the girl.
Were it not for her bad choices in life, she would have never been dubbed Crazy Cathy by the staff of Quinn's, because she would have never made the bad choice of Jackson. Stretching back, there would have never been the temptation of drugs, danger, and etc. I'm sure, you're able to imagine the ugly turns and corners Cathy has made. And now here she is, on the path of recovery at a young enough age to turn her life around.