I am constantly torn between killing myself and killing everyone around me.
---
---
---
[img]'Basic%20Information'%20in%20Fontmeme.com[/img]
|| Name ||


Mehagnei Abatescianni


"I have a weird name, I know."





|| Nickname ||


Em / Meg


"It's easier to say I guess."





|| Age ||


18


"Yay?"





|| College Course, Major ||


Bachelor of Arts, Law


"It's what my father wants."
|| Sexuality ||


Heterosexual


"What can I say? I'm normal."





|| Nationality ||


Italian


"My Papa was in the Mafia"





|| Role ||


Assassin


"Following Papa's lead."





|| Face Claim ||


Inori Yuzuriha


"No Comment."
---
---
---
|| Height + Weight ||
5'6" + 103lbs
"I'm on the skinny side, It's actually pretty unhealthy..."
|| Hair ||
Light pink hair that ombres into hot pink and is tied into pigtails with red bands.
"People never believe me, but my hair is naturally a pastel pink. I just dipdyed the ends hot pink because I thought it would look nice."
|| Eyes ||
Blood Red
"People think I wear contacts, but these eyes are real..."
|| Tattoos ||
Back of the Neck
"It's a symbol of my heritage."
|| Clothings ||
Outfit 1
: A simple school uniform consisting of a white button up blouse; blue skirt; Red blazer; red ribbon; white knee-high stockings; and black flats.
Outfit 2
: A black dress which falls to mid-thigh with white ruffles under the skirt. It has spaghetti straps and red ribbon bows which encircle the waist and decorate the skirt. She often wears a pair of black boots with the ensemble.
Outfit 3
: A simple, lacy white dress which falls mid-thigh with spaghetti straps. She often wears a pair of simple white sandels.
"I like wearing dress. Not the most coverage granted, but they are comfortable and allow for easy movement."
---
---
---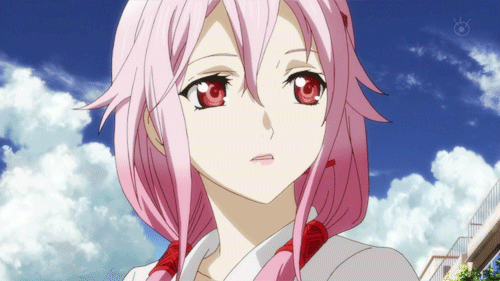 Innocent || Friendly || Soft-Spoken || Kind || Well-Mannered
On the outside Em is one of the most popular and well-liked girls in the school. With her friendly, soft-spoken words and polite demeanour, people can't help but like her. It is rare to find Em alone, either surrounded by her gaggle of 'girlfriends' or being followed around by fanboys who have assigned themselves the duty to protect their precious Em.
Em plays the perfect role of innocent, weak and fragile princess perfectly. No one would believe the secret the girl hides behind her kind eyes and pretty smiles. She ensures to keep her words soft, her appearance gentle and her thoughts appear pure, all factors adding towards the deception that keep Em safe from those who would want to harm her.
|| Likes ||


✔ Her Friends
✔ Sweets
✔ Netball
✔ Gardening
✔ Singing
|| Dislikes ||


✘ Bullies
✘ Rudeness
✘ Spiders
✘ Pain
✘ Being Alone
Intelligent || Cunning || Witty || Jaded || Detached
Meg is incredibly intelligent, in both theoretical and practical aspects. Her intelligence and cunning is what allowed the girl to come up with 'Em' and protect herself from the annoying mass of sheep which inhabit Ravenhorst College. It annoys her having to pretend to be some weak-willed, pissy girl but if it means she doesn't have a target painted on her back, then she can put up with it.
Meg has had a lot happen in her life, seen more than a girl her age should ever have to, and it had turned her into a jaded, sarcastic individual who fears becoming attached to reality. It is partly what makes her so perfect for her job, she can completely separate from reality as she takes a persons life. If she wasn't able to become detached, Meg fears she would of lost her minds years ago.
Meg has given up on a normal life, given up on ever being a girl like 'Em'. She plays pretend, and she would never tell anyone how much she wishes it was reality, but she knows it is just pretend. Now, all Meg hopes for is finding people who are just as broken as she is.
Meg doesn't want to end up alone.
|| Likes ||


✔ Witty Conversation
✔ Chess
✔ Intelligence
✔ Stratagising
✔ Broken People
|| Dislikes ||


✘ Her 'Friends'.
✘ Naive People
✘ Stupidity
✘ Close-Combat Killing
✘ Being Alone
Talents
Marksmanship →
"I have been shooting a gun since I was 3, I got better at it... Though my Papa said I was always a prodigy"
Strategy →
"Killing someone is easy, getting away with it is the hard part."
Acting →
"Assassins need to become anyone or no one at a moments notice, you get good at putting on a mask."
Stealth →
"People always get freaked cause my footsteps and breathing are silent."
Weaknesses
Strength →
"Because of my fragile body I have never been a physically strong person."
Close Combat →
"I'm a marksman, I don't need to be close to kill... I also don't think I could detach if I was that close."
Jaded →
"Meg has seen a lot in her life, and it has left her unable to care for anything or anyone, with the exception of her little sister."
Hallucinations →
"I tend to see the blood of my targets on my hands."
---
---
---
|| Family Members ||
Angelo Abatescianni
|| Father || 43 || Alive
Liliana Abatescianni
|| Mother || 39 || Alive
Sofia Abatescianni
|| Sister || 11 || Alive
"I protect my family, just as they protect me."
|| Brief History ||
Meg was born into a family of assassins. Angelo was raised by his father to know the art of death, and Liliana was considered one of the most effective assassins in Italy. They both passed on the tricks of the trade to Meg at the young age of 5. They wanted her to be safe and be able to survive in such a cruel world. As much as their actions were led by good intentions, their daughter's psyche was forever ruined due to the level of death she was exposed to at such a young age. She developed a coping mechanism, detachment, in an attempt to avoid completely losing her mind, but she still gets hallucinations of blood and death when she starts to get upset.
Sofia was born when Meg was 7, and the little girl adored her new baby sister. The child was an escape from Meg's twisted reality and the girl become determined to save her sister from the hardship her parents put her through. She struck a bargin with her father, saying that Meg would kill every target she was assigned until the day she died as long as her sister was kept away from this life.
Her parents agreed.
As Meg grew older she grew to enjoy her job. Not so much the killing aspect, it was a necessary evil that came along with the role, but Meg enjoyed shooting, and often would go and spend her free time on the range, as well as the whole sneaking around and getting away with murder. She turned it all into a game, and one she soon grew to enjoy. Meg gave up on a normal life and so created Em as her outlet at school.
"People might think my parents evil for what they did to me as a kid, but I know they only mean well and they did it because they love me and want me to be safe."
---
---
---
|| Relationships ||

Souji Oshiro →
"A particularly weak and annoying sheep. The only reason I know his name is because of how much he annoys me."
Egau Karasu →
"He's my target. I have no need to concern myself with dead men."
Kaori Alkaev →
"Opinion"
Merle Horst →
"Opinion"
---
---
---