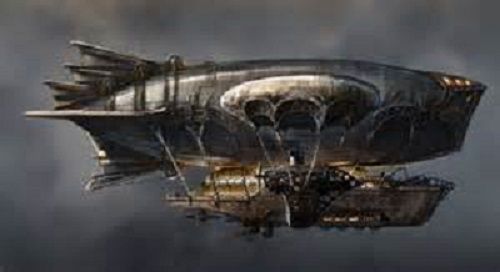 "It was in the early 12th century that the legend of Captain Joseph Flint began. The fearsome captain of the Walrus who, with his crew of raiders, terrorized the skyways from one end of the world to the other. In his time no one could stop him, no one could match his knowledge of sailings or skill in combat, and as the years went on the stories of his exploits became common place in every city around the world. In a time where no one dared oppose the powerful regimes of the world Flint prospered at doing so, and whether you honored or vilified him all that knew his name respected him. However; it wasn't until his very last act as a Captain and a man that he would forever become a legend in Alleron.

In his later years Flint became a different person. He became more ruthless, less connected with the world, and it was in this time that he committed his greatest act as a pirate. In pirate circles it was well known that the R.A.S Lionsmane was due to set out from the ports of Arcades, and within it bowels it would carry more gold than any man could ever dream of obtaining. While all ne'er-do-wells wished for the chance to take it as a prize, only Flint proved up to the task. The battle between the Walrus and the Lionsmane became one of the most remember bouts in all of naval combat history, even though it lasted just a moment. Flint knew the Walrus was no match for the One-hundred gun Galleon, so instead of meeting it at broadside he sacrificed his own ship to commandeer it. What happened next truly in unknown. One lifeboat was recovered from the Lionsmane, but neither it nor the Walrus could be distinguished among the mass of wreckage. Those aboard the lifeboat only said that when they jumped ship most of Flint's crew had been slain by the naval officers, but the true story remains a mystery. Though, if you are one of the more adventurous fellows you might just believe Flint managed to seize the ship and sail away.

Joseph Flint is attributed to starting modern piracy in it's entirety. His actions, though romanticized, gave the youths of his generation ideas of grandeur adventure and hopes that they too would embark on epic and dazzling quests on hidden islands or battling the royal navies of the world. The reality of piracy is for from the way it is portrayed in the stories of Flint, that was not enough to sway of the minds in favor of committing it for generations to come. With the mythical treasure dubbed The Lion's Horde rumored to still hidden somewhere in that vast expanse of sky, and the rising tension of the world, it is truly the golden age of the pirates."
---
---
Chapter 1: Raven's Rest
---
---
This is just what is necessary for your Character Sheet. Please feel free to alter and be as original as you wish as long as you add the things listed here.
Code: Select all

[b]Name:[/b]

[b]Age:[/b]

[b]Race:[/b]

[b]Gender:[/b]

[b]Alignment:[/b]
[hr][/hr]

[b]Appearance:[/b]

[b]Personality:[/b]

[b]Skill/Abilities:[/b]
[hr][/hr]

[b]History:[/b]

Taking place in...
There are no characters in this universe yet!
0 posts here • Page 1 of 1
0 posts here • Page 1 of 1
Arcs are bundles of posts that you can organize on your own. They're useful for telling a story that might span long periods of time or space.
There are no arcs in this roleplay.
There are no quests in this roleplay.
Here's the current leaderboard.
There are no groups in this roleplay!
Welcome home, Promethean. Here, you can manage your universe.
Arcs are bundles of posts from any location, allowing you to easily capture sub-plots which might be spread out across multiple locations.
You can create Quests with various rewards, encouraging your players to engage with specific plot lines.
Settings are the backdrop for the characters in your universe, giving meaning and context to their existence. By creating a number of well-written locations, you can organize your universe into areas and regions.
Navigation
While not required, locations can be organized onto a map. More information soon!
There are no groups in this roleplay!
There are no characters in this universe yet!
By creating Collectibles, you can reward your players with unique items that accentuate their character sheets.
Once an Item has been created, it can be spawned in the IC using /spawn Item Name (case-sensitive, as usual) — this can be followed with /take Item Name to retrieve the item into the current character's inventory.
Give your Universe life by adding a Mob, which are auto-replenishing NPCs your players can interact with. Useful for some quick hack-and-slash fun!
Mobs can be automated spawns, like rats and bats, or full-on NPCs complete with conversation menus. Use them to enhance your player experience!
Current Mobs
No mobs have been created yet.
Locations where Mobs and Items might appear.
You can schedule events for your players to create notifications and schedule times for everyone to plan around.
Add and remove other people from your Universe.
The Forge
Use your INK to craft new artifacts in Radiant Skies. Once created, Items cannot be changed, but they can be bought and sold in the marketplace.
Notable Items
No items have been created yet!
The Market
Buy, sell, and even craft your own items in this universe.
Market Data

Market conditions are unknown. Use caution when trading.

Quick Buy (Items Most Recently Listed for Sale)
There are no characters in this universe yet!
None
Discussions
Topics

Replies
Views

Last post
Most recent OOC posts in Radiant Skies
This is the auto-generated OOC topic for the roleplay "
Radiant Skies
"
You may edit this first post as you see fit.