SORRY, this is a PRIVATE RP between divinedarkness(myself) and Emmie_Hoeller. Please do not ask to join.
---
---
---
---
☽Girl One☾FC Leda Muir☽
Young sister of Girl Two||Pureblood Power: ||Falls for Boy Two ||
Taken
by Emmie_Hoeller
⛥Tinka Bellefonte⛥ FC Felice Fawn ⛥
Girl Two||Older sister of Girl One|| Pureblood Power: Dream Weaver ||Falls for Boy One ||
Taken
by Me
⚔Boy One⚔ FC Andy Sixx⚔
Lead Vocalist Of Letters in Red||Pureblood Power: Mind Control/Necromancer ||Falls for Girl Two ||
Taken
by Emmie_Hoeller
☠Binx Fletcher☠ FC Ash Stymest☠
Boy Two||Screaming Vocalist Of Letters in Red ||Halfblood Power: Reading Minds ||Falls for Girl One||
Taken
by Me
---
---
---
---
Seeing as it is only Emmie_Hoeller and myself there is no need for rules.
Taking place in...
2 posts here • Page 1 of 1
---
---
Tinka had sent the better part of her life trying to protect her little sister. After her parents had died, that's what she dedicated her life to, because Autumn was literally all she had. So naturally, Otto had become more like a daughter to her then a little sister and Tink's motherly instinct became more natural then forced after sometime. Tinka had tried to kill herself on many occasions, but she'd never actually succeeded because the thought of not knowing if her little sister would be okay was what had always pulled her through.
When her and Nirvana discovered the band Letters in Red, life seemed easier to deal with. Simply because their lyrics really spoke to Tinka. She could bury herself in their music, put her head phones on full blast and start drawing and become completely lost in her work like the world around her didn't exist. Not to mention, she felt a strange connection with Axel, one of the lead singer's. It was like they'd met before, but she kept that to herself, people thought she was crazy enough as it was.
Her and her sister had started to save. They were determined to go to England for the Wonderland Rave Music festival. One of the biggest music festival's in the world. There was a never ending supply of drugs and music. When they'd finally saved up enough money, they'd packed up all their shit and snuck out of their foster home and hopped a red eye flight to London, England. They didn't have enough money for a lavish hotel, but the one they managed to get wasn't too bad.
She was exhausted from the flight, but that was nothing new. She rarely got sleep, due to the fact she had been an insomniac her entire life. She slipped on her tight leather pants and pulled on her black tank top over her purple lace bra. She started slipping on her various rings and bracelets, before stepping into her black boots. She was too thin, but she hid it fairly well. She glanced over her
outfit
it the mirror, looking herself over as she pulled on her black jacket to complete her outfit.
Her long black hair, hung pin straight touching just short of her hips. Her
make-up
was done perfectly as if it had been airbrushed on, of course it always looked perfect, from her heavy black eye shadow to her dark purple lips. She looked stunning, dark and a little creepy, but stunning none the less. She sat on the bed, pulling her hair to one side as she twirled the silver pentagram ring on her finger. Although she'd never admit it, she was a little nervous, mostly because it wasn't uncommon for the band members of Letters in Red to go out and party with fans after their shows, not that Tinka would be lucky enough to be one of those fans, but the thought alone made butterflies kick at her stomach. She used her compact mirror to put in her silver contacts, erasing any evidence that her eyes were different colors.
"Vanna, babe, you almost ready we gotta go." She called to her sister who had been taking a particularly long time in the bathroom.
---
---
---
---
Finnegan had spent the entire day in bed with a young fan with a British accent and despite the fact that he'd spent all day with this girl, he still hadn't cared enough to learn her name. He didn't most the time, because names only led to getting attached and his manager was always telling him and Axel that if they were going to sleep with their fans, just don't get attached. When she'd finally fallen asleep it was in the evening and he slipped his clothes back on, collecting his things. He lend against the counter in their kitchen. She lived alone and there was a part of him that wondered what it would have been like to be normal and never know about Ravenbourne. He hated it and there were times when he wanted to leave his band and take his little sister and mother and hide them, but he knew that was just wishful thinking because the Ravenbourne council would find them and kill them.
He lit himself a cigarette as he took on more glance around the girls apartment, before slipping out. He knew if he was late to the festival, Axel would give him shit for it. He pulled out his phone and scrolled through his contacts debating on calling his mother, to see how she was, but decided against it. His mother always seemed sad and he hated hearing it in her voice, because he couldn't help her.
He paid the taxi driver and stepped out of the car. The Music festival was empty for the most part, yet in less than an hour it'd be full of people and him and Axel were one of the headlining bands. He made his way across the empty lot, passing by people who were still setting up. He glanced up seeing the
massive stage
, it was no doubt the biggest stage they'd ever performed on and he was stoked.
He hopped up onto the stage glancing around and taking in his surroundings. Fame was an interesting concept to Binx, he both loved and hated it. He'd never had so much attention until Letters in Red started to gain a large following and then suddenly everyone knew his name and girls were throwing themselves at him. Yet, before he'd been almost invisible, it was an illusion just like everything else in his damn life and that frustrated him.
This fucking sucks, I'm missing my son's birthday for rich assholes.
he heard behind him and he turned to see a young women walking by carrying a bunch of crap that looked way too heavy for her. He realized it was her thoughts that he was hearing and he quickly hopped down and mad his way over to her. She quickly slapped a smile on her face, a well-practiced one that didn't looked faked at all, though he knew it was.
"Here." He said pulling out a few hundred dollars in Euro's. "I think you could use it more than me." He said offering her a charming smile, before making his way back behind the stage, not bothering to wait for her to try and give it back. He slipped into his trailer quickly knowing soon his manager would knock on his door and warn him that he only had a certain amount of time left before they were on.
---
---
---
---
---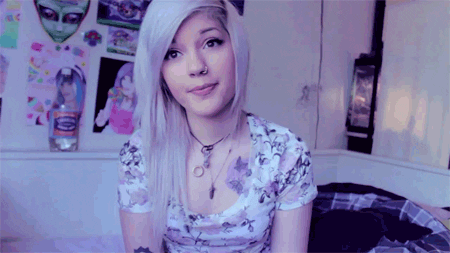 ---
---
Autumn grunted, she had not been able to sleep but less than an hour while traveling on the plane. It didn't help that she was a light sleeper and that there were a lot of noisy passengers either, especially when one in particular seemed to be having a panic attack and could not stop talking nervously in a rapid blabber. Whenever she tried closing her eyes and began to feel as if she was drifting into a light slumber, she was quickly awakened by the loud man. His nervous chatter could only be understood by the woman who was seated next to him, Autumn presumed it was none other than his wife or lover by the way she tried to calm the mid-thirty year old man. Vanna said nothing and did nothing, unlike other passengers that were obviously annoyed by the man's loudness. Instead, Autumn felt sympathy for the poor man who was obviously having a hard time and, admittedly felt a bit nostalgic remembering her and Tinka's parents, after seeing how the woman looked at him endearingly as she held his hand and tried to calm him down.

Despite her immense lack of sleep that had been accumulating from previous nights, Nirvana could not hide her excitement and was unable to contain her silly grin. She and Tinka had finally managed to save enough money to make their dream come true, the only reason why they were in the plane that was on it's was to England in the first place. Even though Vanna disliked being negative in any sense of the word, she had to admit she and her older sister had lived a shitty life for the past years. She knew it hadn't always been that way, even though she was still very young, she remembered the good times they had when their parents were still alive. After their passing everything went to hell, and even though Tinka had always been there protecting her from harm's way, naturally, not even her older sister could protect her from the shit they both had to live through while growing up as orphans.

Things got better after Vanna and Tinka found Letters in Red. It wasn't only the hot guys that called out to young Nirvana but the music that helped her to pull through their strongest hardships. The thought of getting to know them in person had always been in Vanna's bucket list, despite being very optimistic, there were times when she would have never imagined she would actually get to live through it to see it happening. However, before she had any time to reminisce more about Letter in Red, she immediately plugged her ear buds and put their newest album in shuffle. After listening to a couple of their newest songs, she immediately feel asleep in a light slumber finally being able to catch some Z's.

It wasn't until Tinka shook her up that she was able to open her eyes. Even if she was a light sleeper, her body had it's limits and hers had almost been close to reaching hers which meant nothing would have woken her up but her sister who knew to pinch her cheeks. Finally, they quickly hurried to the hotel, nothing expensive or luxurious but it wasn't all that terrible. Autumn smiled happily to her sister as they entered the hotel and called dibs on the last bag of chips they had, after they bought a few in a local store before coming to the hotel.

After she finished her chips and before she did anything else, Nirvana threw herself into bed and playfully jumped up and down, jumping like a lively child because that's what she felt like at the moment. After she got tired from all the jumping, she lied in bed waiting for Tinka to get out of the shower. While she waited, Autumn closed her eyes and imagined meeting the band after the concert, the mere thought was enough to make Vanna rejoice in joy. As soon as she heard Tinka get out of the shower, she quickly rushed to take a hot bath. As usual, she began singing in the shower, perhaps practicing and vocalizing for the concert. Her jamming on was soon enough stopped by Tinka who hurried her to get out of the shower.

"I'm almost finished!" Vanna lied as she quickly got out of the shower. This was and would not be the first time where Autumn had lost track of time. Quickly enough and with an almost superhuman speed, a skill she had gained throughout the years, she changed into her outfit. To say she was nervous about her outfit would be an understatement, but after a handful seconds of hesitation she was pleased with her choice. Before Tinka could reprimand her for being late, Nirvana moved to the big mirror and carefully applied her make-up.

"I'm sorry?" Vanna said while making her puppy eyes, hoping her older sister would have mercy and let that one go.

---
---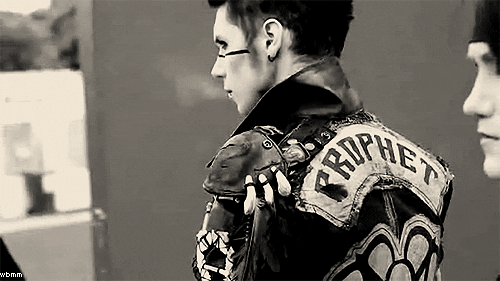 ---
---


Axel lied flat with an almost dead-like appearance by the way he lied still on his king sized bed, to say he was tired would be an understatement. He had been visited the night before by his concurrent guests, the crazy Scottish lady who died by an overdose and his deceased father, both of which had no problem in reminding him how he had managed to fail them. The first time he realized what he could do, his gifts, he was but a child. Although they tended to ignore him, as his powers grew stronger so did his connection between the living and the dead. And so, regardless of how much practice he had been giving it, he could still not conceal the voices inside his head nor could he stop seeing the deceased. He could however, Another of the endless perks of being a pureblood he supposed, and even when his powers grew stronger that did not mean they were any easier to control.

As the maid made her way through Axel's room she contemplated at the young man for a few seconds, debating whether or not she should wake him up. Perhaps knowing too well of how ill tempered he was when woken up, especially after all of the previous maids had been fired on the spot after succeeding. Finally, after an ongoing internal debate, the woman opted to wake him up. Axel had already ordered the previous night for her to promptly wake him up were he to oversleep. The woman slowly moved closer, tapping Axel on the shoulder and using a soft while fearful voice to make the young man up. She could not afford to lose another job, and only hoped for the best as her shaking hands moved the younger male. After a handful futile attempts he could not even do as much as flinch to demonstrate signs of him coming back to the land of the living. Little by little, the maid rose her voice attempting to get a reaction from the young man and trying to make him come back to his senses.

Finally, Axel opened his eyes upon hearing at the woman incessantly call his name and softly shaking him. Though Axel was strongly opposed to having a maid, deeming it a bit ridiculous seeing as he was hardly ever in his bedroom, their manager insisted on it. His immediate reaction was to give the woman on her mid-thirties a sharp scowl, followed by a pained expression after feeling a strong pain in his head. The pain being an aftermath of his power to see the dead, as if he needed to pay a price for what he considered his curse. Thankfully the pain would only last for a few minutes as it usually did.

"What time is it?"

he asked, holding onto his head feeling almost as if he was going to lose it at any second. Axel's face was his face reflecting the intense pain in which he was in. "Are you all right sir?" the woman asked upon looking at the young man in staggering pain.

"I said, what time is it?"

he asked again. After the woman responded promptly, Axel urged her to leave him be knowing he could be running late if he did not hurry.


---
2 posts here • Page 1 of 1
Arcs are bundles of posts that you can organize on your own. They're useful for telling a story that might span long periods of time or space.
There are no arcs in this roleplay.
There are no quests in this roleplay.
Here's the current leaderboard.
There are no groups in this roleplay!
Welcome home, Promethean. Here, you can manage your universe.
Arcs are bundles of posts from any location, allowing you to easily capture sub-plots which might be spread out across multiple locations.
You can create Quests with various rewards, encouraging your players to engage with specific plot lines.
Settings are the backdrop for the characters in your universe, giving meaning and context to their existence. By creating a number of well-written locations, you can organize your universe into areas and regions.
Navigation
While not required, locations can be organized onto a map. More information soon!
There are no groups in this roleplay!
By creating Collectibles, you can reward your players with unique items that accentuate their character sheets.
Once an Item has been created, it can be spawned in the IC using /spawn Item Name (case-sensitive, as usual) — this can be followed with /take Item Name to retrieve the item into the current character's inventory.
Give your Universe life by adding a Mob, which are auto-replenishing NPCs your players can interact with. Useful for some quick hack-and-slash fun!
Mobs can be automated spawns, like rats and bats, or full-on NPCs complete with conversation menus. Use them to enhance your player experience!
Current Mobs
No mobs have been created yet.
Locations where Mobs and Items might appear.
You can schedule events for your players to create notifications and schedule times for everyone to plan around.
Add and remove other people from your Universe.
The Forge
Use your INK to craft new artifacts in Ravenborn Purebloods. Once created, Items cannot be changed, but they can be bought and sold in the marketplace.
Notable Items
No items have been created yet!
The Market
Buy, sell, and even craft your own items in this universe.
Market Data

Market conditions are unknown. Use caution when trading.

Quick Buy (Items Most Recently Listed for Sale)
None
Discussions
Topics

Replies
Views

Last post
Most recent OOC posts in Ravenborn Purebloods
This is the auto-generated OOC topic for the roleplay "
Ravenborn Purebloods
"
You may edit this first post as you see fit.