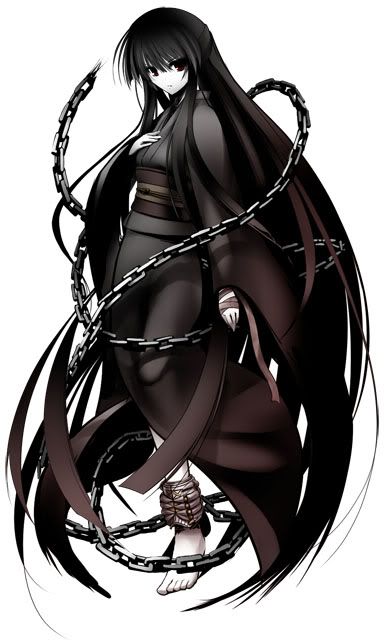 -Gender:
Female
-Height:
5'4"
"I'm five foot four, ok. Good height, now leave.""
-Weight:
102 lbs.
"My weight? Go annoy someone else."
-Hair Color:
Black, with dark purple highlights.
"My colors."
-Eye Color:
Red, really, really dark red.
"Red. No not like fire, darker, everything is darker."
-Description:
Britney's look really reflects her personality. She is slightly pale for not being outside in the sun much, which then shows her black hair more, along with her red eyes. From left wrist up to her arm she has bandages wrapped up, for protecting her arm from her own chains, and from numerous fights. She usually dresses in black dresses or with a dark grey shirt with dark jeans, along with a black hoodie. Butif she didnt want to wear a hoodie, she would most likely be in a dark cloak with a hood.
-Reaper Color:
Purple.
"Not my fav, but pretty close"
-Reaper Element:
Darkness.
"It's also my nickname."
-Weapon:
Chains. They are jet black in color seem endless, but mysteriously they are extremely light. Dark has them hooked to a metal wrist guard on her left hand, to keep them on her at all times. When not in used, they are kept wrapped around her (left) hand up to her shoulder, usually under her jacket.
"Getting closer is better, but they do get rusty."
-Skill(s)/Ability(s):
To manipulate the shadows and change what others see. So basically control over darkness and shadows. Brit can create almost anything out of something as simple as her own shadow. But it's not that simple, little things come into play as in her powers. The less simple of what she wants to make, the easier it is, same with the size of the shadow, bigger is better. Same goes along with how long it is there for. But the one thing that affects the actual power of her creations are her emotions. The more negative, the more power it has.
"If you're afraid of the dark, then I'm your greatest nightmare.
-Symbol:
"It's simple, but its too fucking simple. My symbol is the night."
-Time of Day:
Night
"I'm dark, and night is dark, so I like it. All other times, suck. Oh and by the way, my time last the longest."
-Personality:
Dark is well, dark. This meaning, she usually looks at the negative side of everything, name it and she will find something bad about it. That's not all she is, she is also very cold, and will not hide it. Britney will tell you every flaw about you, just for the hell of it, and will never compliment anyone, ever. Jealousy, is one of the things she constantly is, but will never admit it, mainly because of Tezuka, the Null reaper. Reasons you may ask, well that's completely between Dark and Tez. Another name that word describe her would be jackass. She acts like one 12 hours of the day, the other twelve is she is either sleeping, or the other word, bitchy. Yes, she seems like a bitch a lot, not caring who she is talking to. She's also very simple, and likes to get to the point of things as fast as possible, talking waste time, and it's boring to her. Brit isn't one to like people, reapers and especially demons. She basically hates everything with a passion, most of the time not even caring what happened have the time. Out of all the people that could maybe relate to her, it would maybe be good if it wasn't the one person she hated, Tezuka, Null. Brit isn't a very mean person, but if someone pisses her off, well she won't be very nice to them, so to say. Well beside being all that and also rude, quiet, always wanting to be in a dark place, untrustworthy, and not trusting anyone, she is basically like everyone else.
"Dark, cold, mean. Some of many words that describe me, that's all you need to know."
-Quirks:
Well there's nothing weird action she does. But she does like to drink alcohol whenever she can, one of her favorite drinks, hates caffeine and sweet drinks.
-Fears:
Hypsiphobia - Fear of heights.
Acrophobia – Fear of elevators.
"I fear nothing."
-Likes:
-Relaxing
-Nighttime
-Dark colors
-The quiet
-Being alone
-Alcohol
"I know what I like, now leave me alone."
-Dislikes:
-Loud/annoying people
-Tezuka, Null
-Quintin
-Elevators
-Caffeine/sweet stuff
"I forgot your name, that's why you aren't on my hate list."
-Bio:
Before becoming a reaper, Britney was just anything that a normal 19 year-old girl. She is much like she is now. At school, she ignored everyone, blurred them out of her life as if they weren't there. No one really knew her, only as the Goth, silent weird chick, that nobody knew very well.
Through Brit had a family, the same with them, but they never wanted her. Her parents always told her that she was a mistake, and they should've gotten rid of her, since she was told that, and given no attention, she stayed up in her room, with no everything dark. Curtains, walls, clothes, she even replaced her light bulb with a cheap one that barely gave off any light, which is all she ever needed.
Dark had the flashbacks of previous lives, but in the form of weird dreams, or what other people would call nightmares, but she had them as dreams, but always discarded them, but loved them. Before she was confronted by Tezuka, or Null as she always calls him, she began realizing her powers, but discarded them as figments of her imagination, but when other people noticed dark figures and objects appearing out of nowhere, then she knew that they were just of her imagination, then like said before, Null showed up.
Now Britney stays at the Reaper's hideout, in her own separate room from everyone else, she's even redecorated it. Instead of added curtains, she basically moved a bookshelf in front of the window to block out the sun, but keeping the top of it showing, just so she can see when it's dark outside. And with lights, she got a crapper lamp that gives off little to no light, and removed the light bulbs that went to the fan above her bed, which is of course a dark color.
-Other:
I read everything.
Britney is left handed, note why her chains are mainly considered with her left.
-Relationships:
Air-
Michael:
Well like most people, Britney doesn't like Michael, well yeah, maybe they dislike the same stuff, but no. Dark doesn't like his perfectionist attitude, but likes insulting him, makes him all sad and stuff, which is funny. Also she hates that he speaks more than just English.
"The perfectionist who can't be take a little insult, plus I only understand him half the time. I don't like him."
Earth-:
Water-
Luna:
Of all the reapers, Luna is probably the only one Britney actually slightly likes. Because, well she does what she likes, and doesn't disrupt Dark.
"The only reaper I like, would have to be Luna, water."
Fire-
Yoshiya:
Well Britney like Yoshi, maybe one of his sides, but she doesn't like that he has serious personality issues.
"Yoshi? That triple sided kid? Too many sides, don't like him."
Light –
Sinéad:
Well you could easily guess it, Brit doesn't like Sin, not just because she is light, which is one of the reasons, but because she is weak and too bright.
"What do you think, Sinéad, is light. I don't like light, so I don't like Sin."
Null-Tezuka: Well to be honest, Britney is jealous of Tezuka. Mainly because he is the leader, and Dark feels like she is more powerful than him and want to basically get rid of him. Plus their natural born rivals, both have a connection with evil.
"Tez? Null? He's useless, I should have his power, I'm better then him!"
-Sample Post:
Usually is better but couldn't really think of anything, so here you go.
Dark brushed off herself off, dirt and dust coming off of her dress, and then putting her hood back on.
Damn demons, why can't they just bugger off and cause chaos somewhere else.
Britney thought as she turned around and looking at the others, reapers that is, eye's sending a glare at Tezuka but her expression changing back to her dark cold look, which she usually had on all the time. Being dark and cold is what Britney always love, in description of appearance and in description of personality, she knew she was the only reaper liked that, but she alwasy was the one like that, hell she didnt care of what the others caught, they could be poisoning her food, she wouldnt care.

Brit walked by the others, purposely bumping into Tez, and a shadowy black insect jumping from her shoulder onto Tezuka's, and quickly going down his arm, and purposely making itself known, crawling all over him, at the command of Dark, but then disappearing before Tezuka could do something. Brit just laughed hearing his movements and mumbles that he made. She looked back with a smirk and then turning back and walking towards the hideout to get some rest, and get out of the awful sunlight. As she walked she then began to think about the demon that just got away.
Fucking Null! If he didn't try to do everything himself, I would've killed Asmodeues. [i] With every step that Dark took, windows broke along buildings, her emotions were controlling her powers now, not herself. Which for others it could be very bad...