For centuries Werewolves have ruled the wolf race and all its factions entirely. Three Werewolves, brothers, hold power and are recorded in the histories as "The Ancients" because they have ruled for so long. These brothers are firmly set on following the Werewolf traditions as the basis of all rules in all of Everingham, for every race and faction alike. Not everyone agrees, and thus grew a feud between the wolf factions, alliances forming between the other races in Everingham. Though it is absolutely forbidden, there have been several forbidden loves – that is inter-racial couples. For years, these loves were kept under the radar, but now they have been discovered by The Ancients, and they are not at all pleased.
[See:
Lycans vs Werewolves
. Scroll down to the first post. I chose to run with this explanation and make it unique to our story.]
First, the
Werewolves
. This ruling faction is quite large and assumes power upon birth. The Three Ancients rule their Werewolf decendents easily, given that all Werewolves agree. The Werewolves are obsessed with tradition and are often very harsh. Their way of thinking has not really evolved, yet they are aware of the new thought processes and advancements in technology. As a result of their more traditional lifestyle, they think they are superior by divine right over every race, not just the wolf factions. Therefore, it is common to see Goblins and Ogres employed, often by force, within the walls of the Werewolf city of Netherfield. The city, much like it's an inhabitants, is traditional and almost medieval with it's stone walls and iron gates. There are even two drawbridges and a mote. Werewolves hold a sacred orb in the temple on an island to the Northwest. This orb, only accessible by The Ancients, allows the user to see what is going on in every part of Everingham to an extent. The user must focus on one topic of interest, and the orb will find the most relavent to this thought. For instance, if one were to think Shapeshifter, the most relavent would be the Monarch. But if one thought Shapeshifter threats they might come across a shapeshifter who is rebelling, even in the smallest degree. Abilities specific to Werewolves include: uncontrolled shifting, particularly during a full moon, moonlight energy--this happens during a full moon shift--increased strength, increased speed, and Moon-rage--when the Werewolf shifts during a full moon and has absorbed quite a bit of moonlight energy (has been shifted for awhile), Moon-rage occurs, which gives the Werewolf double strength, speed, and also enhances its eyesight, and throws it into an unstopple fit of rage, making it almost impossible to defeat. Very few have lived while fighting a Moon-rage affected Werewolf. Moon-rage is a brief but deadly fit of rage and will leave the Werewolf extremely exhausted. Oh, and Werewolves do still require being bitten or cursed to become a Werewolf, so when a new child is born in Netherfield, The Ancients demand he or she be immediately transformed. As a result of not being wholly a wolf, Werewolves have no tails in their transformed body. When they are in their human state, their sharp teeth are clearly visible when their lips move. Also, they do not age as quickly--whereas humans can only live to about 100, Werewolves can live for many, many centuries.
*Note: Moonlight Energy is similar to the Boost Theory. See: Shapeshifter Limitations*
Second, the
Lycans
. Lycans, unlike Werewolves, have more control over their shifting, a fact that the Werewolves despise, mainly out of jealousy, but also because it is not traditional to the wolf race. Lycans have disagreed with the Werewolvian traditions and lifestyle since the split--which occurred during the time of The Ancients' father--and have avoided contact with them. They still must answer to the Werewolves, but only because of their power. None have been brave or strong enough to overcome even a fraction of the Werewolvian army, so they must sit in silent disagreement for the time being. While the Werewolves rule overall, the Lycan city of Pemberly does have a ruler, a male of great royalty in the Lycan faction. This ruler, known as "Lord," is very vaguely seen or known, but his word is law in the city, as is The Anceints' word law of the world of Everingham. Abilities specific to Lycans include: Controlled shifting to an extent--they still shift on a full moon and are capable of gaining Moonlight energy, but not Moon-rage. They, unfortunately, have damaged eyesight when in the lycan form, so many Lycans prefer to stay in their human form in order to see better. While in their Lycan (half wolf, half human) form, Lycans can have exceptional hearing -- like a wolf-- they can jump higher, and run fairly fast, and are very strong. Their appearance in their human form may consist of thick eyebrows, fast growing and general thick facial hair [male only], lots of arm and leg hair [male only, females can shave], generally untamed hair, thick chest hair [male only], silver eyes, and two abnormally pointed incisors. Men usually keep their facial hair shaven, but it grows back throughout the day. As for their hair, they cut it weekly. In their lycan form, their abilities are enhanced, but their eyesight is weakened. They, also, do not age as quickly.
Eyes:
Lycan:
Third, the
Shapeshifters
. Shapeshifters have complete control over the time in which they change, and also into what. They have limitations, of course. The Shapeshifters have family bloodlines that carry down through inheritance what each family is capable of shapeshifting into. Every family, however, can turn into a wolf. The Werewolves laothe the shapeshifters, thinking they are a disgrace to the planet. The Lycans simply ignore them, content to be neutral on the subject. As with the Lycans, the Shapeshifters are still ultimately under Werewolvian rule, but they have their own monarch. The King and Queen of the Shapeshifters are very much concerned for the well being of their faction, but also lay ground rules to keep their people safe from Werewolvian harm, such as: "No Shapeshifter shall ever love either a Lycan or a Werewolf." This protects the family bloodlines as well as their people from the wrath of the more traditional Werewolves. These Shapeshifters live in Thorton Lacey, a city nearby the Forests of Longbourn and Sotherton. Abilities specific to Shapeshifters: They appear as normal humans, but they have either bright teal blue or dark, midnight blue eyes. Because of this, they don't have many altering abilities in their human form. When they shift, they generally take on the traits of what it shifts into, these traits gaining strength or weakness according to inheritance and genes. They also do not age as quickly.
Midnight Blue Eyes
Shapeshifter Limitations
1. Regardless of what form the Shifter is in, their voicebox does not change in any way whatsoever.
2. Boost Theory - After shifting forms, depending on what it is they shift into, the Shifter gains a slight boost of whatever the animal or creature is specialized in. For example: A dolphin or seal would have a fast swim speed and increased under water breathing. A horse or a wolf would have increased run speed, but it would not allow the Shifter to gain a cheetah's speed, simply because of the limitations on how much boost the Shifter is getting.
3. The Shifter can only shift into something relative to its own power. For instance, a more practiced Shifter could potentially shift into a large dragon; however, a lesser trained and practiced Shifter may only be able to shift in a small dragon whelp.
4. Strain Theory – When a Shifter shifts too much in a certain amount of time, the Shifter can develop a sickness known as "Shifter's Strain." Symptoms include: Weakness, fatigue, vertigo, vomiting, headaches/migraines, fever. The sickness will last a minimum of 24 hours, but can last up to a week if the case is severe enough.
5. Cooldown Theory – Each form taken has a cooldown. After shifting to a form once, if the shifter shifts out of said form, it is harder to shift back into it for awhile. For instance, John Boy shifts into a bear and then immediately shifts back into a human, realizing he'd forgotten something. It would then be easier for John Boy to shift into a wolf or a horse than a bear again. If he proceeded to shift into a bear again, John Boy would have a significantly higher chance of contracting Shifter's Strain.
6. Time Limitation Theory – The longer a Shifter stays in a particular form, after overcoming the effects of the Strain Theory, the harder it is to shift back into the human form. Essentially, the body adapts itself to the shifted form, rather than the human form, reversing and cycling back through all of the effects of the Strain Theory as the Shifter tries to go from a shifted form back to the human form. Basically, the Strain Theory was the body's rejection to staying shifted out of the human form for too long, and now it's reversed to be objected to being out of the shifted form rather than the human form for too long.
7. SHAPESHIFTERS MAY HAVE 2-3 SHAPES, BUT REMEMBER THAT IT IS BLOODLINE INHERITED, SO A FAMILY MUST HAVE THE SAME NUMBER OF SHAPES AND TYPICALLY THE SAME SHAPES.
Other races include: Goblins, Faeries, Ogres, and Forest Elves.
Goblins
: Goblins are very picky and mean, often grumble and complain, but are hard working and very afraid of the wolf factions. Of all of the factions, they are more comfortable with the Shapeshifters. Otherwise, the Goblins keep to themselves in the forest caves of Sotherton. They do keep common animals, such as: donkeys, horses, goats, sheep, and various other forest animals, particularly bats found in the caves. Birds are a great feasting item for them. Goblins do have abilities specific to their race, such as: sharp, stone-like teeth and nails, green skin allowing them to absorb sunlight energy, increased strength in their small muscles, slightly increased speed when climbing, intelligence beyond most, and superior hearing to other forest creatures. Goblins can live for several centuries, but they usually work themselves to death or get killed before they reach this age. In their caves, Goblins have acquired the technology necessary to create hospitable underground cities. These cities are very technologically advanced and are made primarily from the resources of the caves.
Lava Caves
Ores
A Goblin city might resemble something like this. This is Gadgetzan and various caves from World of Warcraft, just for a quick reference. Yes, there can be subcavern lakes and bodies of water, but nothing a boat would be needed for. Generally the water is collected for drinking and bridges are built if necessary. Goblins mine for ore which they sell off or melt to use for their own devices which they then keep or sell. Goblins frequent trade routes to most places aside from Netherfield.
Faeries
: Faeries are very temperamental creatures, but they tend to generally be concerned with their survival and well being. As such, they despise the Werewolves and are neutrally allied with the Lycans and Shapeshifters. They are more closely allied with the Forest Elves of Longbourn. Faeries have no particular area they call home, so often they are referred to as Nomad Faeries. Abilities specific to Faeries include: Flying, fire wielding, tiny, lightweight bodies that can fit almost anywhere without being noticed, general magic and curses. One flaw these Faeries have is that they can barely communicate. They cannot speak or write, but they can project their thoughts (like an Aura) into the minds of those they wish to hear it. However, their control of this is limited in range, so if they were too far away, no one would hear them, or if they were too close to the enemies, the enemies could hear them too. Basically, they cannot control the Area of Effect (AOE) of their Aura. However, they can hear others just fine. Faeries, unfortunately, do not have very long lifespans in the scheme of things. They can live about two or two and half centuries, but not much more. Faeries have no particular clothing style defined in Everingham, but since they are Nomad Faeries and they follow the Forest Elves around, the might, more or less, be content with wearing leaves or spinning spider's web to make a thick spider's silk for clothing.
Ogres
: Ogres are generally considered to be the dumbest creatures in all of Everingham, which they are. Ogres are bumbling, fumbling, idiots of superior strength and stature. These are two unique qualities of the Ogre, along with their hunched backs and thick muscles. Besides their intimidating stature, these creatures are not to be feared for they are stupid enough to be tricked into alliance with their enemies after having been captured. Ogres tend to drool a lot, but no one seems to mind so long as they stay away from them--they are not the most appealing creatures to be around, obviously. Along with lack of intelligence, ogres suffer strained, if not complete loss of, hearing, baldness, terrible teeth alignment, and general ugliness. These creatures live along the borders of Sotherton, but are often captured by Werewolves and put to work in Netherfield. Of course, there are some orgres who have escaped the sterotype, but live under it for safety reasons. If any creature were to escape the Werewolves, it would be a smart ogre rather than a lucky ogre.
*Note: You are more than welcome to play an Ogre as a main character; however, ogres might be more suitable as NPC.*
Forest Elves
: Forest Elves are the more sophisticated and evolved creatures of Everingham. They resemble humans, except for their long, pointed ears, and very soft features. They usually have long, flowing hair that measures anywhere from their shoulders downward [male and female]. The most common hair and eye color for a Forest Elf is blonde or white and either green or honeysuckle yellow. Forest Elves are brought up to hunt and walk through the woods with quiet precision. They have superior archery skills and enhanced weaponry combat. They run a bit faster than humans, just from the way they were brought up. Forest Elves are nature conservative the majority of the time, so their clothing is usually made of leaves, vines,. . . etc. They also tend to have good relations with the animals in the forests. They live in Longbourn, Everingham, near the Shapeshifter city of Thorton Lacey.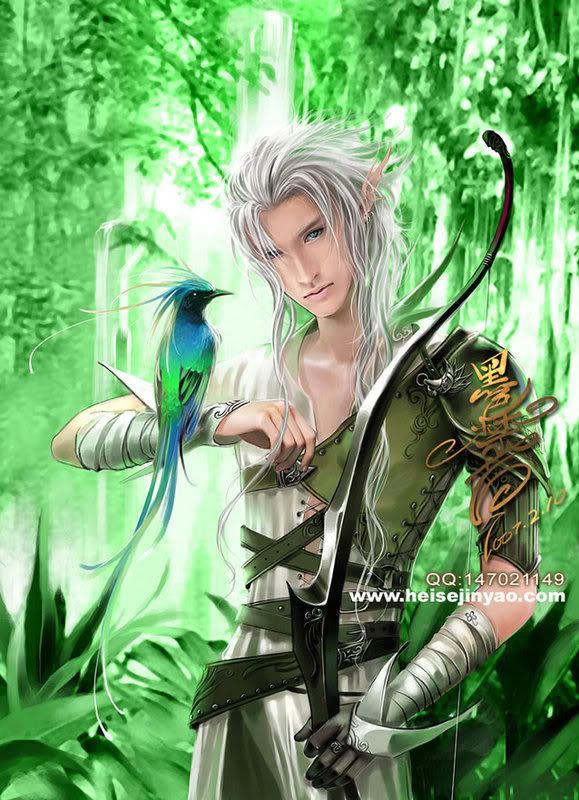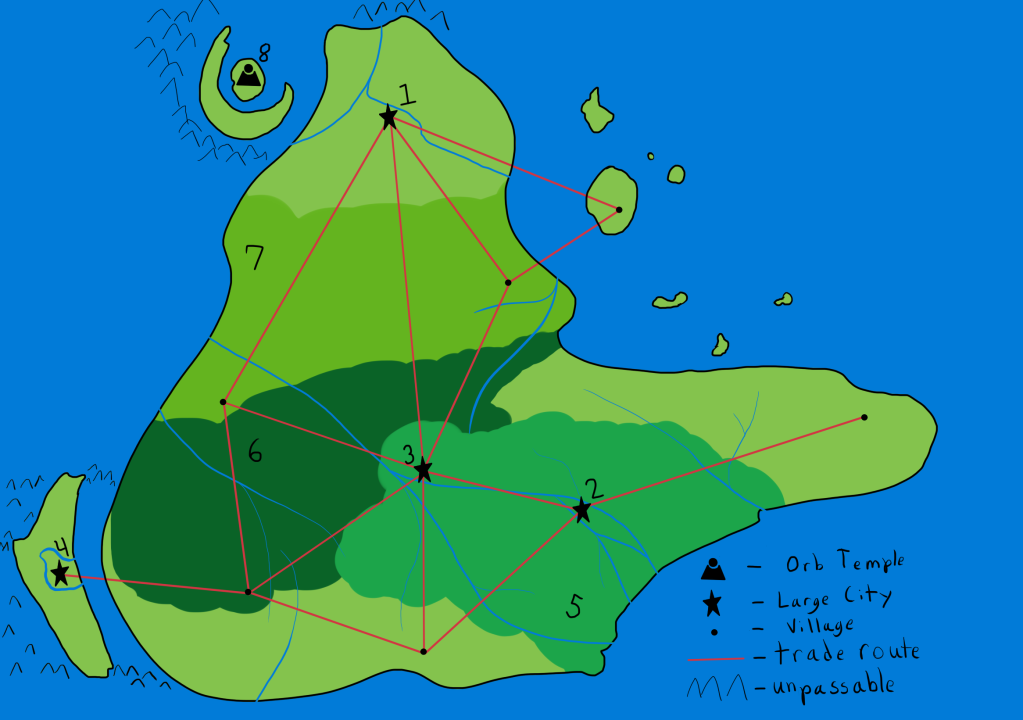 1. Netherfield
2. Longbourn
3. Thorton Lacey
4. Pemberly
5. Forest of Longbourn
6. Forest of Sotherton
7. Plains
8. Isle of the Orb
Everingham –
FAQ's
Q: What time/era is the RP set in?
A:
This rp is basically set in the medieval era, but is slowly advancing. The main weaponry are swords, bows and arrows, daggers,..etc., but there are no guns. Netherfield is stuck in tradition but it is not too far behind the other areas of Everingham. The most advanced would be the Goblins simply because they are miners and sort of like engineers who live in caves. Netherfield refuses to accept or trade with the Goblins, so any ore they get for blacksmithing would come from a "tax" of sorts paid by the other areas of Everingham. Medically, Netherfield sends for specialists like the Elven cleric. Other areas of Everingham have access to their own clerics. Differences like these set Netherfield apart from the other areas of the Everingham. Consider, if you will, Netherfield being a stagnant area compared to the dynamic world of Everingham.
___________________________________________________________________________________________
You can create any character that you would like.
Character Skeleton:
Name:
Age: ((appearance and real))
Race: ((Put wolf if lycan/shapeshifter/werewolf))
Faction: ((specify lycan/shapeshifter/werewolf is your race was 'Wolf'))
Shapes: ((only in Shapeshifters))
Gender:
Eye Color: ((refer to the information above if necessary))
Location: ((City/area)), Everingham
Appearance: ((Images preferred – add written description to clarify details))
Strengths/Abilities: ((abilities specific to your character, more or less like talents))
Weaknesses:
Personality:
Hobbies: ((if any))
Orientation:
Occupation: ((within their society))
General Equipment: ((anything specifically personal to you character))
History/Bio:
Other:
Please fill out all of the above fields completely within the RP's new Character system, and feel free to add anything not listed in the 'Other' field. Despite the information shown and required this will a very easy going roleplay, allowing for unlimited creativity.
GM's: MistressDarkstar (me) and Kappuke-Ki-Chu
1. You must post at least a paragraph in length. This is 6-7 sentences minimum. No exceptions. If you are stuck, contact fellow roleplayers or a GM for ideas.
2. Please at least be semi-literate! Grammar and correct spelling are appreciated and make the posts easier to read and understand.
3. Cursing is allowed in this roleplay. However, we ask that you keep it to a minimum. Excessive cursing or infraction of this rule will result in extermination from the roleplay pending warnings.
4. Keep the romance PG-13 or lower. Anything higher than PG-13 in this RP in unnecessary, and continuous infraction of this rule will result in extermination from the roleplay after ONE warning. If you wish to take things further, continue in a PM.
5. Absolutely no God-modding. If a player becomes inactive, Kappuke-Ki-Chu or myself will determine what to do with the character. Unless you specifically receive permission, there is to be no God-modding whatsoever. Continuous infraction of this rule will result in extermination from the RP after TWO warnings (One if the god-modding is in excess).
6. Please, respect other players. It's not a hard thing to ask, really. If you have a problem with another player, take up in a PM. If the problem does not get corrected and you need help, contact Kappuke-Ki-Chu or myself.
7. Please refrain from OOC posting in the IC unless it is clearly marked with ((write here)) and it directly clarifies something in a post or is alerting someone to talk to you in a PM.
8. Have fun! All ideas are welcome as we encourage creativity in this RP. Please feel free run your ideas by us in a PM or in an OOC post.
1.
The Locations Rule
- The Locations Rule states that when posting in the RP "Rebellion," each player must designate their location via the Locations Drop Down Menu located by the posting box. If you have more than one character, you may simply designate the ''universe,'' or main location, as your location, but you must specify the place in
Bold
as if you were posting for one character and were using the Locations Drop Down Menu. The other exception to this rule is as follows: If a character is to be travelling, they are allowed to post in the ''universe'' of the RP. Otherwise, a single character player is to specifically designate their location via the Locations Drop Down Menu located above the posting box.
[ex:] Kappuke-Ki-Chu and I will most likely have more than one character. We will thus post in Everingham, the "universe" of this roleplay, all the time. We designate where each of our characters are via
Bold Print
after the character's name. If our character was to be travelling, we would simply restate "Everingham" as our character's location.
X: At the top of your application write "Viva La Rebellion!" to indicate that you have read all of the information. Applications lacking this will not be considered.
[ex:] John Doe and Sally Sue both only have one character each. John Doe's character is a Lycan and Sally Sue's character is a Werewolf. John Doe would choose "Pemberly" from the drop down menu, unless he intended on travelling out of the city, in which case he would choose Everingham. Sally Sue, on the other hand, would choose "Netherfield" from the drop down menu, unless she intended on travelling out of the city, in which case she would choose Everingham.
2.
The Specific In-Post Locations Rule
- The Specific In-Post Locations Rule states that when posting in the RP "Rebellion" should a player's character be travelling, they must specifically state the location of their whereabouts. This also applies when using the term 'forest' and 'village' or 'city.' It is possible that one could take the extra time to look up what race of character the player has, but it is easiest and best for the player to state their location within the post, even if it is listed via the Locations Rule.
[ex:] Jimmy Bob wishes to make his Goblin character travel along a trade route to Thorton Lacey to sell goods. Jimmy Bob would choose Everingham from the drop down menu, but would proceed to explain his travels and whereabouts within his post, i.e. "Frodo the Goblin left his cold damp cave in the Forest of Sotherton and took the trade route towards Thorton Lacey."
3.
The All-Readers' Posting Rule
- The All-Readers' Posting Rule state that every player in the RP "Rebellion"
MUST
read all previously unread posts of every other player, whether they concern you or not. This helps with making sure everyone is on the same page and that everyone can successfully make their character's next move. This also helps with allowing opportunities for Character-Interaction.
22 posts here • Page 1 of 1
22 posts here • Page 1 of 1
Arcs are bundles of posts that you can organize on your own. They're useful for telling a story that might span long periods of time or space.
There are no arcs in this roleplay.
There are no quests in this roleplay.
Here's the current leaderboard.
There are no groups in this roleplay!
Welcome home, Promethean. Here, you can manage your universe.
Arcs are bundles of posts from any location, allowing you to easily capture sub-plots which might be spread out across multiple locations.
You can create Quests with various rewards, encouraging your players to engage with specific plot lines.
Settings are the backdrop for the characters in your universe, giving meaning and context to their existence. By creating a number of well-written locations, you can organize your universe into areas and regions.
Navigation
While not required, locations can be organized onto a map. More information soon!
There are no groups in this roleplay!
By creating Collectibles, you can reward your players with unique items that accentuate their character sheets.
Once an Item has been created, it can be spawned in the IC using /spawn Item Name (case-sensitive, as usual) — this can be followed with /take Item Name to retrieve the item into the current character's inventory.
Give your Universe life by adding a Mob, which are auto-replenishing NPCs your players can interact with. Useful for some quick hack-and-slash fun!
Mobs can be automated spawns, like rats and bats, or full-on NPCs complete with conversation menus. Use them to enhance your player experience!
Current Mobs
No mobs have been created yet.
Locations where Mobs and Items might appear.
You can schedule events for your players to create notifications and schedule times for everyone to plan around.
Add and remove other people from your Universe.
The Forge
Use your INK to craft new artifacts in Rebellion: Rebirth. Once created, Items cannot be changed, but they can be bought and sold in the marketplace.
Notable Items
No items have been created yet!
The Market
Buy, sell, and even craft your own items in this universe.
Market Data

Market conditions are unknown. Use caution when trading.

Quick Buy (Items Most Recently Listed for Sale)
Post here when your character is traveling. Otherwise, choose a specific location. [Click for more information]
Calahad Rojo's village -- Post here when you are in Kraven's Crossing.
The Shapeshifter City. - Post here when you are in Thorton Lacey
Home to the Forest Elf village: Longbourn. - Post here when you are in the Forest of Longbourn, yet still not in the Village.
The Lycan City. - Post here when you are in Pemberly
A quaint fishing island to the Northeast. - Post here when you are on the Island of Shiori
Where the Sacred Orb is kept. Only Ancients can access this...or can they? Post here when you are on the Isle of the Orb
They may look stupid, but these Ogres have nestled into the natural tangle of trees, a vast maze if one were to accidentally stumble into this mess. -- Post here when you are specifically in this 'tangle of trees.'
Aria Lynosry's home and medic center. - Post here when you are in this shop.
The Werewolvian City. - Post here when you are anywhere in Netherfield [Click for More Information]
The Forest Elf village located within and without the Forest of Longbourn. - Post here when you are specifically in the Village of Longbourn (aka Longbourn).
Home to the Sotherton Caves of Goblins and the Sotherton huts of Ogres. - Post here when you are not in the cave or in the huts, just when are specifically in the Forest.
Home to the Goblins of Sotherton. No one dare enter these caves, for the Goblins are very territorial. Curiousity has been known to. . . kill. - Post here when you are specifically in the Goblin Caves of Sotherton
Discussions
Most recent OOC posts in Rebellion: Rebirth