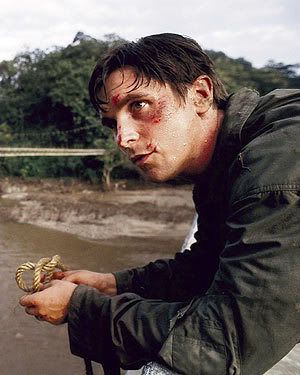 Name:
Daniel Roth
Age:
26
Gender:
Male
Appearance:
Standing at 5'11" weighing 145 lbs, he can be somewhat intimidating at a first glance, although his usual smile tends to calm some people down. At a second glance, people notice he is a rather unkempt individual. He has shaggy black hair, isn't clean shaven, and his clothes are usually covered in dirt from travel on the prairies. He usually wears a pair of denim jeans with a leather jacket, covering a black and red flannel shirt. He wears brown leather boots as well.
Personality:
A very methodical man, he is very calm and level headed, only acting out when he deems it necessary. He always prefer to avoid conflict when it comes to everyday life When it comes down to business though, he is very straightforward and considerably colder. When confronted by a target, he won't hesitate to shoot him down if he needs to. Even then, he still tries to find away to capture them alive (and despite the higher pay-outs, he makes assurances it's not because of the money).
Profession:
Bounty Hunter
Weapons:
.44 Colt Single-Action Revolver; Winchester Repeater Rifle; Bowie Knife
Bio:
Not much is known about Daniel. He was born the son of German and Irish immigrants in Missouri. Based on his family's history, he is sympathetic to the working class, but had no desire to be a part of it. He picked up a Colt revolver in one of the local gun shops at the age of 15 and began to practice consistently. He was a fast learner and quickly became skilled with it. When he was 20, he moved to El Paso for reasons he prefers to leave unknown. Unfortunately, based on his status, it was hard to really make a mark for himself. Although there are varying stories about when he had his first major "shootout," it's been said that the most accurate tale was that he had shot an outlaw attempting to rob his home. The man was notorious for shooting first and asking questions later. He was also known for having impeccable aim and speed. While rummaging through it, Daniel walked in on him. The man drew his gun, but Daniel outgunned him, shooting him twice in his arm and once in his stomach. Although the man survived, his arm became unusable (according to a doctor that was treating him). From there on, Daniel made a name for himself for being one of the faster local shooters. As time went on though, he continued to train vigorously, training with various handguns and rifles, although he found his niche with the colt revolvers and Winchester repeaters. It was this that made him fall into bounty hunting. It increased his reputation amongst the people (some consider him the unofficial hand of the law) and contenders alike. Although one thing always worried some of the people. He never says why he moved. When asked about it, he always evades it in a rather cold demeanor, showing the people he's hiding something.