____________________
B A S I C S
____________________
X
X
X
X
X
X
N A M E
Kimberly Hill
A G E
22
H E I G H T
5'6"
W E I G H T
143
E T H N I C T Y
Korean
S E X U A L I T Y
Bisexual
G E N D E R
Female
H O B B Y
Kim loves writing music.
singing in the pub she works at, as a bartender.
And siting in her car at night playing her guitar.
---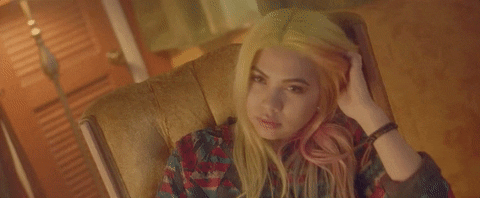 ____________________
G E A R
____________________
Kim wouldn't be caught dead without a notebook to write lyrics in. She always has her headphones around her neck, with something softly drumming out of them. A lot of her cloths were ordered offline from knock of retailers. When not driving her silver Jeep Wrangler, she keeps her car keys clipped to her jeans belt loop. Her keys and belly dancing bells ringing softly as her hips sway while she walks, or dances, through life.
---
____________________
P E R S O N A L I T Y
____________________
Kimberly is a bit bipolar, or so herfriends would say. She has a lot of different interests.
She is very witty, and can shoot a snarky comeback at you just as fast as a bullet leaving a gun. Sometimes she can be a bit moody, and when she is angry you don't want to get stuck in her war path. When there are people bothering her, Kimmy can turn into a major bitch within seconds. For the most part though she just does her own thing. And if people would only listen to what kind of music she is listening to,
they would be able to tell the mood she is in.
---
____________________
H I S T O R Y
____________________
Growing up for jimmy was very hard. She lived in a small town where everybody knew everybody else. It was a nightmare!
School was even worse.
From the time she was in Kindergarden she was teased, for anything the other kids could think of, and being the only kid in her schoolthat was not very athletic and a bit chuby, didn't help. Luckily for Kim, the summer before her freshman year of highschool her family moved to the cityand Kim got a fresh start.
She got really into working out and over that summer slimmed down a lot. She also invested in a whole new woredrobe and spent hours watching makeup tutorials. When school started Kim was ready to strut her stuff,
and strut she did!
She instantly made a lot of friends, and as the year went by she got really intrested in theatre, mainly music and dancing. Her parents put Kim into voice and dance classes after school, and she loved it!
Everything was going perfectly and then, a month and a half before Kim's graduation, the unthinkable happened...
Her father decided he didn't want to be with Kim's mother anymore.
He disapeared.
With kim and her mom now on their own her mother decided to move them again. So a week after graduation they packed up the family car and drove up north to a small town about two hours from a big city. Kim was a little sad but she quickly got a job as a server at a puband when she turned 20 the promoted her to a bartedner.
Within a year she was made to take her test and was matched the following summer.
Kim refused to meet the man she was matched with and has been coming up with excuses as to why she cant meet him ranging from being too sickto saying she was going to be traveling for a year.
Now she is starting to get tis feeling of being watched, and it is starting to creep her out.
Kim isn't ready to be with someone, and she doesn't even know if she ever will want to.
---
____________________
O T H E R
____________________
O C C U P A T I O N
Musician and bartender
H O M E
A small apartment, with her mom.
R E L A T I O N S H I P
Matched
R E L I G I O N
N/A
C O L O U R
#926F9E
F C
Hayley Kiyoko
---
Character created by Baby-Sick-Skin