Name: Holland Tusch
Age: 23
Position: Reiken Member
Height: 5'11
Weight: 147 lbs.
Appearance: Holland has a slim body build. He generally keeps his hair dyed into a dark white color while his eyes are a light shade of blue. He constantly has headphones on his ears or around his neck. Holland typically has a attire of black clothing with a light undershirt such as white. Added to his already dark top he has a pair of black jeans that he wears with a silver chain dangling on the right. He has no piercings, tattoo, or rings of any kind on his body, but does have a necklace with a emblem of a shield with the letters R.H. engraved on the back of it.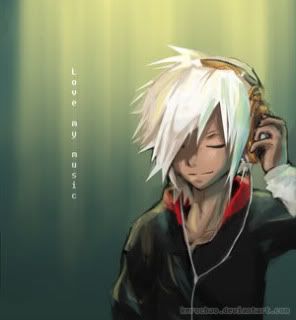 Soul Object: (Kumori: The Chain) A Silver Chain that has one detachable end.
Likes: Music, Chinese Food, Friends, Dogs, Random Acts of Mayhem at times.
Dislikes: Inhumane acts, Innocent lives being killed, Pickles, Mustard.
Fears: Cats, Cats ruling the earth, Complete Darkness.