Drake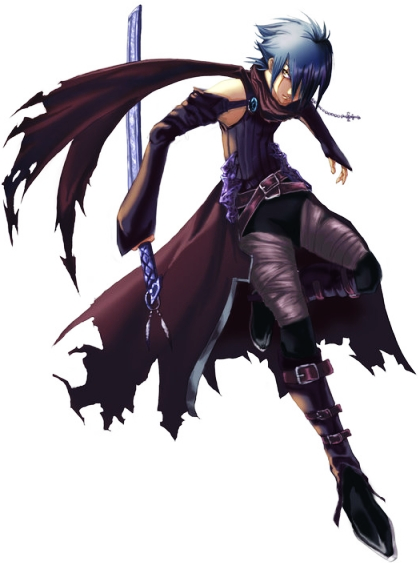 Age:
22
Gender:
Male
Height:
164 cm
Appearance:
Drake has long black hair, that falls over his face, and shifty looking golden eyes. He is fond of the colour purple, and wears a purple cape and scarf over his black leather armor. Very conspicuous you may think, right? That's the odd thing about Drake, he's very good at not being noticed despite looking like a thief and/or murderer.
Personality:
Drake is the quiet type, not entirely shy, nor devoid of emotion, he just prefers not to speak unless he has to. He believes you should speak through your actions, which in his case means he runs around every town he visits shouting "Fuck you!" at the top of his lungs. Sadly Drake doesn't understand the hypocrisy of his motto, and manages to delude himself that he's actually an all round good person, which he sometimes can be... When he doesn't have his hands in your pockets...
Power:
(Limited) Invisibility
Equipment:
A curved Eastern style blade (Stolen from a collector of rare artifacts),
Twin single edged knives (Stolen from a military barracks),
A bandoleer of throwing knives around his waist (Bought with his own money),
Hidden blades in the toes of his boots (Self designed)
Background:
Drake grew up in a circus. He doesn't remember anything about his parent, and frankly doesn't care, they didn't care enough about him to keep him, so they deserve the same. When he turned sixteen he left the circus and went into a life of crime, using the skills he had gained from his life in the entertainment business to break into houses and escape pursuers. During his time as a thief he found that if he concentrated hard enough he could make himself invisible to the human eye for a limited period of time. This ability helped his career to no end, and earned him some notoriety across several regions of Argaria. After hearing about the Relic of the Gravinas he decided to take up the challenge of finding it, and stealing it away.
Other:
From years of training with a circus, Drake has reached a level of acrobatic skill that few others can match. He also has a fear of wasps.