Our world is in trouble, this new threat is possibly the worst ever our world has ever faced. This world is on the verge of being assimilated
50 years ago a split in the fabric that separates dimensions appeared. At first it was just a marvel of science but then the monsters appeared, they destroyed entire cities and towns and our weapons had no effect. After 25 years of fighting a losing battle one man discovered something that would give out world the chance it needs, the Relics. The relic the man found was only the size of a pebble but it did extraordinary things, it would fuse with the man to give him amazing powers, powers that could only be described as magic. Soon more and more Relics were discovered and used to push back the invasion from another reality. As the Relics were found it became known that relics vary greatly in size in shape. The powers of the relics vary in power almost as much as they vary in size. The man used his new found powers to push back the monsters but the damage was already done. Three Cities were in ruin and over 50,000 people dead, wounded, or missing.

Soon after groups of Relic hunters appeared to help fight back the monsters, people even went on their own to look for these powerful weapons. An Order even appeared for training people to fight the monsters and use the Relics to their fullest, the Order's name is The Order of Our Last Hope. The Order is the biggest Relic hunting group with the largest collection of Relics and students. But there are those who do not use the Relics to save the world they wish to take advantage of the, they have been branded "The Disavowed". The Disavowed are people with no good intentions and only care for themselves, they are very dangerous individuals who kill anyone with a Relic and take it for their own. The Governments of the world have teamed up with the Order in a desperate search for a way to close the gap in reality. But one renegade group of gangsters is causing unrest in small villages and outposts. Local Law enforcements are out matched because every member of the Disavowed has an offensive type Relic that they use to suppress the people and maintain control.

50 years later, on the day the split appeared horrible news is to be had. More monsters than ever before have poured from the rip and are now marching towards the capitol where the White Order is held, it is presumed the monsters have appeared en masse to destroy the ones who stand in their way. Now those in the Order are going on the offensive, they are going to increase efforts to hunt the Relics and focus on finding a way through the Rift to take the battle to them and to do that a specializd team was made to find Relics and cross into the other realm, find what caused the rift and find a way to destroy it. But before the team sets out they must protect all they hold dear from the oncoming onslought that is the worst monster attack in the 50 years the rift has been opened.
The White Order was founded to search for and collect the Relics as they appeared, they were named this because of one significant Relic, The Statue of the White Lady. Those in the Order tend to wear white to show their affiliation with the Order and the Lady. Since they were founded 5 years after the first Relic was revealed the Order's numbers have increased making them incredibly influential in the war. Most Governments look towards the Order for advice concerning Relics. The type of attire the Order wears consists of White with touches of black which are, most of the time, enhanced with Relics. The Order not only searches for Relics but they also train people to use them and fight the monsters. Although the main focus of the Order is to find Relics and kill monsters they also step in to stop the Disavowed when they get of hand and threaten people's lives. The City of the Lady is where the Order originated and soon became the safest city in the world because of protection given by the Order.
The Disavowed are common thieves and gangsters who came upon Relics and use them to execute their crimes. Because the Governments are busy with the monsters the Disavowed are left to their own devices leaving small settlements gripped in fear and even forcing people to commit crimes for them. They hold a strong hate towards the Order because they are the only thing standing between their crimes and imprisonment. Although the Disavowed seems to be a ragtag group of thieves they actually have a goal besides free reign to do what they want. From recent reports it has become clear that the Disavowed they want to collect the Relics to rule the world, destroying the monsters and freedom along with them. The most important figure in this group is the head boss, James McConnor. Every faction of the Disavowed answers to him and they don't dare question him because he has the strongest Relics. Whenever the Disavowed go on a raid and get a big load of Relics its McConnor who gets the first pick.
This is James McConnor a man who cares only for himself and has a dream to push back the monsters and to rule the world. He gains civilians support by making false promises of hope and protection, the hope has yet to be given. The "Protection" Is just a band of your average street gang that make the people do horrendous acts just for their own entertainment. The thugs also steal from the people but they do protect them from any monster attacks, how will they get money from the townspeople if they are all dead?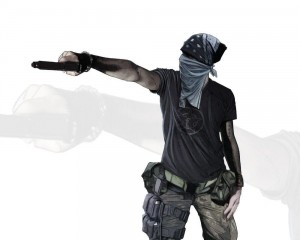 Relics are as numerous as the stars, but before they become known they have to awaken. When a Relic awakens it lets of a small burst of energy which can be tracked with newly developed technology. The Relics vary in size and powers, some may be small or large and their powers can do many things some may allow the wielder enhanced speed, strength, intelligence, while others can give the user magic powers such as casting spells or allowing the user to distort his body to any shape or size. Other Relics will vanish when not in use and reappear when they are needed. One of the prized Relics of the Order is the Lady in White. The Lady is a statue that has a number of unique powers, it can speak to members of the Order, and it can detect Relics more accurately then the technology created track down Relics. The Order has given categories to the Relics: Offensive, Defensive, and Support.
Monsters began to pour out of the tear in the universe 50 years ago, their numbers endless and their power great. At first it was very few monsters that we were able to destroy but with great losses. Soon after the monsters first appeared, they began to get more and more powerful, more and more complex. Soon they were able to crush our defenses and lay waste to nearby cities, destroying them in a matter of hours. The monsters are seemingly mindless and only destroy. The largest Monster ever to be discovered was as big as a mansion, it used its giant fists to destroy building and crush infantryman. Very little is actually known about the monsters or what they want. The monsters seem to take the form of mythical creatures such as Demons, Dragon, Revenants but those are only a few of the monsters.
This dragon is one of the most frequently seen monster that comes in and goes out of our world. This dragon has wrought destruction on countless cities.
This ghost like monster is a very common foot soldier and can come in great numbers. When ever this monster kills a human it absorbs the soul from the dead victim making the body come back as a grotesque monster. This ghoul is very dangerous in populated cities for they can create more and more monsters. they bring change and terror wherever they go.
This is what happens to the poor souls who get their soul taken by the ghouls, although this is just the first form. They have been known to change and evolve. They are the embodiment of what once was whole but is now not.
This hooded figure is a Revenant. Despair and sorrow follows them wherever they tread. They use relics to battle us so their powers are unpredictable.
Code: Select all

[center][font=choose font][u]NAME HERE[/u][/font][/color]
[url=YOUTUBE LINK TO CHARACTER'S VOICE HERE][color=choose color]"INSERT QUOTE HERE"[/color][/url]
[url=YOUTUBE VIDEO W/LYRICS HERE]INSERT THEME SONG TITLE & ARTIST HERE[/url][/center]

[b]Name: [/b]

[b]Age: [/b]

[b]Gender: [/b]

[b]Appearance: [/b]

[b]Eye Color: [/b]

[b]Hair Color: [/b]

[b]Height: [/b]

[b]Weight: [/b]

[b]Other Features:[/b]

[b]Likes: [/b]

[b]Dislikes: [/b]

[b]Type of Relic: [/b]

[b]Personality: [/b] (At least a detailed paragraph.)

[b]History/Background: [/b]

[b]Samplepost: [/b]
Taking place in...
There are no characters in this universe yet!
0 posts here • Page 1 of 1
0 posts here • Page 1 of 1
Arcs are bundles of posts that you can organize on your own. They're useful for telling a story that might span long periods of time or space.
There are no arcs in this roleplay.
There are no quests in this roleplay.
Here's the current leaderboard.
There are no groups in this roleplay!
Welcome home, Promethean. Here, you can manage your universe.
Arcs are bundles of posts from any location, allowing you to easily capture sub-plots which might be spread out across multiple locations.
You can create Quests with various rewards, encouraging your players to engage with specific plot lines.
Settings are the backdrop for the characters in your universe, giving meaning and context to their existence. By creating a number of well-written locations, you can organize your universe into areas and regions.
Navigation
While not required, locations can be organized onto a map. More information soon!
There are no groups in this roleplay!
There are no characters in this universe yet!
By creating Collectibles, you can reward your players with unique items that accentuate their character sheets.
Once an Item has been created, it can be spawned in the IC using /spawn Item Name (case-sensitive, as usual) — this can be followed with /take Item Name to retrieve the item into the current character's inventory.
Give your Universe life by adding a Mob, which are auto-replenishing NPCs your players can interact with. Useful for some quick hack-and-slash fun!
Mobs can be automated spawns, like rats and bats, or full-on NPCs complete with conversation menus. Use them to enhance your player experience!
Current Mobs
No mobs have been created yet.
Locations where Mobs and Items might appear.
You can schedule events for your players to create notifications and schedule times for everyone to plan around.
Add and remove other people from your Universe.
The Forge
Use your INK to craft new artifacts in Relics: Our World is Threatened.. Once created, Items cannot be changed, but they can be bought and sold in the marketplace.
Notable Items
No items have been created yet!
The Market
Buy, sell, and even craft your own items in this universe.
Market Data

Market conditions are unknown. Use caution when trading.

Quick Buy (Items Most Recently Listed for Sale)
There are no characters in this universe yet!
None
Discussions
Topics

Replies
Views

Last post
Most recent OOC posts in Relics: Our World is Threatened.