In the southern part of Texas, in the town of San Antone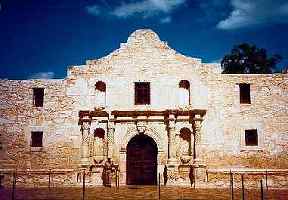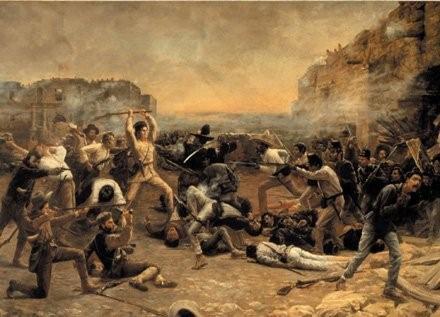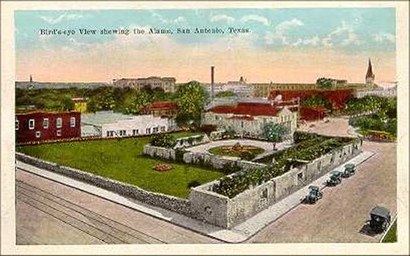 There's a fortress all in ruin that the weeds have overgrown.
You may look in vain for crosses and you'll never see a one,
But sometime between the setting and the rising of the sun,
You can hear a ghostly bugle as the men go marching by;
You can hear them as they answer to that roll call in the sky:
Colonel Travis, Davy Crockett and a hundred eighty more;
Captain Dickenson, Jim Bowie, present and accounted for.
Back in 1836, Houston said to Travis:
"Get some volunteers and go fortify the Alamo."
Well, the men came from Texas and from old Tennessee,
And they joined up with Travis just to fight for the right to be free.
Indian scouts with squirrel guns, men with muzzle loaders,
Stood together heel and toe to defend the Alamo.
"You may never see your loved ones," Travis told them that day.
"Those that want to can leave now, those who'll fight to the death, let 'em stay."
In the sand he drew a line with his army sabre,
Out of a hundred eighty five, not a soldier crossed the line.
With his banners a-dancin' in the dawn's golden light,
Santa Anna came prancin' on a horse that was black as the night.
He sent an officer to tell Travis to surrender.
Travis answered with a shell and a rousin' rebel yell.
Santa Anna turned scarlet: "Play Degüello," he roared.
"I will show them no quarter, everyone will be put to the sword."
One hundred and eighty five holdin' back five thousand.
Five days, six days, eight days, ten; Travis held and held again.
Then he sent for replacements for his wounded and lame,
But the troops that were comin' never came, never came, never came.
Twice he charged, then blew recall. On the fatal third time,
Santa Anna breached the wall and he killed them one and all.
Now the bugles are silent and there's rust on each sword,
And the small band of soldiers lie asleep in the arms of The Lord.
In the southern part of Texas, near the town of San Antone,
Like a statue on his Pinto rides a cowboy all alone.
And he sees the cattle grazin' where a century before,
Santa Anna's guns were blazin' and the cannons used to roar.
And his eyes turn sort of misty, and his heart begins to glow,
And he takes his hat off slowly to the men of Alamo.
To the thirteen days of glory at the seige of Alamo."
((Hahaha if you actually read all of that, then thanks. Anyway, song version:
Ballad of the Alamo
Great song. I listened to this for HOURS before I got an idea to make a roleplay))
"BUT NOT YET! The hundred-eighty-five of you here on this day have a fight. Families with children have already been evacuated, we are supplied, have sent for aid, and Santa Anna's men are still hours away. Solderrrrrrrrrrrrs! You set about fortifications, while you, nurses, have cots ready. Handy men, start loading rifles." The General overseeing the defense of the Alamo Church in Texas that day new what was coming, but it did no show. No, he was the commanding General and acted accordingly: He gave precise instructions, never faltered, and never showed fear... What about you?
Yes, this is essentially a roleplay following the events of the Alamo... at least, it mostly is.
Colonel (Cournel, Coronel, Coretnel?) Mendez, Spanish Consiquader. He is attributed infamy as the one who single-handedly destroyed all of the Aztecs... but maybe their magic will be necessary? Will they be able to appease the old gods? What of their "saintness," abandoning "God" for "Blood" ?
Who will win if the Alamo's reinforcements finally arrive? What if there is treachery running amuck both ends of this war (War for Texas, not the Alamo specifically)?
Character Sheet:
[right/][b/]Name[/right][/b][NO CANNON CHARACTERS! NO JIM BOWIES, NO DAVY CROCKETS!!! I don't know anyone on the website with the sheer skill and amazing awesomeness to do historical figures such as these any true justice. They will be maintained as mutable NPCs controlled by the GM ((or co-GM if one so be appointed)), so don't even try)
[right/][b/]Quote(IN SYNOPSIS OR HERE)[/right][/b]
[right/]picture, I prefer an actual [img] to having an [url], but either works[/right]
[b/]Description:[/b](text doesn't get bolded)
*[b/]Star Sign[/b]
[Main Weapon] Can be anything from a musket to a Henry Sharp's model 1855. I don't care what year or model, this IS NOT the year the Alamo took place in. If it feels like a "cowboy six shooter," go for it. I will point out anything that doesn't fit. :)
[Side Arm] From a piece maker to a Colt Navy, same as main weapon.
[Melee weapon] From a "Bowie Knife" (don't tell ol' Jim you're callin' it that) to a Calvary Saber. Same as main weapon.
*Anything else where you want it to be at
[X]Abilities/Powers/Et Cetera have no place in this roleplay... for now.
*is optional
[X]Do not include anything like this
*take out the "/" at the beginnings to all of them or they won't work when you make your character. I don't now how to do that epic, scroll-bar thing :(
(Give me 1-10 hours to finish this, sorry)
(not listed most important to least)
1. Repsect the GM and CoGm(s)
2. No cannon characters
3. No autoing, moding, godding, et cetera
4. No controlling cannon characters
5. You are NOT invincible. Even if a hundred eighty-five men held off "thousands" of Mexicans for thirteen days, they still died.
6. No open religion arguments. I, myself, do not support religion and thus am not a religious person, yet my character shall still be a "blessed." I don't care if your character is Indian, Hispanic, Eastern, Asian, "American," or what. No arguing over who is right or wrong outside of your characters, and even then be in-character. No bigotry remarks or insults.
7. Posting length: 2 sentences to 3 paragraphs. I expect people to get somewhere in the middle of there, but either end of the spectrum is alright.
8. You don't have to like country music, but please respect it and listen to the Ballad of the Alamo... you don't HAVE to if you do not want to.
9. No wasting the Alamo's food/ammo resources.
10. Have fun
There are no characters in this universe yet!
0 posts here • Page 1 of 1
0 posts here • Page 1 of 1
Arcs are bundles of posts that you can organize on your own. They're useful for telling a story that might span long periods of time or space.
There are no arcs in this roleplay.
There are no quests in this roleplay.
Here's the current leaderboard.
There are no groups in this roleplay!
Welcome home, Promethean. Here, you can manage your universe.
Arcs are bundles of posts from any location, allowing you to easily capture sub-plots which might be spread out across multiple locations.
You can create Quests with various rewards, encouraging your players to engage with specific plot lines.
Settings are the backdrop for the characters in your universe, giving meaning and context to their existence. By creating a number of well-written locations, you can organize your universe into areas and regions.
Navigation
While not required, locations can be organized onto a map. More information soon!
There are no places in this roleplay!
There are no groups in this roleplay!
There are no characters in this universe yet!
By creating Collectibles, you can reward your players with unique items that accentuate their character sheets.
Once an Item has been created, it can be spawned in the IC using /spawn Item Name (case-sensitive, as usual) — this can be followed with /take Item Name to retrieve the item into the current character's inventory.
Give your Universe life by adding a Mob, which are auto-replenishing NPCs your players can interact with. Useful for some quick hack-and-slash fun!
Mobs can be automated spawns, like rats and bats, or full-on NPCs complete with conversation menus. Use them to enhance your player experience!
Current Mobs
No mobs have been created yet.
Locations where Mobs and Items might appear.
You can schedule events for your players to create notifications and schedule times for everyone to plan around.
Add and remove other people from your Universe.
The Forge
Use your INK to craft new artifacts in Remember the Alamo. Once created, Items cannot be changed, but they can be bought and sold in the marketplace.
Notable Items
No items have been created yet!
The Market
Buy, sell, and even craft your own items in this universe.
Market Data

Market conditions are unknown. Use caution when trading.

Quick Buy (Items Most Recently Listed for Sale)
There are no characters in this universe yet!
There are no places in this roleplay!
None
Discussions
Topics

Replies
Views

Last post
The owner of this roleplay hasn't added any places yet; so we're dropping you into the Multiverse.
Most recent OOC posts in Remember the Alamo
This is the auto-generated OOC topic for the roleplay "
Remember the Alamo
"
You may edit this first post as you see fit.