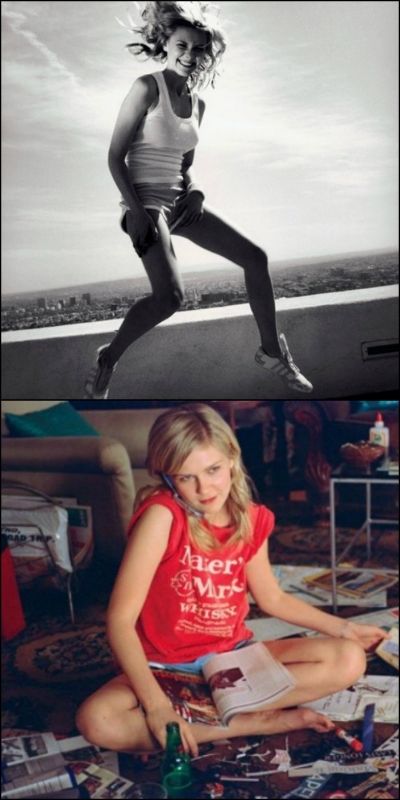 Age: Sixteen
Date of Birth: May 15th

Physical Description: With a head of pale, curly locks and a pretty face, it could be said that Adelle looks something like a cherab. Since she entered the world Adelle has had a considerable head of hair and it's been some what of a trade mark for her. Many have picked her out of a crowd due to her bonny ringlets; including a modelling agency. She's very photographic with creamy skin and a face that's easy on the eyes. With a small body structure she therefore has a small frame, at an awkward stage in her growth Adelle can appear slightly gangly, with long legs and a body that hasn't fully converted from girl to woman. Her bust only just makes a noticable dent in her school shirts and she's naturally boastful about it, her skinny frame hasn't really got the room to accomodate a pair of melons. Her bottom on the other hand is well on it's way to being quite the whooper, she doesn't see the attractive side of a bum but enjoys the attention she gets because of it anyway. To sum up her appearance, Adelle is a dainty little dolly who can be dressed up as either a tomboy or a girly girl, in the end she's just a scallywag though who dosses about in baggy tops and shorts.

Personality and Information: "She models for a popular fashion agency that sponsors young teens. She has a good chance of getting spotted by a famous agency which could lead to a handsome contract and a lot of money. Growing up in an environment where everyone remarks on your image has made Adelle a little harsh, she's not one to promote Disney's dreams can come true for anyone. If a fat girl confides she wants to be a model, Adelle will shut her down in five minutes flat." - A friend

Adelle doesn't believe in telling people what they want to hear, no one has ever spared her feelings. Being involved in a modelling agency since a young age has given her some unhealthy habits, she isn't vain to be exact but she is very critical of others appearances, if you have an issue with your appearance yet inspire to be something inprobable Adelle with make it her buisness to set you straight. It's not to be purposefully cruel, she just thinks you're deluded and need someone to be honest with you, thats what her agency did for her.

"Putting her harsh opinions aside, Adelle is a nice girl to be friends with…if you like that kind of thing. What I mean by that is, if you enjoy being a little wayward. If we were talking labels, Adelle would be labelled the girl who could end up on a missing poster. " - A friend

Adelle could be called wild, it all depends what people class as wild. She has been known to hang out with older people now and again but for someone with access to quality make-up and the knowledge on how to use it, it's no surprise she attracts older people. She looks older than a sixteen year old. Adelle has in the past snuck her way into nightclubs with a fake ID and she does joke about adult themed things like she invented them but that's how the girls at the modelling agency talk. Adelle does stay out after dark, she does attend late night movies, carnivals and she does get up to some naughty things but no one stops her. She knows no better. Her father doesn't stop her and her mothers not around to care.
To sum her up Adelle takes risks, sometimes knowingly and sometimes she doesn't understand the seriousness of her actions. She'll be the girl to bring a bottle of gin to a sleepover, the girl to teach you about the real in's and out's of sex education or the girl who gets you into serious trouble all because she wanted a spot of fun.
Adelle throws herself in the deep end and then acts surprised when she can't stay afloat, luckily there's usually someone around who can fish her out of trouble. Some parents love her and others hate her and forbid her from hanging around their children, either way everyone is worried that one day Adelle might be stuck in the deep end and if no one's around she'll drown.

"People are quick to judge her. Many don't see the side of Adelle that makes you love her, she's really just a big baby who needs a mother to tell her 'no' sometimes. I love Adelle, there are little things she does that always make me smile but sometimes make me sad. I wish everyone saw Adelle how I do" - A close friend

This girl could be the greatest friend you'll ever have. If you see the soppy, snuggly, cuddly side of Adelle then you know that you are someone she'll be loyal to forever. Despite being courageous and confident Adelle has a weak spot just like everyone else, when she's feeling beaten down and crumpled the person she goes to and cries on is the person she places her trust in. She'll share her secrets with them and she confide her flaws and concerns in them. They'll know that Adelle loves to sleep in childish pyjama's, that she loves to eat salt and vinger crisps when they're coated in chocolate and that she has never shared a single intimate moment with anything but the mirror.


Tends to do/ like:

Weird food combinations
Flirting with the opposite sex
Acting like she has experience in something she doesn't
Having a snuggly moment with dear friends
Getting an adrenaline rush
Being praised
Dogs and cats

Tends to not do/ not like:
Animal cruelty
Those who call her bluff
Being told off or critised
Being brushed off by others
Spiders and other creepy crawlies with long legs.

History: Adelle Hollings comes from a single parent family. There's just her, her dad Tom Hollings, a nerdy, four eyed computer genius and her grandad John Hollings living in her house. The missing family member 'mum' walked out on the two of them when she realised motherhood wasn't for her, she took the cowards route and found herself a younger, wealthy man. Adelle get's her looks from both parents, her father despite being nerdy and lame isn't ugly, just terribly awkward and verbally repelling to women.

They live in a two story house in a fairly exceptional neighbourhood. It's not a bad house but a few things are a little dated, like Adelle's bedroom, it's full of vintage items; the curtains are heavy, floral patterned drapes, her bed is grand and extravagant and the matching furniture is just as eye-opening. The house used to belong to an old lady who had died, her relatives had said they could keep some of the items because they were hard up and seemed like nice people. This is why Adelle's bedroom looks like a victorian queen's bed chamber.

She's grown up around her father and grand-parents. She used to be a shy girl before she entered modelling which seemed harmless at first but it has become a huge part of her life and has had a huge influence on her attitude. She used to be timid and awfully aware of what she should and shouldn't do as a young girl. Adelle's grandmother was her role-model, Adelle would follow her nana around like a shadow, helping her do the dusting, trying her best to knit. Adelle idolised her. When her grandmother died the last female influence in the family was gone and Adelle gradually began to turn into the terror she is today. Her male guardians are baffled by her behaviour and struggle daily to be the best role models they can.