{
"I am astounded by all of the knowledge out there that we have failed to comprehend."
}
---
---
---
---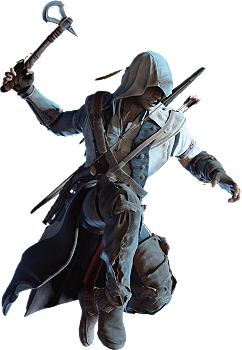 Name
Obadiah Knox

Sex
Male

Race
Machination

Age
In reality, he was created about 7 years ago, but he has
the mind and appearance of about 28.

Dialogue Color Number
#003366
---
---
---
---
Personality
Obadiah is an odd fellow to be around, as he is not organic and does not completely grasp emotions. His robotic nature, however, does not leave him bland, without characteristics. Because he does not understand the cultures outside of his own programming, he can come across as blatantly rude, uncaring, or cold. This could not be further from the case, but his inability to see the error of his ways can prove problematic. Still, it leaves him eerily inhuman, as found in the monotone way he talks and his stiff movements. Before you get to know him, being left alone with the guy can be an unsettling affair as his face is often blank and seemingly emotionless.

Do not mistake his slight ignorance for lack of intelligence, as he's an extremely bright man. It is not uncommon to find the introvert tucked away somewhere, deep into a good book and not wishing to be interrupted. He is not one for much social interaction, as he is rather quiet. Alternatively, when he does have something to say, his well-spoken manner assists with making it worth-while. Making him quite the left-brained man, Obadiah also has a large data storage system within him, allowing him to have nearly perfect memory.

Obadiah is not very good at expressing his emotions either, nor dealing with the feelings of others. To be frank, he is stoic and distant, putting his mind before his heart. Still, on the rare occasion, he will show absolute passion toward something, which can be slightly startling when you first witness it.

Respect makes up a large portion of his being as well. He shows downright admiration to those above him, although this does not prevent him from ever internally questioning their abilities. But, for the most part, his loyalty is unwavering, which is not always a good thing.

Sexual Preference
Asexual

Likes
✔Studying ✔Work ✔Children ✔Dogs ✔Thunder
✔Warmth ✔Books ✔Being Alone

Dislikes
✘Cowards ✘Battle ✘Snow ✘Crowds ✘Loudness
✘Stupidity ✘Invasion of Personal Space ✘Using Technology

Fears
✦Rejection ✦His Mechanical Body Breaking ✦The Death of Others
---
---
---
---
Reason for Joining
Obadiah joined rather early on, taking apart in the guild for the sole purpose of being helpful, as he had no other use at that time.

History
Formed in a lab for the purpose of servitude, Obadiah was not born but instead constructed by human scientists and a shady mage who had mastered the skill of black magic. Underneath his extensive wiring lies an organic soul, one that defies mundane science. Not long after his creation, he was forced to endure months of sheer programming, hooked up to machines as information was uploaded to his machinery. Although it was slightly torturous, he gained a respect for knowledge from the experience.

Once his creators were satisfied, he was released into the line of work he had been created for- he became a soldier. However, no matter how skilled they may have made him, they found that he had no interest in battle. He was a skilled combatant, but he found the entire affair boring. Still, he didn't have much of choice, as free will had never been an option up to that point. He continued serving until his mechanical body was torn apart in battle.

One might have expected that he power down, but it took quite a while for him to shut off. So, he was left lying upon a battlefield in pieces, a rather scarring event for the mechanic organism. His parts were shipped back to those who had made him for repairs, and, when he awoke, he said that he no longer wished to be in the military. He wanted to lead his own life, and his creators, amazed by the soul's dominance over the mechanical desire to obey, said yes. He was released into the world, although it was not a good time to be alone in the world, as the chaos for the remnants ran heavily through all dimensions. When he heard of a guild seeking members, he hardly hesitated to apply.

Anything Else to Know?
Nothing at the moment. TBA later. :)


---
---
---
---

Main Ability
Memory || There is a data storage device stored into Obadiah's cranium that files everything he learns. He is able to access his own memories quite easily and sift through them without a problem. However, it does take him a while to think access a memory, so if you want information he doesn't know by heart, you will have to wait a while.

Secondary Ability
Combat || Although he may loathe battle, he understands when he needs to fight and will do so willingly. When he is able to get into gear, he is a rather talented fighter, although hardly near his teammates in the guild. His true ability lies in his words, but being able to slice a throat or two is useful as well. He usually wields a bow and an ax when in a fight. His ability to kill without feeling remorse is one to be envied by the faint-hearted.