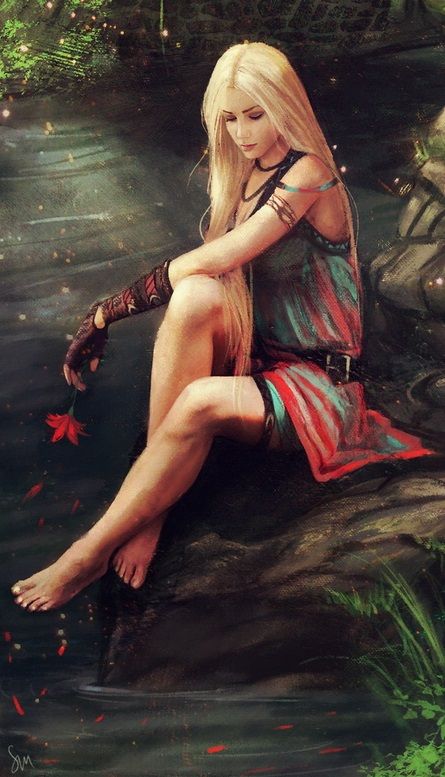 ---
---
---
General Information
---
---
Name:
Sabarwen Talalina
Sex:
Female
Race:
Elf
Age:
Twenty-three
Dialogue Colour Number:
#4E9258
---
---
Inside the Mind
---
---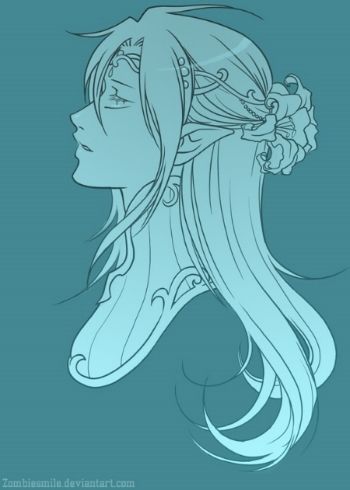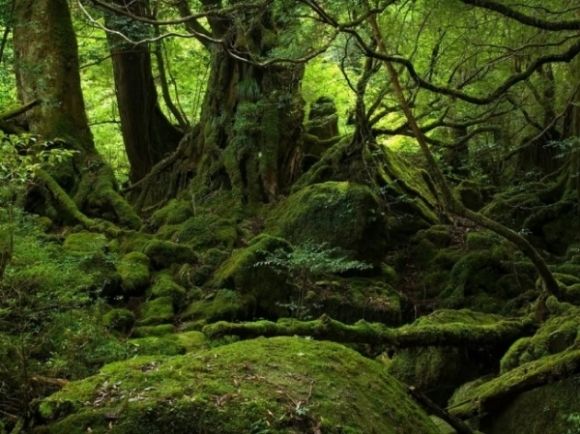 Personality:
Like most elves Sabarwen thinks of herself as superior to the other races except for select individuals that have taught her a bit humility. Because of this pride she has quite a temper and is liable to lash out at the smallest of perceived insults. Though after losing battles because of this she has started to learn to sit back and wait for when things would be more in her favor. So she has become more quiet, fading to the background to let others lead. Though her pride gets in the way and she tends to question orders often, Sabarwen remains loyal to the ones that she has decided to allow to get close.
Sexual Preference:
Heterosexual
Likes:
Quiet
Nature
Order
Her weapons
Dislikes:
Alcohol
Small spaces
Large gatherings of people
People looking down on her
Fears:
Being proven to be weak
Buried alive
Body of water larger than a creek
---
---
The Past
---
---

Exact Reason for Joining the Guild:
It wasn't really much her idea. It was more of her parents had contacted her and told her that joining it would be the next step in her learning of humility and that fighting is not always the best answer.
Story (History):
Sabarwen is the firstborn of the king and queen of one of the many clans of elves that are in the world. Before the different worlds had gotten mashed together her clan came from a world that did not have much technology. After everything came together her parents had decided to keep the clan hidden and observe from a distance the new marvels that were all around. After Sabarwen came into the world the clan was still hidden and a few people started to whisper that maybe they will go back to their warlike ways from before with a princess now. But instead her parents had a different idea.
Her parents led the clan out into the world, but as a peaceful clan. Which many did not like so has the young princess grew they tried to cultivate her into the type of queen that would give them war. Well they had succeeded in making her believe that elves were superior and trained her to be one of the best archers within the clan. Though her parents had intervened on her eighteenth birthday they exiled her so that she can learn that things were to be different than in their old world that she had never actually known. Through the years she had learned the error of thinking that she was superior to everyone. And eventually at the age of twenty-three she learned of the Remnant Guild and made her way there to continue to learn and grow so that one day she could return to her clan.
Anything Else to Know?:
---
---
Abilities
---
---
Main Ability:
Accuracy – What is the most important thing to being a Marksman? Hitting your target more often than not. And Sabarwen excels at this, hardly ever does she miss with bow and arrow. Her aim with a crossbow is just behind that. Guns with her are still tricky, she is only sixty percent accurate though she is steadily improving herself.
Unique Ability:
Tree Walk - A nifty ability that allows her to use the interconnectedness of all tress to travel from one location to another. The greater the distance she is wanting to travel the longer it takes for her to build up the spell and the more tired she is after she finishes. It requires her to commune with the tree and let it absorb her body, at that point she is whisked away to a tree in the specified location within the spell. She can also use this in a battle where there are trees around to allow her to get better shots off. But those quick trips if made many in a row can tire her out quicker than a long trip between two trees. Plus there is a chance of a mishap since half of her concentration is on enemies.