Jennifer Jones
---
❝Memories are the enemies now.❞
This Is Gospel Piano | Panic! At The Disco
---
---
★Name★
Jennifer Jones
☀Age☀
25
♀Gender♂
Female
♥Sexuality and relationship status♥
Pansexual; Single
∞Race∞
Homoneco
☁Personality☁
Jennifer is no longer a warrior. It was stripped from her long ago. She is a shell now, stuffed full of other people's desires and demands. She is quiet and reserved, giving no fight for any reason. She is blank and empty. Once in a while, you can thoughts betrayed behind her eyes, see the gears working as she puts together pieces of what she might have been, see the instincts betrayed in the tenseness of her throat. But it quickly passes. She is a girl of blank stares and fake smiles now.
With time, she may begin to rebuild herself into the reality of what she once was. To turn back into a fighter, and a strong woman.
For now, however, she is nothing.
---
---
♞Body build♞
Light and lean, like a doll someone brought to life. She has lost much of her muscle, and now looks frail and fragile. It is somehow unflattering for her to look like this, and not muscular and taught.
☪Face description☪
Her face is soft and delicate, high cheekbones, plump lips, long eyelashes. She is beautiful. But when she smiles her ghosty grin, it never touches her eyes, and that rips away what might have been an angel's features. Her eyes are cold, ice-y blue, and her dark hair is roughly chopped to stay just below the line of her jaw.
☭clothing/armour/markings/extras☭
Jenn wears no armour. She is dressed in simple clothes, tank tops and denim pants, which show off an amazing array of scars covering her body. Her hands and arms are wound with burn marks, her throat decorated with a scar almost clear across, as though someone once tried to slit her throat. She seems, however, unashamed and unphased by these marks.
▲Pets/none weaponry devices▲
None
---
---
✘ Weapons ✘
She carries only one pistol now, and often seems too afraid to grasp it. When she does brandish it, her eyes harshen, and there is a spark of what might be how she was before.
/Defense\
Jenn's only defense is her slight size. She can easily disappear in crowds, climb trees with no hesitation, and outmaneuver other, bigger people.
☠Skills and techniques ☠
Jenn has a beautiful singing voice that is rarely heard. She is also incredibly strong, and has an amazing amount of stamina. She has been known to walk for days in a row without ever pausing for a break. Besides that, she excels at first aid, and is a deadly shot.
✂Flaws✂
She seems delusional, and any talk of her past can send her into a frozen, comatose state. She is weak about certain people, and can sometimes be found wandering aimlessly about, as though she has forgotten where she is.
---
---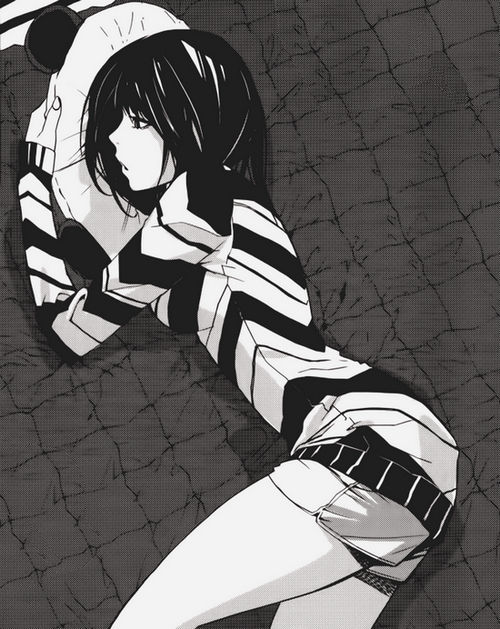 ♚Basic history♚
Before the war, Jennifer and her family lived in a small Neco community in the countryside. She lived happily with her father and sisters, and was close with a small group of other Necos. She was warm and happy, and fell in love with one of her dearest friends. Their relationship was blessed with understanding and communication, and they swore to be soulmates forever, always together, always a part of each other. And then the war came.
♛History with the war including thoughts♛
Jenn never fought. She spent all day and all night making sure those she loved were safe. Tragically, her lover was ripped away and kidnapped in a raid, and she left her family to search for the culprits. Along the way, she found and helped a young man named Ace. They spent a very short time together, but he did a good job of carefully extracting her from her shadowed heart, and pulling her back into the sunlight of life, and even love. But she ran from him. Saw him only once more, at an old cabin, and then drifted away again. She hates war. She has lost everything because of war.
♫Events to note so far in the RP♫
Answer Here
~Other~
Answer Here
---