---
❝Kurai sekai tsuyoku ireta.❞
"Gomen ne, Iiko ja Irarenai." | Miku Sawai
---
---
☯Name☯
Shiro Hakuoh Byakuya
☯Age☯
17
♂Gender♂
Female
♥Sexuality and relationship status♥
Straight, single
☯Race☯
Homoneco
☯Personality☯
Shiro is a very quiet girl. She understands English, but cannot speak it properly, so only speaks Japanese. This embarrasses her, and causes her to almost never talk. She is also very clingy, following her older brother around, and Shiro is extremely close to her brother, to the point of needing him by her side at all times to be comfortable. She is shy, and looks away and/or blushes when spoken to by people other than her brother. She is also nervous most of the time. She is very observant, however, and in her silence always watches things. She's been called "Sweet," "Frail," and "Cute."

Unlike her brother, she doesn't look down or hate homosapiens. She often times feels sorry for them and wishes she could do something to help them. However, she fears her brother too much to go against what he says, and often ends up just watching with wide helpless eyes. Fighting scares her, and she wishes she could stop it. Sometimes, she'll even cry if someone is fighting.
---
---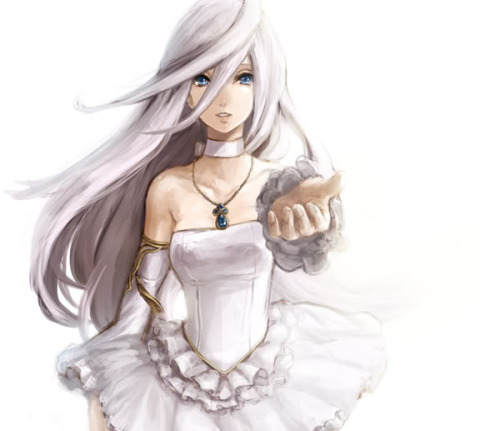 ☯Body build☯
Shiro is a pale-skinned girl with long, silky, flowing white hair and large, passive/concerned blue eyes. She is rather slim with a small bust and about average height.
☯Face description☯
She has an innocent face, with a perpetually concerned expression, and a soft smile.
☯Clothing/armour/markings/extras☯
She often wears a white corset with a skirt, most of the time, and often wears a necklace.
☯Pets/none weaponry devices☯
She carries no weapons and only two technological devices around.
---
---
☯Weapons☯
None
☯Defense☯
Two devices:


Kinetic Energy Absorber Field:

A "force field" that constantly ticks pulses of energy around her, and when something comes at her with any speed over the average human punch, it starts to absorb the kinetic energy at a rate equal to the speed. If someone were to punch at her, it would slow as if they were punching through water, then jello, then it would stop as if frozen in concrete. They would be unable to move their arm as the kinetic energy is completely sucked out, until she moves away from them. If a bullet was shot at her, it would slot and eventually stop, but at a faster pace. If an optical weapon of some time (Laser) went through the field, it would shorten the laser and slow it down to where it could be dodged, but not stop it.


Thermal/Optical Displacer:

A small device embedded in her palm, when activated bends light around her, rendering her invisible, and displaces the light to be a few meters away. It also adjusts the temperature a centimeter from her skin to be the complete opposite of her current temperature. If someone saw her with a thermal imaging device, they would see no heat traces. However, the displaced image would also have no heat traces, so it'd be obvious it's some kind of trick.
☯Skills and techniques☯
None, she is not trained in any kind of combat.
☯Flaws☯
She is easily scared, she's shy, she knows nothing of combat whatsoever, and she's naive.
☯Genetic Abilities☯
Like most Necos, she has superhuman speed, agility, stamina, durability and reflexes. Her strength and intelligence are not above superhuman like other Necos, however, as she is about as strong as the average female adult and she's rather naive, but possesses problem solving capabilities.
---
---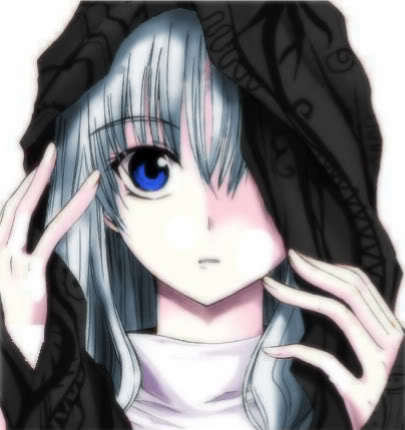 ☯Basic history☯
Shiro grew up with her twin brother in a prosperous city called Night City, a city with towering buildings that caused it to always seem like night time, despite the lights
everywhere
. They grew up as orphaned Necos at age five, with no home. They lived on the streets, her brother constantly protecting and providing for her. Even though they were barely toddlers, her brother already had the intelligence and strength of a teenager. Shiro's brother, Weiss, was kind and sweet and humane to her and only her. Shiro and Weiss were all each other had, their parents killed by Sapiens in the war. Weiss harbored a deep hatred for Sapiens for killing their parents, and a grudge against Necos with power for starting the war. Shiro was oblivious to most things that troubled her brother, as her mind developed slower. She wasn't stupid, it was actually developing faster than a normal human, though only by a tiny bit.
☯History with the war including thoughts☯
They lived in the city throughout the war, a city that was untouched by the war, and they were too young to have been influenced by the war at the time. However, their parents were killed in the war. Shiro doesn't hate Sapiens for it, but her brother does.
☯Events to note so far in the RPv
Answer Here
~Other~
Answer Here
---
❝Kokoro ni hisomu hiyori tsuyoi aite wa inai...❞
"This Game" | Konomi Suzuki