"So fell the nation, crumbled into dust. So fell our people, carried off were us. Taken far from home, taken far from land. Taken 'way from the very place where our lives began."
That's Earth. We lost it after the war. I was just a child, barely nine. But I remember it like it was yesterday. The ships of the Jecktar Congregate darkened our skies. They weren't just sending us idle threats. They meant everything they said and proved it right there. I remember when they delivered the message.
"Your skies will turn black and your cities to ash. We are this galaxies' salvagers. The insignificance of the Unduli Republic must be wiped out. It is scar that must be healed, rectified, repaired, extinguished."
The Republic's Prime Minister crash landed on our planet after a nearby battle. He and his crew asked the aid of the newly formed United Federation of Earth. They could hardly refuse, for in exchange for helping the Republic humanity received technology beyond their wildest dreams, weaponry beyond their comprehension, new allies, new friendships, new ideals. It was incredible!
And then their fleets arrived, and it was even more incredible! They told us we were going to help them fight a war, a war to end all wars! There would be peace! My dad went off to fight in the coming battle. He wanted to do our family proud, do ME proud.
He didn't come back.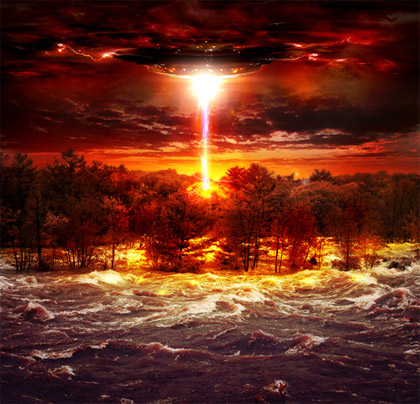 The skies were darkened. Their weaponry was unlike anything we'd ever seen. The first blast of their main flagship's cannon wiped out half of the Canadian landscape. The planet was being evacuated before the real fighting had even begun. Within just a few weeks, Earth was overrun and the Republic fleet--unduli and humans aboard it--had fled the scene of battle.
That was twenty-two years ago.
Many humans blamed the unduli for the loss of their home. I wouldn't blame 'em. I sort of do myself. I'm not a bigot though, not like the rest. Hell, I may need them for this job I'm about to do.
What job? I'll tell you. I've been serving in the military for a while. I'm captaining a ship right now, the RSS
Deliverance
. I'm looking for a team fo specialists to come with me and do the unthinkable: retake Earth. I've planned out what we'll need to do in order to take our home back, all I need is a reliable group of soldiers, engineers and tacticians. I'll take humans and unduli alike. I don't care who you are or what you are, I'll let you in so long as you can fire a gun, repair a ship, lead a team, etc.
You want in? Great. Here's the roster.
LORE UPDATE: The United Federation of Earth was formed long before the events of this tale. The exact date isn't what matters at this point, more the government system itself. It was a world government founded on the principle that only having multiple leaders with multiple different views from multiple parties could balance things out in terms of leadership and direction. Three leaders are always elected using the same democratic voting system as the United States of America that once existed ages back.

At least that's how it was prior to the taking of Earth. Afterward, when these elected leaders were eliminated, a more military operated government was in its place. Admiral Damond Price is the current leader of the Federation, using as much power as necessary to keep humainity alive and in power.

UPDATE (6/12/2012): I'll be taking two more unduli entries and two mroe humans before we make the jump to the next chapter of the story. Character creation will reopen when the new race has been unlocked. And again, note that not all characters are making it out of this one. Let me know via PM if you want to survive or have an epic death or something. :) It's important. I won't spoil anything, but $#!t gets real near the end.

LORE UPDATE (6/10/2012): The Republic's system of government is democratic, but not wholly. The Prime Minister is elected, but they pick their "inner circle," the Prime Elite. The elite will helped form/reform regulations of things like the economy, law, culture, etc. There are ten members of the Elite, but none of them perform a specific function. The issues of the society are brought to them and the Prime Minister, and they all act on what is laid before them.

LORE UPDATE (6/9/2012): No more bullets! Blaster rifles have been invented. They operate using energy clips.

UPDATE (6/8/2012): We're looking for more mercenary/Federation players! We need baddies! I mean, join if you're a good guy too, but we need renegades in here. Captain Russell's close, but not that close. And you can be creative, even within the confines of the characters presented. JOIN THE FIGHT!

BONUS LORE UPDATE: The Federation salute is the same as the American Navy's salute, whereas the Republic Naval salute is two fingers to the left shoulder from the right hand. This is meant to communicate unity bound by peace (the two fingers meaning peace is merely a coincidence of nature, although when unduli use two fingers to show peace their fingers are together, not apart like ours).

LORE UPDATE (6/6/2012): Concerning the possibility of half-unduli/half-human characters, there have been rare occurances of the two, for lack of a better term, "getting it on," and thus far none have been born. It is recommended by Yours Truly that one is not made yet, as that could be getting saved for a later twist... o.O

Also, below there is mentioned of an unlocked race in the future. There is one spot reserved on it at this time. The reason for this is because the one whom it's reserved for basically may have kinda sorta created the hidden race and is allowing me to make minor alterations to have it fit within the confines of the universe (they basically handed me EXACTLY what I needed for the middle chapters of the tale). There will be a LIMIT to the amount of people roleplaying the race and there will be an update that will essentially show players what it's like to be this character so that they roleplay the species properly. THAT'S NOT TO SAY IT WON'T BE FUN, just know that you will have less flexibility than if you play a human or an unduli.

And take this as a bit of hope: when we reach Earth there will be fourth "technical race" unlocked (no, it's not the jecktar. See the basic rules about that). By "technical race" I mean that it's technically not a new race, but their backstory is COMPLETELY different from the humans, unduli, and [super-secrets].

Well, that's a BIG update. And there are bigger ones to come. The ending's going to kick major @$$, unlike the conclusion of one of my favorite franchises. >:| DAMN GHOST KID'S UP IN MAH GRILL!

BONUS LORE UPDATE: The reason the unduli are able to speak English/human languages is because of their language assimilation techniques. Most unduli (though not all) are able to quickly grasp the languages of aliens they meet, including the intricacies of their grammar. This is simply a basic function of their minds, which, as you could imagine, operate slightly differently than a human mind might. It's not like they hear one sentence and instantly know the language, but over the course of twenty-two years, you'd think they'd understand it by now. :)

UPDATE (6/4/2012): We have now gotten underway. We are looking for more UNDULI characters. Engineers, scientists, soldiers, whatever. Bring 'em in! And if you're making a human, you can make any human you'd like, but a badass renegade one would be nice (more on the mercenary/hired-gun side). Read ALL the updates and then the rules afterward.

RULE UPDATE (6/3/2012): Check OOC chat before creating characters for more data on the situation at hand. Also, romance is allowed in this RP, but don't get too mushy guys, and don't get too explicit either. We don't need any more Star Wars Episode IIs around. And we don't need any more pilots. I think we've got a good one now. ;) One final addition I'd like to add is that I would prefer that we use the "Activity" page only, and not the chat. I'm new to RPGateway and I don't know whether that's standard procedure, but I thought I'd throw that in. More updates ahead!

END OF UPDATES. BASIC RULES BELOW.

So, now that you've learned the history of what's going on, here's some basic rules:

#1) DON'T GOD MOD. If you want to do something epic, let me and whoever else is involved know beforehand so we can discuss whether it's possible within the confines of the universe we've created together.

#2) DON'T GOD MOD. Guys, I mean it.

#3) KEEP IT CLEAN. It's all right to swear every once in a while, but don't turn this into a Sam Kinison standup.

#4) KEEP IT COOL OOC. Let's get to know each other out of character before we poke fun at each others' nose sizes, yeah?

#5) BE ACTIVE! Dont' drop off the face of the map guys. And if you NEED to leave for a while, let us know in advance so we can all, as a group, plan what to do with your character in the meantime.

#6) HAVE FUN! I know this is a generic rule, but seriously guys, this SHOULD be fun. Let's not make it suck for ourselves and each other, yeah?

A'ight, now about character creation. Take into account everything you've read in the intro. If you're an unduli, you're a purple or blue skinned humanoid who ages exactly twice as fast as humans (for example: a fifty year old human would be the same age as a twenty-five year old unduli). Note also that unduli aren't as well built as humans, so they don't make as good soldiers. They compencate for their lack of strength with brilliant engineering and useful tactics.

If you want to play a more villainous character, just go for being racially prejudiced. If you don't want to die, let me know. Hopefully I'll find a way out for you. If you want to play an outright villain (a jecktar) I'm sorry. That won't fit well with the story. I will be playing a few villains later on in the tale, but that's about it.

For those who need any further backstory on the unduli, they are a spacefaring race that has relied on mostly arid planets to survive on thus far in their history. They do not know at this point why the Congregate attacked them, or anyone for that matter.

WARNING: At a certain point character creation will re-open due to the arrival of a new race later on in the story. Don't worry, this'll be good. :)

Send in character data soon! Character ages allowed range from 15 to 65 for humans, 8 to 33 for unduli (do the math to get why). See you all soon!
Arcs are bundles of posts that you can organize on your own. They're useful for telling a story that might span long periods of time or space.
There are no arcs in this roleplay.
There are no quests in this roleplay.
Welcome home, Promethean. Here, you can manage your universe.
Arcs are bundles of posts from any location, allowing you to easily capture sub-plots which might be spread out across multiple locations.
You can create Quests with various rewards, encouraging your players to engage with specific plot lines.
Settings are the backdrop for the characters in your universe, giving meaning and context to their existence. By creating a number of well-written locations, you can organize your universe into areas and regions.
Navigation
While not required, locations can be organized onto a map. More information soon!
There are no groups in this roleplay!
By creating Collectibles, you can reward your players with unique items that accentuate their character sheets.
You can schedule events for your players to create notifications and schedule times for everyone to plan around.
Add and remove other people from your Universe.
The Forge
Use your INK to craft new artifacts in Renaissance. Once created, Items cannot be changed, but they can be bought and sold in the marketplace.
Notable Items
No items have been created yet!
The Market
Buy, sell, and even craft your own items in this universe.
Market Data

Market conditions are unknown. Use caution when trading.

Quick Buy (Items Most Recently Listed for Sale)
Discussions
Most recent OOC posts in Renaissance