---
---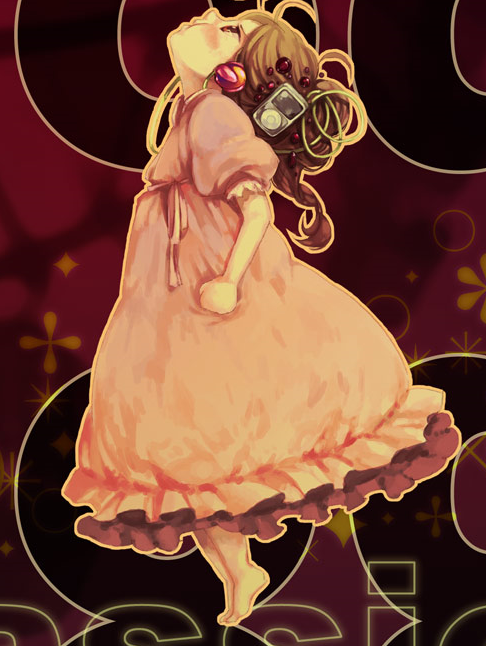 Name Ilyana Ree

Age: "I'm most definitely old enough to be fighting, if that's what you're asking! But uh, a few hundred years old."

Gender: Female

Sexuality: "Isn't that my gender?" Irrelevant

Role: Angel

Appearance: Petite and rather small in a charming way, she barely comes up to a height of 3'6". Just right for the height of a child but certainly not that of a young woman. Her weight is absolutely negligible and she could easily be lifted by anyone that had a care to try. Her brown hair is cut shortly in the front, strands curling around rounded cheeks and a soft chin. It is always in a mussy state and she does not seem to know how to comb through it properly without assistance. This leads to many a randomly placed hair pin or oddly positioned bow since she also does not look in the mirror when she is brushing her hair. So long as it is out of her face, she doesn't seem to preoccupied about it at all.

Her bangs fall a tad above her eyes, somewhat even and indicating that she attempts to cut them when they get too long. The cuts are relatively smooth, however, so her hair is saved from a jagged look. Whether it be pulled into two pigtails or braided in the back, her hair is not very long at all and barely falls past her shoulders in length. Normally, her eyes are a sea-green but more towards the bottoms of her pupils is when they make the transition to a purple-ish hue. When she is using her magic, her eyes will turn completely purple.

She prefers an array of flowing dresses mostly of the short-sleeve variety. She has chubby, child-like arms that taper off at smaller wrists and hands. Her dresses are different shades of white and pink, mostly fanning out around her mid-torso so that she has billowy skirts. Depending on the temperature (and sometimes very inappropriately as she rarely has a sense of what is acceptable), she will wear a scarf around her neck and black leggings. She refuses to wear shoes on her feet, no matter the terrain, and does not seem to mind walking around bare-foot.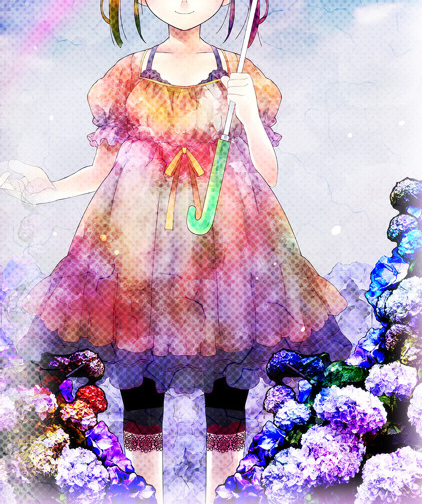 Adorably sweet and quick to earn endearment from others, she is an innocent girl and nearly as pure as they come. There is not much noticeable corruption to her character at all and often times, the crueler things she encounters will go straight over her head. She does not understand the concepts of "good" and "bad" in the world, seeing only what exists. Constantly perplexed by why people have the need to fight, she could be registered as a little bit of a pacifist since she tries to avoid fighting. It confuses her. A lot. Well, as do most things really. Such as the reason why she needs to put on shoes or tie the strings on her dress!

She can be a little clingy when she is scared and radiates towards the tallest person that she can see in the nearest vicinity. This is usually followed by scampering up on to their shoulders or trying to hide up their pants' leg. This usually fails as her head is a it too big to fit into the clothing but she still tries anyway. She is easily frightened by loud noises and if such things continue, she will begin to cry. It seems as if she is always prepared for such events because she will pull out a wad of tissues from her pocket or produce an umbrella to shield others from her profuse tears. She will usually end up tiring herself out after crying and likes to be held as she takes a nap to make herself feel better.

She likes to make friends and enjoys laughing with others. So long as the mood is a peaceful one, she is perfectly content to interact with other people. She is shy around strangers and blushes easily but that goes away once she begins to converse. She can turn extremely talkative and is always full of questions. She has copious amounts of curiosity but often won't understand the answers to her questions. She still likes asking them anyway because she likes trying to grow smarter, even if in the end she really doesn't get it. It's the effort that counts, after all!

Overall she has a very chipper and eager attitude and it's hard to depress her. She always tries to be positive, even if it comes at the price of obliviousness or under-exposure.



She tries really hard to be a good angel! But she's not exactly good at using her powers. She hasn't really gotten much chance to use them and doesn't really like practicing all that much either. It's safe to say that she is really the weaker one out of the angels but that doesn't affect her all that much. She doesn't care for power or strength anyway. It's all about the intent, not the force behind it.

She can't assume her divine form and can barely muster up enough strength to form her wings. Most of the time, she is grounded but she doesn't seem to mind that she can't fly like the other angels can. She's still the cutest one of them all after all! She stays in her human form and seems perfectly content with it, though padding around on her feet all the time isn't always the fastest way to get around. That's why she gets piggyback rides! Those are way faster than walking all on her own.

Bubble Storm: She only has one ability used by invoking power from her snowglobe. When she focuses enough energy, she can blow air softly over the surface of the glass to produce bubbles of varying sizes. She can choose whether or not they are high in volume or sporadic and can even have her bubbles follow after someone if she wishes. Once the bubbles make contact with the target's skin is when she begins her own version of purification. The more moisture that accumulates on the skin, the higher chances for and more effective her purification is going to be. She likes to aim at the face but will aim at other body parts if it will help. She just likes to make people sneeze and that seems to work when she has her bubbles hit their nose.

Though absolutely useless in battle, she enjoys shaking her snowglobe to make it snow. The snow isn't all that cold to the touch and isn't strong enough to stick to the ground. But it's still pretty! She also likes juggling her bubbles around and then trying to dive into them. Hypothetically, if she put enough of her energy into it, she could probably float around inside of one of her larger bubbles. She's tried this a few times but has fallen through every time. She laughs it off though--flying just isn't really her thing!





The young angel started off as a relatively simple creature, not altering much through her procession of life. Her desires were not overly demanding ones and she was easily pleased. All and all, she got along with everyone that she met and had a generous amount of friends. The atmosphere she was present in did not demand she hone her battle talents and she was quite laid back when it came to such things. However, even the most passive of angels are called upon in times of need. It was at such an interval that she was asked to assist in the matters that were transpiring on Arkanvale.

She did not have a superb knowledge of the workings of humans and when she descended to Purgatorio, she sought out the liveliest host body that called out to her the most--not necessarily the smartest of choices she could've made. Once she bonded to the body of the child, she learned that she could not actually leave. Yet, she did not see this as a huge impedance. In fact, she loved this new visage and really adored her host as well. Perhaps it was the mutual childish mentality but she had no qualms about the form she had chosen.

However, the problem that she then faced was being unsure as to where to go. She wasn't exactly known for having the best memory and had forgotten where she had been commanded to go. It couldn't have been that far off from where she was, however, so she just chose a random direction to walk in and figured she'd get there eventually!