---
---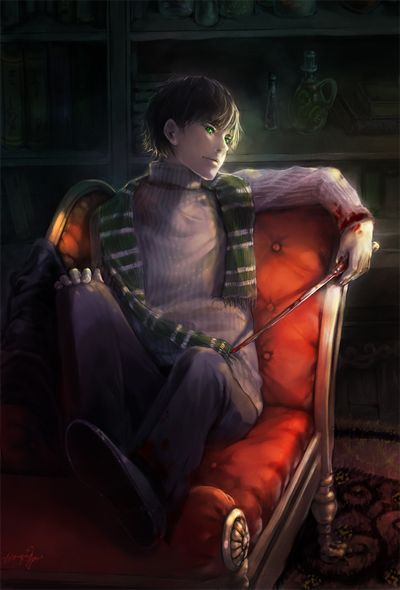 Name:
Janus Abraxis
Age:
22
Gender:
Male, according to the looks of his meat-doll.
Sexuality:
You're either prey, or too weak to be prey. (Otherwise, bisexual)
Role:
Archdemon
Appearance:
Behold, the green-eyed demon of jealousy and arcane fire. The first thing that immediately captivates his viewers is Janus' emerald green eyes, possessed of a staggering clarity. Janus' general appearance is one case whereby the demon's looks are entirely contradictory to whom he actually is. Janus is very much the aristocratic, 'pretty boy' of his era. Sharp angles form a noble jaw line beneath his strikingly soft complexion and offers the illusion of tender companionship. Enhancing his composition is a shrub of messy and unkempt hair, which invariably radiates a manner of casual indifference. Add to the fact that his humanoid puppet stands a far-from-imposing 5'7", the bustling youth is normally the last person to be suspected of acts of aggression. Furthermore, a lithe and finely trimmed body structure rattles beyond all logic with the strength it is capable of exhibiting. Janus' clothes are perfectly form fitted. Neat and comfortable, his informal attire is oddly misplaced when one considers the nature of the demon's perilous occupation. Most often, Janus is seen wearing a pale stripped, turtle neck sweater and gray dress-trousers, a pallid contrast of colours which tend to blend with his moonlit complexion.
The virtuous facet alters completely upon unsealing his abilities. In doing so, Janus' body regains all of the features of a true demon. Now, to say that Janus' demonic figure is easy on the eye would be a blatant lie, but his demonic form does hold a certain macabre purity. Twisted into the embodiment of a raging beast, Janus' demonic figure consists of rigid, yet smooth obsidian plating that overlap sections of his body in an impression of interlocking armour. Dwarfing his human disguise, Janus becomes a hulking monstrosity that towers close to eight feet tall. Given his utter disregard for delicacy and stealth, it's appropriate then that Janus is incredibly easy to spot due to his ambient glow and size. Portions of his body, neck and arms are splayed open, revealing an eldritch, fiery glow that burns from the inside out. Similarly, his jaw distends into a gaping maw and glows balefully whenever he opens it. In certain respects, Janus' shackles are both figurative and literal. A series of rune-encrusted chains encase the length of his wrists like bandages, and though these are largely decorative, Janus often adapts them into makeshift whips.
Similar to the rest of his order, Janus' true form is only to be revealed under the direst of circumstances. At all other times it is to hidden for the sake of concealing his identity.
---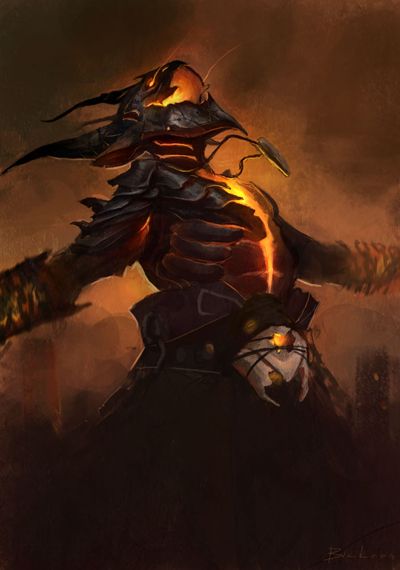 Personality:
Birthed from the fiery pits of hell, Janus has little understanding of human concepts such as affection and sympathy, and in certain regards, this makes him naïve. On the other hand, Janus is capable of committing atrocious acts without pity or remorse. It may be stereotypical to label a demon as manipulative or chaotic, but Janus makes no effort break away from the classic norm. Although his social disposition leans towards jovial and non-committed, Janus takes immense pleasure in performing his active duties as a demon. More than that, Janus is a being that revels in the slaughter of battle. Every fibre of his person thrills at the prospect of close-quarter combat and to that extent; Janus is ferocious, a vicious fiend beating relentlessly at the shackles of his inner cages. Every moment not spent in combat is a moment spent in yearning or in preparation for the next one. It is in the highest pitch of battle that Janus becomes truly monstrous. Janus' martial prowess is second to none, heightened by super-human senses and several lifetimes worth of boundless hunting. Few indeed would ever willingly challenge the Archdemon, but just as he is unstoppable, Janus' impulsive bravado has the potential to become a liability. Despite all of this, Janus is far from stupid. He understands that his existence has only been tolerated thus far thanks to a semblance of control over his primal urges. Fortunately, Janus shares the same mindset as his superiors. He loathes the recent pandemonium caused by the ruptured gate and seeks to redeem Inferno through the recollection of all wraiths. Do not be mistaken however, Janus doesn't do this out of kindness or some misguided sense of justice. In fact, Janus freely admits that he performs his duties purely out of joy, for whom else would he fight if not for the recent turbulence?
Abilities:
Sealed Form
A prolific combatant and expert in the art of hand-to-hand brawls, few mortals at all are able to contend with Janus, even in his sealed form. It's not just the astounding power or blistering speed that makes Janus a dangerous and unpredictable opponent, but also his ruthlessness and reckless disregard. Janus loves fighting, so much so that its perfection has almost become the singular purpose of his existence. To facilitate this, Janus is able to utilize a frightening number of skills which help form the basis to his unconventional fighting style:
Tenacious Flesh
– Janus is infamous for being able to shrug off many attacks which would have otherwise killed or even incapacitated other demons. His terrifying physical endurance and enhanced regeneration enables him to walk out off explosions smiling and shrug of the most fatal of wounds. Of course, if Janus continues to receive sustained damage over a short period of time, he will rapidly tire.
Crippling Blow
– The strength contained within the tiny frame of Janus' body is truly overwhelming. Part magic, part super human, crippling blow allows Janus to extend his magic to create 'mini' explosions with each blow. Commonly used for when striking people with a weapon, crippling blow can just as easy be adapted to bare hands.
Unsealed Form
Unsealing his abilities and displaying his demonic form allows Janus to draw on his true powers.
Manifestation
– In its most basic form, Janus' unsealing has the advantage of releasing his full powers. Unhindered and unrestricted by the delicate human frame, Janus's strength and mobility improves dramatically.
Surge
- Janus' ability to teleport once every thirty seconds is the amalgamation of his demonic speed and agility. The teleport offers an effective range of three meters and maintains his speed, motion and direction.
Dominion
– Janus' special ability is rather appropriate considering his competitive nature. Once per engagement, Janus is able to single out an opponent and appoint them as his chosen adversary. Upon doing so, magic surges out, repelling everyone but the Janus and his target. Any attacks intended to aid either contestants are also repelled. The ability creates a magic circle, preventing either participant from escaping until one of them is either dead or otherwise incapable of fighting. The circle comprises of Janus' unfiltered, demonic powers and is essential invulnerable to outside interference.
Bio:
As the spirit/wraith outbreak quickly deteriorated, a swift and decisive solution was sought out by the higher-ups of Inferno. It was with great reluctance then when the Apokailon finally decided to unleash the immortal hunter, Janus, unto the mortal planes. Under strict instructions to carefully monitor his behavior, Janus was sent down in a subsequent wave to hasten the process of recollecting rogue spirits and wraiths. Though, whether or not the commanders will regret this decision has yet to be determined.