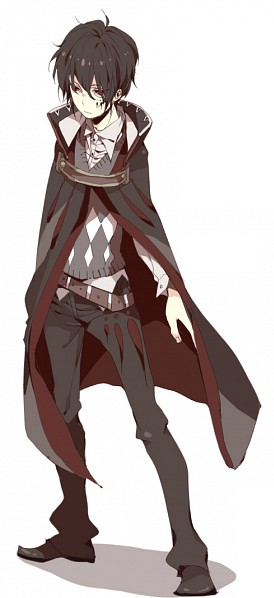 Name: Lucian Faust

Age: 20

Gender: Male

Sexuality: Catch-my-interests-first-sexual

Role: Archdemon

Appearance: His entire appearance, much like his interest in the human plane, is dull and faded, as if the color was drained from him slightly. His eyes stand out the most, for their red color is the only bit of vibrance that he seems to possess. Beneath his left eye are a few black markings that are in contrast with his pallid skin tone. His hair is a washed out scarlet, now bordering on a grayish red that easily also crosses the boundaries of black. His expression never seems to change from the blank, vague look he wears--as if perpetually bored with anything that is going on around him. He is always wearing his cloak, which falls to around his knees and is partially opened in the front. Ever the smart dresser, he wears an easily casual dress shirt and pants, a hand-fashioned belt around his waist. Though of average height, his thinner form can sometimes make him appear taller.

Personality: With flippancy and disinterest regarding most things, it can be quite difficult to discern whether or not he truly has any intrigue at all regarding most matters. His flat manner of speaking doesn't help either, his speech patterns curt and blunt to a near fault. While he will never be offensive or rude to another, he chooses his words carefully so there is always a light sting of sarcasm to them. With a common remark of not having the time to deal with petty antics, he will rarely linger long enough to have extended conversation. It is easy to mistake this for coldness and a general lack of fondness, his way with words often making others unsure around him. However, catch his interests, and the dull boy will quite literally light up and become almost breathless in expressing the wonders that he sees. It's not that he does not have the capability for proper socialization, it is just that things always seem so boring and there is never anyone that works outside of their time-stream or moves outside of the predictable.

He has a slight tendency to finish another's sentence, given that he knows what is going to be said and what will transpire. He is not obnoxious in his interjections as much as distant with a touch of melancholy. He prefers to remain silent most of the time, only speaking when he must and the situation demands his interactions. He is an observer, an off-the-board player who already knows all the moves that will be made. His presence isn't so much made in a forwards manner as it is from the shadows. There are many things he will do that go under the radar, and he has far more consideration than he is given credit for having. Not all demons are a visage of cruelty, he is wise enough to know that things aren't so separated into "good" and "evil" and has never acted out the part of his station. He dislikes labels, as those tend to change, and also dislikes the hierarchy as well as the false assumptions that come with it. He emphasizes his distaste of the human plane is not due to the humans, it is due to the mundane activity there.

Though oddly enough, he can't seem to get enough of human desserts. Such sweet concoctions.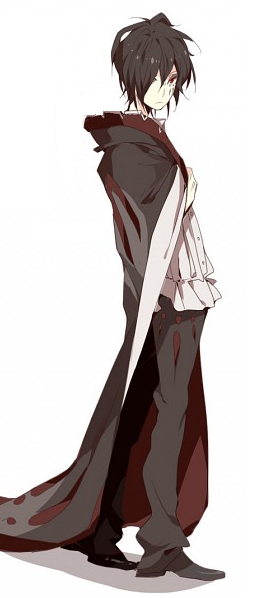 Abilities: Demons only use fire? Now that's a ridiculous statement.

Human Form
Gifted in magicks over physical combat, Lucian's more passive ability is manipulation over time. Always at his disposal is his sight, which allows him to perceive the different paths along the time-stream. Though he is not all-knowing in this form, his magic allows him to see images and events that have transpired, are transpiring, or will transpire. He mostly tends to keep himself limited to just the immediate present, as it can be quite a headache to see the entirety of the time stream at once. If he wishes it, he can pause the time stream, rewind it, alter it, and no one will be the wiser for it will literally have been less than a second before he used his abilities. This fact can make him very dangerous, for unless he deigns to take someone into the stagnant space of paused time, it is impossible to know if he has shifted anything or made a difference.

In addition, he also controls gravitational fields. This can range from small tricks such as levitating objects to actually contorting the physics in an area and changing the gravitational flow. He can inflict this change upon either person or object, it does not matter the target. Turning gravity inwards to another can mutilate their form, for the pressure of gravity pushing in upon them is rarely something any being can handle. It is not uncommon to see him using this ability outwardly, however, as he generally tends to float a few feet off the ground when he is sitting. (Though he will only do so privately, he will never levitate in the presence of humans) Creating small orbs of gravity distorts the tugs of physics itself, much to the point of a very limited black hole--not exactly the type of thing you'd want to get sucked into.

His third skill set is in that of the arcane, perhaps the in-between combination of things but he can create raw energy out of seemingly nothing. Creation of matter is a very draining task and he will always think three times over before attempting anything. Bringing something new into the world must also cause something else to fade from it, so he must always be certain the effects won't be too detrimental before doing so. The limits of what he can create are only determined by the outcome. If it is plausible and won't disrupt things too much, then he can give the matter a form.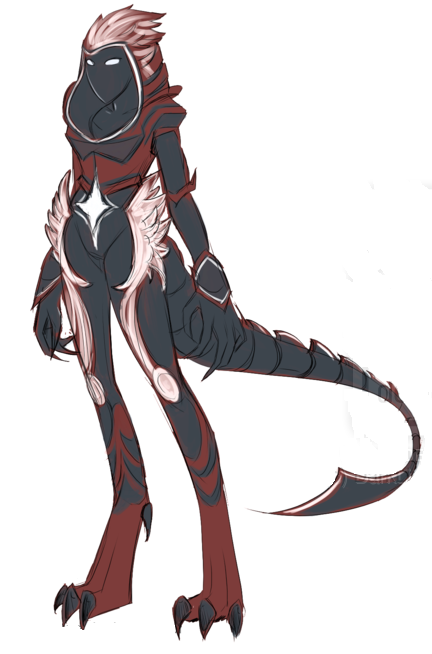 Demon Form
Only when there is the greatest need will he release his demon form, but even so, he is hesitant to do so. In letting himself rely upon his true nature, in turn, he opens himself up to the purest visions of time and of the world. Remaining in this form too long has the potential of driving him mentally insane, for the pain inflicted with receiving such knowledge of every fact, every detail, and every happening of time is far too intense to measure in words. This gives him the utmost control over time and he can literally shift to any point along the time stream. However, there are always implications to any action so even when he is in this form, he must always be careful not to make any alterations that will have huge effects.

Of course, being careful implies that he is mentally all the way there, which would be a false statement to make. Whereupon he will show mercy in his human form, his mental state is very unstable in his demon form, which leads him to have very little mercy. Indeed, it is not smart to rile him, for he will not think twice to maim another or even go so far as to erase their existence from the time stream. Without his careful attentions to his activities, his potential to create matter is nearly limitless, save for the fact that he is not an omniscient being. He will have absolutely no regard for the balance of things and, in turn, the matter he brings into existence tends to be more volatile than it would in his human form. Though more effective, it will not remain in existence for as long due to it's being forced into a tangible state without paying the proper price.

Bio:There is not much to say regarding a demon's history, or perhaps that is the impression Lucian likes to give. Truth be told, he has never precisely seen... eye to eye with the other demons. His lack of hatred, his seeming void of cruelty, and his dull approach to many things worked against him. Even whilst in Inferno, he preferred to stay in his human form, for things were more controlled that way to him. There are intentionally blank sections of his past missing, perhaps because he himself chose to blot them out from memory. It could be inferred this is perhaps because of an incident regarding his matter creation, or maybe correlated to his time magicks. Whatever the case, he is tight-lipped on the subject, insisting he just simply "existed" and that is all there is to it.