---
---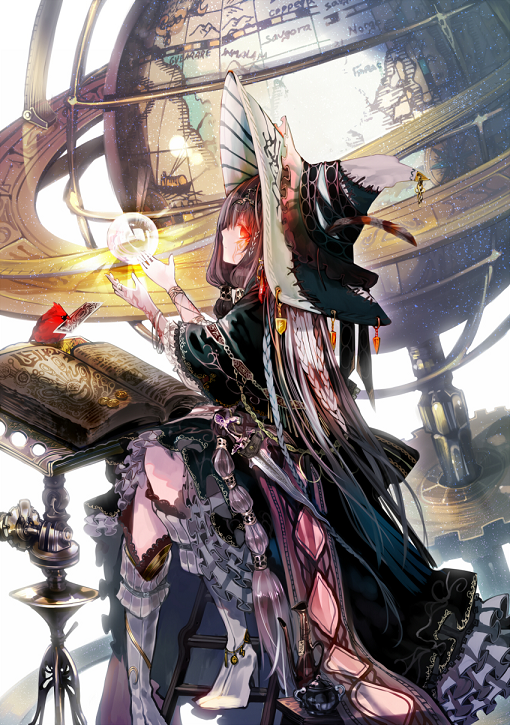 Name: Virie Raymbraint

Age: 22

Gender: Female

Sexuality: Who-the-fuck-ever-sexual

Role: Exorcist

Appearance: Though she does not stand at an imposing height, Virie possesses an intense gaze that is prone to make one oblivious to the difference in size. Her eyes are normally a more relaxed hue of lavender, but when she is riled, her left eye is prone to lighting up to resemble a scarlet red. It will also shine when she is casting a spell. The markings right beneath also resemble the same hue. Her hair is an almost faded resemblance of violet, appearing like a mixture between the natural color and gray. It falls to her knees in length, however, she does tie a portion of it in a braid in front of her torso. She wears a multi-layer hat with moderate patching, adorned with feathers, beads, and ornaments. She wears a cloak over her dress, which falls right above her knees--suede boots upon her feet. Overall, she gives the appearance of a stylish, young witch--with a bit of the flare of a warrior.

Personality: With a sharp tongue and a quick mind, it is easy to be thrown off-balance by the manner this girl projects. There is no hesitation when it comes to how easily she moves to do something malicious to someone else; she will pay any cost in order to achieve her goals. Tell her she needs to murder her best friend? The body is already on the back-step. She has a lot of pride in herself and tends to look down on others, especially humans. She is very aware of her standing within the order of things and those that aren't "blessed" enough to see beyond the mundane aren't even worth it to her. This disgust extends past the normal humans, however--it is safer to just pin it off as hatred of the human race in general.

She has always considered herself superior and can even go so far as to think herself better than lower-tier classes of demons. She dislikes being compared to being "simply mortal", since she thoroughly believes that was just a cruel prank of life. She has copious amounts of ambition and never settles until she is satisfied with what she has accomplished. This drive can be frightening, to an extent, since she literally will not stop until she has succeeded and often will neglect baser things (eating, sleeping). As much as she tries to shrug off her mortality, she grudgingly accepts that this is, for now, a part of her. Her pride in her person can often get in the way and she will never be quick to admit it if she needs help. The potential dependency on others sickens her and it will take quite a bit for her to ever seek the assistance of another.

If one were to try and look deeper, it would be obvious that even if she does have good qualities, she takes great strides to cover them up. In more ways than one, she resembles a demon, living up perfectly to her nickname "The She-Demon Witch".

Abilities: Magic doesn't exist you say? Bullocks.

I - Spells
Holding a spellbook, the age of which is nearly unfathomable, this little piece of spunk is armed with a multitude of spells ranged for almost any occasion. She invokes the magic manipulation with controlled commands and incantations. She has memorized almost every page in her spellbook (much to her chagrin, the last few pages were ripped out) so even without it, she can still bring her magic into being. However, having the book with her will produce more powerful spells. She has long since forsaken menial human capacity, invoking spiritual energy to increase her own spell output and power. Her holy powers are something of a contrast with her demonic aura, and the two powers are in constant conflict. This causes her spells to have more raw power output than they would normally anyway, though tend to lead to an explosion one way or another.

II - Demonic Energies
If she calls upon the darker end of her magics, she can alter her body slightly to sprout wings--but she has yet to "earn" her horns. This is a feature only awarded to official demons, so she is unable to emulate it in any way. Within this field, she is practiced in shadowmancy. This allows her to manipulate darkness but only for short spans of time. The shadows can take any form she chooses, though cannot stretch beyond her immediate vicinity radius of about fifteen meters. Unfortunately (in her opinion), her magic alliance is more shifted towards the purification end of things and thus, any unholy magic she attempts for extended durations will physically and mentally exhaust her body. However, she progressively works to shrug this off to get to the point where she can use demonic-oriented abilities without the excessive taxing on her body.

III - Familiar Summon
Another branching of the demonic end of her abilities resides in the form of a summon, a "familiar". [detailed at the bottom of bio]

IV - Passive Affiliations
When she feels it is absolutely necessary, she will use her skills to purify a rogue spirit/wraith, but only if they will not be an asset to her at a later time. And of course, what kind of witch would she be if she couldn't fly? Honestly.

Bio: Virie has always despised her humanity with a burning passion, hating the limits of her fickle mortal body and the eventual death she would have to face at a young, tender age. Her entire life was spent in the presence of exorcists, something of a family tradition. In fact, the Raymbraint's have a long and very integrated history with the supernatural. All children from this lineage tend to grow up having rather powerful and innate abilities of exorcism, so it didn't come to anyone's surprise when she followed on this path.

But this particular young woman wanted something different from her lineage instead of growing up a simple exorcist like all the rest. She never understood the idea of getting rid of spirits and purging them from the mortal plane--why make something cease to exist that could be useful? The book she possesses was stolen from her family vaults on the day she got the lovely idea to try absorbing spiritual essence into her body through unholy scriptures. To her (rare) delight, the verses worked and since then, she's taken it upon herself not to merely purge spirits but take them into herself. This is what caused her power levels to flare so exponentially, beyond where they were, and give her a demonic tinge. An odd contrast, for she works with holy magic, but the friction between her abilities is probably what causes additionally explosive results.

She aspires to one day use her abilities to prove her worth to the demonic hierarchy and wishes to one day join the ranks of Hell's residents. As a demon of course, don't be silly and suggest she do so as a mortal. That's just an excuse to get your body mutilated.
---
---
Name: Reika

Gender: Female

Familiar Type: Kitsune Youkai

Physical Stats: Normally, she stands around seven inches of height, either resting inside of Virie's hat or riding upon her shoulder. She can float nearby her "Tamer". When she is allowed her feminine form, she towers over her "Mistress" by a full foot or so.

Personality: Feisty, energetic, and curious, the little demon minx is like a more childish rendition of her Mistress. She adores playing games, particularly if that means she gets to nip at someone's hair; a habit she has a penchant for employing should she be in the vicinity to do so. She can border on invasive at times as her regards for personal boundaries are barely worth noting, and she does have a tendency to sniff others. Quite literally. At times, her intelligence can be a little... lacking, though she attempts to make up for it in huge fits of bravado. She is rather under-exposed, however, and that leads to very outlandish and often unrealistic views upon situations.

When she is in her womanly form, Reika turns to more seductive means of play and enjoys wrapping her tail around someone's leg or body as she is speaking to them. In fact, she is a bit too touchy feely at times--you'd want to be careful with your pants around this girl since she has quick hands. She is something of a practiced thief, after all. Overall, she can come across as adventurous with a tomboyish nature, brash and loud without any concern to the offense this may invoke in others. Though she will always settle down should Virie scold her, she seems to always get away with many of her antics.

Function: Due to her ability affinity, she is able to store large amounts of mana that Virie can draw from should the witch become exhausted. She must feed upon those that have been possessed by wraiths/spirits in order to maintain her youkai affinity. Once she takes the soul into her body, she can then alter it into spiritual mana flow to provide life energy for herself. The demon also acts as something of a soul hunter for her Tamer, choosing the best ones for Virie to absorb into herself. Reika can see a person's natural soul and mana flow, which can tell her how pure they are (in terms of magic) and how susceptible they would be to possession.

Bio: Originally, Reika came from a village on the other side of the country, roaming proudly in her natural fox demon form. She would travel from town to town, stealing from the residents and causing general mayhem and havoc in her wake. Normally, this would not have directly caught the attentions of the Order, if but for the fact that she would also feed on the souls of the possessed. Virie was sent to purify the demon and put an end to the rampage, however, when faced with this task and actually meeting the vixen, Virie chose a different course of action. The mage saw the potential to use this demon to store souls and magic flow. Instead of absorbing the youkai's essence into herself, Virie cast a seal on her and forced the fox demon into a humanoid form. At first, Reika abhorred this treatment but over time, came to accept it, albeit resentfully at first. This experience did teach her a thing or two about humanity however and having sex in human form isn't that bad at all! The fact that Virie also wanted to be a demon was what worked to form a bond between the two and since discovering that fact, Reika has faithfully served Virie to the best of her abilities.