"If you want me to describe… I'll say you are pink, and I am blue. Understand? … Well, I think so. You're not the first one…."
Some & Any: Too Perfect
---
---
Basics
" You say I am a dreamer. But aren't we all….? "
Name


Elara Nirvana. Elara because her parents are intrigued from the sound of it, whatever the reason, and 'Nirvana' is slightly for 'Reincarnation'. To have a second chance; or to have to go through the same pain. Both of her parent's didn't like it, but because they didn't really cared about something like that, they just went ahead giving her the same last name as her father. Simple as that. Only by such things they are so uncreative, really.



Nickname(s)


Elara. Her parents always called her that - if they had time to



Role


The blunt and always curious (*ehem* reckless *ehem*) artist



Age


" ... I never really counted it. But why should that be important? " Nineteen



Gender


Female



Romantic Interest(s)


" … what do you mean? Explain…. Is that, what you mean, something wonderful, out of space, something artistic…. Or do you mean my thinking about something…. About a particular art for example? I don't understand... " She simply has got no clue about romance.



Sexuality


" Emm… I don't understand….? What do you mean with the question if I like girls or boys more? It's obvious I like both…. ? " See the upper point.
---
---
Appearance
"My appearance is definitely not as interesting as my surroundings, no? "
Hair


It has a naturally born dark blue colour. Weird? Maybe, but that happens if someone is born in a world that contradicts reality. Her hair falls softly on her small shoulders, reaching not too far below that and throughly straight, though she doesn't really combs her hair. That's why most of the time her hair is pretty messy and a bit curly on the tips. But usually she is putting them together anyway.



Eyes


Her eyes has a red- brown colour which is very heavy lidded. That's also the reason why she looks more dreamy than she truly is.



Skin


Her skin is pure white – a bit tan but mostly white like something new born. She was outside the most of her time, that's true, but the sun never hurt her like in reality. If you touch her hands, you'll feel a rare softness of a teen skin, as if they never were used for any hard work. And indeed, that's true; until the fantasy world of her parents crumbled that is.



Markings


She doesn't have something like that. She isn't interested in 'decorating' her body, because she got no interest in it. She just have eyes for her surroundings - her encouragment to draw and the source of her art.



Build


She has a skinny build, seems to have nothing to do with fights. Though she is surprisingly quick and light on her feets. Her curves are maybe not as developed as you imagine a nineteen old girl suppose to be - hell, her face is still looking like a 12 years old kid! - still, the features are showing, little by little. Show some patience!



Clothes


She always prefers clothes which are light and easy to move in. She dislikes tight clothes - which in her opinion - were just restricting her movements. "Just a bother."



Accessories


Only for her hair and the necklace. Aside from that, she do never wear any accessories.



Weapons


The walking staff that was given by At- chan was a very unique weapon. Inside, there is a hidden blade. But as At- chan never said it to her, she didn't know of the existence of that hidden blade. The walking staff was brown and quite massive, but light and easy to handle. Oddly, there is a grip on the walking staff, but Elara never gave it any notice. On the staff itself were carved all the names of At- chan's family what's why Elara always treated it like a treasure than a 'weapon'. Well, she doesn't even now it can be a 'weapon' so let's just see for ourself when our dense little Elara find it out.
---
---
Skills
" Skills... are all gifted. So I have to make sure I make good use of them... "
Natural Skills


Her eyes are sharp – sometimes her father even called them eagle eyes – and aside from that, she has quick and light feets as well as she has skillful fingers that was trained because of her doing art, though it's somekind of a talent too. Something that she didn't learned but was being gifted is her quick reactions. Maybe she isn't the strongest one, maybe she isn't the quickest one to understand, but her reflexes and reactions of sudden events are always the most quick thing she'd ever can. But it was not only because she was gifted, it was also because she grew in the 'nature'.



'Eagle' Eyes || Quick and Light Feets || Painting Skills





Learned Skills


Painting, Observing and the swordsmanship. However, Elara never striked with a sword, although it was a practice sword made of wood, just blocking attacks and avoid them - not hurting and destroying - that's Elara's true learned skill.



Her reflexes || Painting even better || Observing quietly; Patience





Weaknesses


She has a very bad human understanding and on top of it, very unsocial. It isn't because she doesn't want to, she is just a terrible user of words. She often speaks in riddles. And then, to make it even more difficult, she is a very dense person. Unlike many people, she never socializes much with people beside her parents and humans in her fantasies, who will only say what she wanted. So it's no wonder, right?



Socializise || Expressing herself with words || Empathy
---
---
Mentality
" Unlike a friend, I am not a butterfly…. "
Quirks


It's very typical of her to tilt her head if she doesn't understand something. And that's, let me tell you, are many even trivial things she'd not understand as a normal human should understand.



Dislikes


X Too much fantasy
X Hectic and Stressful things
X Something too perfect
X Meat [She is a vegetarian somehow; she only eats fish, but never meat]
X Boredom
X To be caged
X Tight Clothes

Likes


♥ Art
♥ Freedom
♥ New Things
♥ Running; She enjoys the upwind
♥ Observing
♥ Her family/ At- chan's family
♥ At- chan



Fears


It's contradictory, but she fears reality. Mostly anyone fears reality indeed; but she likes it too. There are aspects she likes because of art reasons, and there are also things she fears, like accepting her parents to be gone forever and not coming back.
Maybe she isn't scared of insects, isn't scared of things she doesn't know - but she is definitely scared of darkness. It's like wrapping her - caging her inside it's wrath... it always frightened her not being able to see her surroundings. She needs her ability to see.



Reality || To lose her Art || To lose her senses





Personality


It's difficult to say if her personality is complex - or just pretty simple. She is pretty much not the type of a liar and everything she said is the truth - although many people doesn't want to be confronted with the true truth. She is the type of person who isn't sensitive about others, Elara never really 'care' about others feelings. Somehow she resembled in that aspect as in a small child, who doesn't know how it could hurt other people with it's words. Nevertheless, she is kind to people and is easy to deal with, although she is very slow. She'll not understand everything new at once - well, that's for everyone - but she also can't understand anything that has to do with feelings of people if they don't say it to her. Means: She is socially inept. It's comprehensible, really. She never talked with anyone outside her family - who seem to not really know her presence at all - and of course, those peoples in the fantasy world.

People, like robots. People who aren't human. People who doesn't have actual feelings. She was used to being understand right at the start; but it didn't changed her to not talk. It was something unusual indeed, but she really like to talk about things, though most of it are very random. She wanted to hear something, because usually it is very quiet. She is used of being left alone in the darkness and that's how she became quite ignorant. But who cares? No one heard her and was annoyed by it until she met with At- chan.

She learnt many things from At- chan, counting and socializing counts in it. Elara met many people, learnt to talk with them and started to like association. But her straight forwardness never changed, she always critizise people though she didn't had the intention to critisize, she asked question which are embarassing to answer and she apologized if (in her eyes) she was indeed guilty. If not, she'll just ignore people. I can't say that that made her popular. Her ignorance of other people feelings was very negatively, even At- chan can't change her personality. But that's how she is - stubborn, holding on her own vision of the world.

Although she doesn't socialisize very good, she is very talkactive, always saying what comes in her mind as well as she always do things sponateously without thinking. She never think twice doing something - and that's also one of her weakness. For instence, she'll not just accept any order without knowing the real danger and see it with her own two eyes. Furthermore, her stubborn nature made it even more difficult to do exactly that. However, somehow, she knows her borders that she can't jump past from, all because of At- chan. Well done At- chan...



Social inept || Slow & Dense || Straight forward || A bit ignorant || In her own world || Going with her own pace || Honest/ Bad liar || artistic || ambitious || impulsive/ spontaneous || talkactive
---
---
Personal Life
" Life is something I…. and you…. Should caress carefully…. "
Significant Relationships


The Only Friend she ever had until now: At- chan



Family


Father | William Nirvana | Deceased
Mother | Claudia Denise | Deceased

She never had any notable experiences with her family because they never spend their times with each other. But she loved them - not child would not love their parents. Although they were like that. Although, they seem not to care for her at all. Still, in secrecy, she loves their art and their personality - they are themselves. And that's all that she needed them to be. However, a small disappointment always lasts. And with them being gone now, their fantasy world crumbled down too, not leaving anything behind, only the memories that is only saved in Elara's mind.



History


Elara's History began like any other, she was born - in her case though - into a very artistic family. Both of her parents were artists - painters to be exact, and spend most of their times doing their hobbies. It's something like, after Elara turned 7 years old, they decided by their own that she was old enough to care for herself and never really cared for her afterwards. Not like there was any dangers in the fantasy world. The fantasy world of her parents were harmless - it was just inside a too perfect world. The nature never died, they were always the same every day. No changes. No surprises.

She quickly learnt how to take care for herself what was quite easy because food grew everywhere. That's why she could go anywhere in that fantasy world of her parents and never lacked food. She observed things, found out different kinds of places and played with animals. Not a surprise to see her interested in art not only because of her parents, also because she never really had a friend to play with. It was always just her parents and her. And because her parents are always busy with themselves, in the end, it was always Elara standing alone.

Her art was not like another - it was quite complex. Not anyone will understand what she draws - though she always said that she drew the things she saw. Her drawings always looks so 'unrealistic', abstractive and colourful. As if she translated everything she saw into a colourful world, putting all the feelings she would never be able to express with words into it. And although she was still a child, she knew something was lacking. Something important. Yes, it's reality. She grew bored of everything surround her - it was always the same ol' thing. No changes, no surprises, nothing was ever really interesting for her anymore. She felt a 'fake' aura - she started to dislike the world her parents created; a world of a 'perfect' earth. It was A too perfect world from a simple picture book. That's the beginning of her drawing from her own imagination as she was 13 years old. Elara for the first time in her life produced dark colours. And the drawings she used the dark colours for had something that satisfied her - She really liked it. It was definitely not as boring as before. As if two contraries are completing each other - and indeed, only such painting she could call 'beautiful'. But her happiness didn't last very long. Her parents found out about what she drew - well, not like Elara was hiding it or anything. They just found a full block of hers and by chance just looked inside, found those 'horrible' painting and criticize them. Saying it is not art what she has been doing because in their perception art was something beautiful, peaceful and nothing threatening.

However, Elara was definitely not with their perception and stubbornly defended her opinion. An argument started between her and her parents - but both sides are stubborn so that no one actually won the argument; though she learned a new vocabulary: "Reality". Elara never had known about what it was and as she asked, they didn't give any answer. But Elara was not someone who gave up that easily. She asked around the fantasy world for answer of her question, as she found a little house not far from her house. Her parents prohibited her to enter that place. It is a banned place where the danger is hidden – as they said. Seeing Elara opening it after being prohibited like that it's obvious that she has entered her rebellious age. She grew tired of always listening to her parents to be a good girl; she wanted to have something for exchange. But the attention that she seeks was never being heard, so why should she follow their rules? And on top of it, her curiosity was too high. She never confronted 'danger'. That's why she opened the door. And found the big library of what those fictional characters were talking about.

Elara never saw books in her lifetime (that time). Yes, it also means that although she is already 13 years old, she can't read at all. Those letters were a riddle for her. But it wasn't Elara who will give up just like that. Her rare intelligence and the will to learn thought her to read very quickly, also because of CDs and guide lines she found. It was difficult, but not impossible. That's how she self study through all the books - most of them were history books. She was intrigued, of all the history that happened; surprised how much she doesn't know and how big the 'world' is. Earth... unlike many people who escaped reality, she wanted to go there, to face reality, to feel reality and to live in reality. Her drawings began to turn more realistic, the black colours began to be used even more and her imagination grew even more wide than it's already is. She is not only a fast learner; she also was a fast reader. Her curiosity was never satisfied... she wanted to more even more of it. As then, after she had go through her little fantasy world, she found the door to reality and without looking back, entering the real earth...

The first thing she saw is a very priceless scenery - up there in the mountains. The true nature was definitely something different, and the wind definitely more fresh and stronger. Such feeling of freedom was something she enjoyed what's why she just stood there on the edge of the mountain, staring beneath. First, she wondered how small everything is below. 'Gravity' was something she read also - but she never really understood everything. In her fantasy world, gravity was nothing she has to be worried about. Everything she does wasn't dangerous; everything was nothing much for her body. She'll stand up again without any injuries. So that's why she jumped from there as she always does - but gravity had made his job. She fell, of course. The feeling of something tickling, as if a bad thing happens - a very new sensation that she never felt before. She couldn't say it's comfortable, still she liked the feeling. She never comprehend that she could die like that...

... Nevertheless, luck was with her that time. A wheelbarrow full of straw came through the passage where she supposed to be falling to that's how she is even still alive. It was a girl in her age who dragged it, and she was definitely surprised how suddenly it became heavier. But Elara wondered about something different: Straw. It peaked her from every direction and she was surprisingly very ticklish. The giggle from the cart made the girl stopped and looked inside, spotting Elara. It was indeed something weird, but both of them asked in the same time the same question out of many:


It pops out that both of them are quite similar. They both were very straight forward and honest. It didn't take long for them to form a friendship with each other. "Call me At- chan. I never had any other names as that, because my actual name is Atarlanadoreenaria. Well? Got it memorized?" "... At- chan." "Haha, thought so!" At- chan turn out to be a very cheerful Japanese girl. And although she looks very harmless outside, even always wears dresses which made her look very feminine, she was a very bad tomboy. Even her language was always very colloquial what's why they had some language issues at the beginning, but bit by bit they spent even more time together and talking about various things.



"Human happiness is defined by the hardships and conflicts you have been through. The greater they are, the greater is your happiness." ― Peter Deunov
"Sometimes we must undergo hardships, break-ups, and narcissistic wounds, which shatter the flattering image that we had of ourselves, in order to discover two truths: that we are not who we thought we were; and that the loss of a cherished pleasure is not necessarily the loss of true happiness and well-being. (109)" ― Jean-Yves Leloup, Compassion and Meditation: The Spiritual Dynamic between Buddhism and Christianity
" Nothing lasts forever "




All those quotes that At- chan showed to her were meaningful to Elara and gave her many thoughts. At- chan was also the person who told her about 'Reality'. Before, she rejected to hear about it because her parents didn't want it. But in the end she was curious and At- chan had a real hard time to satisfy her curiosity. She learnt many things from At- chan; math, chemistry, physics and many things else. She read books that are even heavier than herself - everything. But not only that - she learnt from At- chan even more: Handling weapons. Indeed, Elara was very weak; no wonder though for someone who just paint and paint and never exercise any further than running around. And even if At- chan was a good teacher in math and chemistry, she was very bad teaching her about how to handle weapons, though she was very good at it. She lacked the ability to explain what she is exactly doing. But she tried hard, even Elara could see that. Not wanting to disappoint her first and only friend then, she diligently learnt the swordsmanship. And she turned out to have talent, well, at least, for avoiding and blocking attacks. Her reflexes are more then incredible for someone who grew up with no surprises in her whole life.

Her parents, who do never bothered seeing Elara's well doing had decided to talk to her about the matter of 'reality'. No, they didn't want to explain anything; they just wanted to scare her, to make her staying away from it. But they didn't thought it was already too late. Without really much thought, they just went outside their fantasy world, and finally faced reality. They actually should already be 155 years old and more. They were physically already dead. That's why they met their destiny - right in front their child's eyes. Elara was not familiar with death at all. She was still in a place where she believed that her parents were joking. Inside, she knew they were not - her parents are not the types of people who joked around. Still, she didn't cry. She just had that blanc gaze with no emotion showing. Only then, as At- chan came, understanding the situation and suggested to give them an suitable ceremony, she cried in the arms of At- chan, feeling a real 'sadness' for the first time of her life.

At- chan had a very big family consist of grandpas, grandmas, fathers, mothers and many sisters and even more brothers. All of them were farmers, living still traditionally at the near of the mountain, where the earth is throve. They chose their own life like that. Never came to their mind to dive into the fantasy world of historical reasoning's. Elara respected them very much, not only because they could do everything she can't do, also because of their cheerful individual. That warm feeling of being inside a 'family' was something she never felt before. It felt good - and such feeling was not boring to draw, although it just used light colours. Still, it couldn't be said that she was really popular with her straight forwardness. Many sisters of At- chan didn't like her because of it and purposely attacked her as they trained a bit too strong. But because of it, her reflexes grew very good; means it was more like a bless than a punishment.

One time, they talked about the real reason behind them teaching her to fight. "Something is going on with out earth. We don't know what exactly, but if the time comes, we are always guarded." That's also the reason why they didn't let her go exploring the world. "Something dangerous is there. Just stay for a bit more." But the curiosity wins over her. One night, she went outside without letting anyone notice her. She brought everything she needed with her: Food, Water, Drawing utensils and many Blocks to draw in as suddenly a voice called out for her: It was At- chan with her grandpa.

"Where do you want to go?"

"Seeing reality by myself."

"Then, go ahead."

"... Thank you." It was rare for her to smile, but she did it. The grandpa could just smile back. But At- chan was in the edge of crying. Knowing At- chan for many years now, she knew what her friend is feeling. "You Idiooot! Come back, will ya?" Then she threw a wandering stick to her; Elara caught it. Although it was quite massive, it was very light; Elara didn't had any problems carrying it. "Don't forget anything you learned here, alright? Take care!"

"I will come back! Promise!" Elara said that time with an even brighter smile. She was happy meeting them, but she wanted to see the world for real. Then she whirled around holding the wandering stick with her and walked away from that little house at the mountains. But the question is still in the air: Would she really be able to keep the promise? Only God can tell – if you believe of its existence.
---
---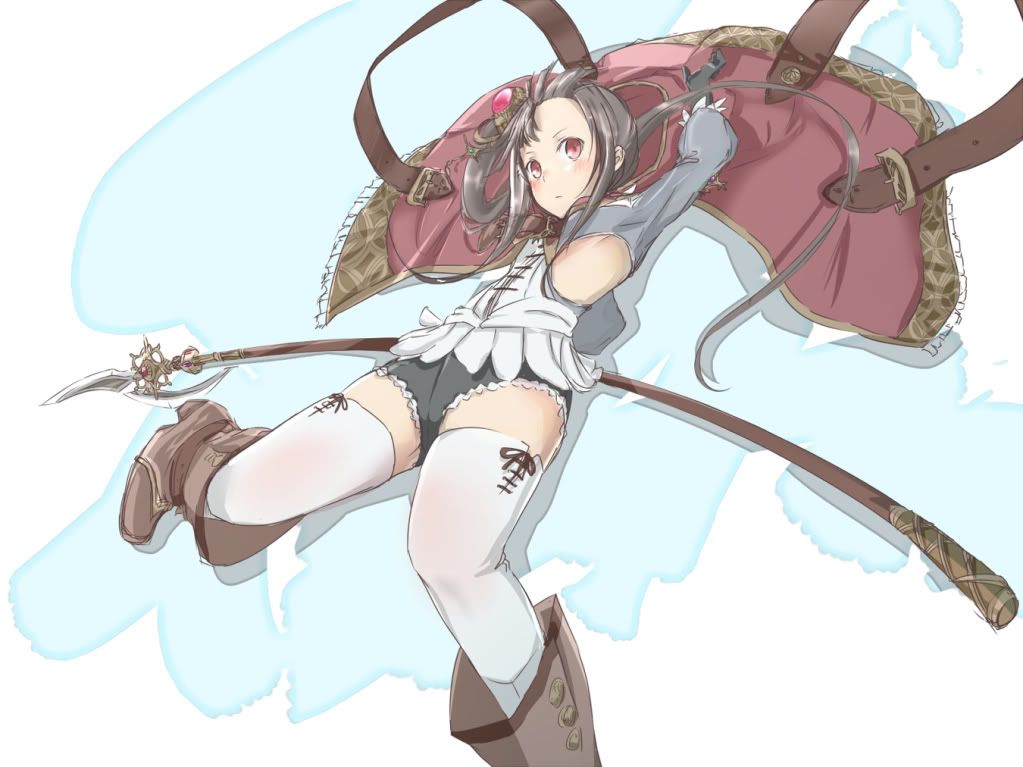 " It's surprising that up until now I only saw a glimpse of this whole universe…. And I believe new things are all wonderful, don't you agree? "