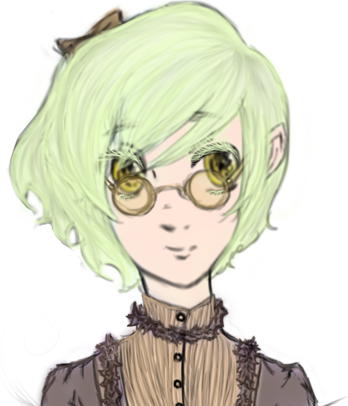 "Terribly sorry to bother you, truly, I am. Would you, er, mind if I tagged along for a bit--I won't be too much of a nuisance, I swear."
Theme Song
---
---
Basics
"You...want to know about me? Well, that's different, what do you need to know?"
Name
Nadezda Marinović
Nickname(s)
Nadez, though mostly only by her Nursemaid
Role
The Eeyore
Age
Newly 17, if only by her Mother's factoring the average gestation period into her daughter's age, by most standards she's actually a late 16.
Gender
Female
Romantic Interest(s)
None as of the Moment
Sexuality
Without so much as a notion as to what a relationship would even entail, nor what the term "Romantic Affections" refers to, it's quite difficult to really define Nadezda's sexual orientation. She'd be no more averse to a female's interest than a males, but that's assuming she could even understand such things, really.
Appearance
"Er, that's a bit of an odd question, don't you think? I mean, I don't think I'm particularly unpleasant to look at, but to each their own I suppose."
Hair
Though often tied up in slightly right sided ponytail-poof-bun hybrid, the girl's mint tinted locks naturally cascade to just below her shoulders when freed of their confines. There's a natural curl-wave quality to her hair that can't quite decide what it wants to be, and the resultant unruly mess is the main cause of her deep appreciation for up-do's.
Eyes
It'd been a matter of hot debate within the Marinović manor as to whether or not Nadezda's eyes were pure, undiluted gold, an off golden-olive, or a golden amber tint in coloration; the usual consensus reached was, it didn't quite matter, it was a tad sad they had the time to argue the matter, and at the very least they could all settle on there being an element of gold to the mix.
She's particularly near-sighted as well, to the point that without her glasses anything further than a meter becomes a fuzzy indiscernible mass of color. It is for exactly that reason that she is almost always found with her bronze, opaque, circular glasses.
Skin
Having quite literally
never
been touched by the light of day, Nadezda is pale beyond pale. Perhaps not truly
that
pale, but her skin's been quite aptly described as akin to, "skimmed milk with a touch of peach" by her nurse maid and the only questionable part to her assessment was the "touch of peach" bit.
Markings
From just below her collar bone, to across her chest and forearms, till just past her knees, Nadezda is covered in deep, gnarled scars. As a child she'd been mauled by a badger and given her relative size to the damage inflicted, the wounds had never quite healed right. She's horribly insecure of them, especially given that they're a relatively new thing to her, they'd never been so much as visible within the world she'd called her home most of her life.
Build
Standing at the modest height of 5'6/168 cm, Nadezda isn't particularly tall nor short; her figure is lithe, bordering the verge of malnourished, and with little definition to her form--other than her waistline that is, though much of that is with the aide of a bustle. In truth, she'd probably easily be mistaken for a boy were it not for the dresses, corsets, and accompanying bustles.
Clothes
Pimped out dresses all day, every day, the more poof, lace, or frills, the better; there is no such thing as "too much" in her Victorian inspired fantasy--well, there is, but it's damn well hard to achieve, you'd have to be
trying
for that achievement. Though, how she'll feel of her clothes comparative to the less ornate norms of society has yet to be seen.
Accessories
The only notable accessories often donned on her person are the plethora of Bows she has, or rather
had
at her disposal, for the moment she's only got the singular brown one to hold back her mass of unruly hair.
Weapons
The closest thing to a weapon Nadezda keeps on her person is a quill-pen, which, if pressed, could maybe gouge someone's eye out. Other than that, she's pretty much screwed were she to end up in a confrontation
Skills
"I'd be happy to care for your plants, but other than that, I'm a tad useless, my apologies."
Natural Skills
An affinity for plants, Inference, Bricolage
Learned Skills
Reading & Writing, some base knitting/crocheting/sewing experience, familiarity with Gardening/Botany, and the most base of base fencing courses.
Weaknesses
Horribly, terribly naive when it comes to things outside her fantasy world, often has difficulty acting on her own/is too dependent on others, and her inherent vulnerability were anything to happen to her glasses.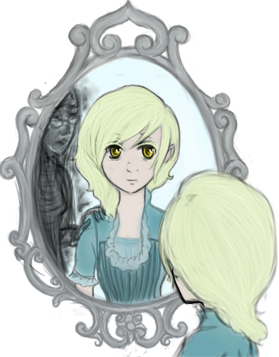 Mentality
"Maybe I'm not the best person to ask, personal bias and all. I don't think I'm a bad person, though...I hope I'm not at least."
Quirks
Likes


❁Pastries & Tea
❁Animals & Nature in general
❁Most anything "cute"
❁Between Dusk and Night
❁The pursuit of knowledge
❁Mysteries/Sleuthing
❁Acceptance/Kindness
Dislikes


❈Ignorance--particularly being ignorant herself
❈Bitter/Bland Tastes
❈Unnecessary Violence/Destruction
❈Hot/Humid weather
❈Croquet
❈Rejection/Failure
❈Mysteries/Sleuthing
Fears

Croquet, Specifically Croquet Mallets:
For essentially her entire life, Nadezda could never quite understand her seemingly irrational fear of croquet. She'd remembered the dream she'd had as a child, of her father in the parlor, where the man'd come in and beat him, and she would admit she remembered it far more vividly than any dream ought be, but it'd been just that,
a dream
, and she had no real reason to fear the game and it's equipment so unnaturally. When her entire illusion of reality came crashing down, she realized for the first time why exactly her fear of the sport was so deeply ingrained, it truly was a sport of murder with good reason in her eyes.
Badgers:
Similarly to her fear of Croquet, Nadezda's innate fear of Badgers had always been an oddity to her as she grew up. Partially as, again, it'd been the doing of a dream, and partially as, within the world she lived, badgers of the non-clothed, uneducated variety were non-existent--the town's banker was a freakin' badger. Though she maintained an aversion to the creatures even within her world of lies, she often felt guilty for avoiding an entire percentage of her town's population out of fear of yet another stupid dream to her eyes. When she likewise learned the truth of matters and the damage she'd reaceived from the little bastards, she felt her fears to be much more validated, though still expresses a belief that she can't fault every badger for the crimes of one.
Abandonment:
When her mother's lies came tumbling down below her and Nadezda realized for the first time that her mother had been gone longer than she'd truly ever even known the woman, that the parents she'd thought she'd known had been only the remnants of her true mother, was when her abandonment complex first truly reared it's ugly head. It's now a bane on her existence, that pesky voice in the back of her head that warns her of imminent betrayal, of how useless and pathetic it is, how everyone will leave her in the end anyways.
Personality
Never having been the type to stray far from her friends or guardians, Nadezda has retained a rather dependent temperament through much of her life. She's ill at ease when left alone, her mind often wandering to the worst possible outcomes of whatever scenario she's in or simply to the memories of those she holds dear. More often than naught the memories seem to quickly turn on her and her usual pessimistic ways create an elaborate rouge that none of them had truly liked her to begin with, it was a useless pursuit to even bother with friends.
With that bleak outlook, it's little wonder she finds herself alone; she knows it's her own doing, it's all a matter of outlook and keeping a positive face, approaching people rather than being the one approached, but the boundaries outside her comfort zone terrify her so, to the point it seems easier to just wallow in her own self-loathing than change her ways.
Around people she's typically a tad more chipper, trying her best not to bother those around her in some horrible, unforeseen way. She's still the type to fret, rather frantically at that, but what little of her worry she externalizes is often on behalf of another; in a way, she's set to defining herself through the actions of others. She's so unsure of who she truly is, what parts of her were put there by another, what parts have always been
her
, that she'd rather just become someone, anyone, other than her mother. In this way, she's very much the type to latch onto certain characteristics of those she's around, to play an act she honestly knows she isn't in some misguided notion of acceptance. She's got a whole sack of psychological trauma that she's never been willing to address herself, and the resultant high-anxiety, emotionally suppressed mess she'd become is in large part her own doing.
That's not to say by any means that she's a horrible person or anything, she does genuinely feel concern for the well-being of pretty much everyone she's ever encountered; it's not in her nature to really hold any ill-will towards
others
, she internalizes any hostility or anger towards others inwards typically, it always becomes a matter of what
she
did wrong rather than what
they
did wrong. Certainly not a healthy habit by any means, but the base of it lays in compassion, she wouldn't want anyone else to have to be burdened with the guilt of her actions like she herself is, certainly not wise neither.
She's irrationally protective and defensive of those few she's managed to find herself close to, more than willing to do
anything
on their behalf despite sense's greater reasoning and her innate fear of anything and everything. One might say she's even
too
willing to sacrifice herself, one might likewise claim she's a stupid suicidal broad in moments of extreme tension, just saying. But, again, it comes
mostly
from a good place, the parts that aren't rooted in self-doubt and a lack of any viable self-esteem anyways, and she'd never intentionally hurt anyone. The guilt she'd experience afterwards would probably make her take a permanent trip to the great beyond.
Personal Life
"I'd...rather not talk about the past, here's to the future, right?"
Significant Relationships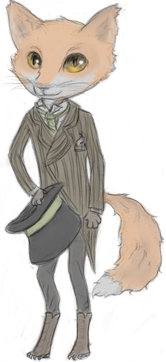 Mairin:
A young spotted rabbit Nadezda met as a child, crafted as a guide by her mother within her world, she was a key influence on the girl's current sense of self and psyche. She was always a kind individual, if quick to fright and a tad jumpy, it was only in Mairin's company that Nadezda dare venture about town most of her early life, she was always the girl's safety blanket of sorts back then.
Wynn:
Bookkeeper of the town's Archives, he's a rather docile, courteous red fox, despite the constant worry of Mairin, Montague, and Verawati as to his character. He was as carefully crafted as any within her mother's world, but Nadezda's friendship with him was an unwritten event within her mother's cannon, he was one of the few things she had influence over within that world, one of the only things she was able to choose herself.
Montague:
The Horned Owl Head of House to Nadezda's estate and father figure in the written-out absence of her father. He's a stern fellow, a bit harsh in his mannerisms but always well meaning. His intense gaze had always greatly unnerved Mairin with good reason, even if they had no need to hunt each other there remained a definite predatory quality to his stare.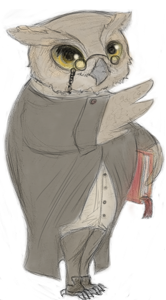 Verawati:
Pink-headed Fruit Dove Nurse Maid to Nadezda in lieu of her mother, a doting figure with a soft, yet firm hand. She always tried to appeal to her charge's better senses rather than scolding or outright punishment, she supposed the child capable of understanding and looked to Montague for a harsher touch should need truly be.
Vivi:
The tortoise-shell kitten Nadezda lovingly called her companion as a toddler, she was an inquisitive thing, always adventuring and playful, but her natural curiosity led to her death at a provoked badger, Nadezda's resulting attempts to save the doomed kitten nearly ended with her death, she now bears the scars to remind her.
Family
Lizavetta Marinović, nee Kuznetsov:
The long absent puppeteer of Nadezda's entire life and mother, she meant well in her actions one might think, but it's anyone's guess what fuels a broken women to do anything. One could say she's a product of circumstance, but whether or not that exempts her from what she's done to her daughter is up to individual discretion. It's assumed she's deceased, if not, she's most likely retired to a world of her own design far from the guilt of her child, doubtful though, as the ailment that wrought her body would have most likely caused her death without treatment, and in those last few days, Nadezda was rare to see her take her medication any longer, in the other world she never took it at all in fact. In the fantasy crafted by her hand she'd been much kinder than Nadezda had remembered her in life, perhaps it was how she'd wanted to be seen all along, it's a difficult matter for the girl to dwell on, she has no small amount of resentment for her mother.
Gaszi Marinović:
Always a bit of a manipulative prick while he was alive, it's probable he married Lizavetta for the sake of preserving his control over the woman's creative ability, or perhaps it truly was for some odd notion of love. It was by his own design that every inch of that world had been crafted, for the first time she had done exactly as he asked, and when his own womanizing ways, having always believed fictional infidelity to not truly be infidelity, led the groundskeepers wife into his bed, he found his life cut short by the end of his own croquet mallet. His fictional counterpart was a far better father than the one Nadezda only vaguely recalls, he was kind and doting to his wife, perhaps as Lizavetta had always dreamt her husband to be.
History
Though she's loathe to admit it, Nadezda's life thus far would most aptly be described as, "The Posthumous Anthologies of Lizavetta Marinović"; for her story has never been her own from the moment of conception, only the canvas upon which her mother had "perfected" her life's works.
Lizavetta Marinović had been enchanted by the power of words since first she could remember, specifically, the power to create. Her life had been a lonely one despite circumstance, or perhaps because
of
; she'd been born to a family of twelve, the youngest child, only daughter, and ailing since birth. Her siblings weren't cruel, but neither were they kind, she was different from them, broken and fragile she'd been exempt from the hours of heavy labor expected of them and been given the opportunity for knowledge they'd never had. Though they would talk to her, care for her, they resented her for it, she could see it every time they looked at her, she was nothing but a burden and a reminder of their own failings to them. It was never truly company they offered in her presence, it was,
she
was only a duty, and so she sought solace in the only place she could: fantasy.
Fantasies of the archaic variety, dreamt in her mind, scrawled messily by hand onto the margins of her books, the place her mind would wander whenever her families hollow gaze became too much to bare. It's not as though she'd asked to be born that way and in those other worlds, where she was perfect and healthy, where her family could actually look at her, or perhaps where they no longer even mattered at all, she was free from all her life's burdens.
As her studies progressed, so did the depth and complexity of her writings, and through some happen-chance she could never quite figure out, one of her more lengthy works had managed to worm it's way up the chain of influence to the point where she'd had her first fantasy commission. Lizavetta had been lost at first, she'd never so much as left the confines of her house and the books provided to her had never mentioned the physical fantasies of man. The man, both aghast that his newly favorite writer had never heard of such a thing, especially considering her current state of living, and still deeply desiring yet another vacation fantasy world, insisted that Lizavetta come with him immediately. The promise of a physical escape from her pitiful life was more than enough for the girl to happily comply, and though her family insisted she stay with them in reality for her own sake, she could not be swayed.
He introduced her to the means of crafting a fantasy, of which he himself had been mostly ignorant in truth, and the team responsible for his own worlds development. She eagerly absorbed every ounce of knowledge she could from the resources provided her and ran with it, she created the world her employer desired and more, and in time she became his. It's important to note that the term, "became his" is quite an accurate depiction of their relationship, he'd always been a rather superficial thing and when his master mason began to express a desire to create her
own
fantasies, to leave his employ essentially, he ensured her continued work the easiest way he thought how: marriage. Lizavetta was a vulnerable thing, so desperate for any ounce of affection, she accepted his offer without thought and within a few years had conceived, birthed, and raised a child within her dysfunctional relationship.
That child was Nadeza and for every intent and purpose, her mother loved her, if in her own slightly twisted way. She'd never had much of a maternal influence on her own life, so Lizavetta acted mostly off of instinct, and this instinct in many ways was reflective of just how broken the woman really was. Her attitude was always prone to sudden shifts, one moment coddling and doting of her daughter, the next harsh and demanding, always expecting only perfection of her daughter. Had she not given her so much more than her own parents, was not she healthy and capable unlike her mother, there were so many reasons she could find to excuse her expectations, to her, her daughter
had
to be perfect, for both their sake.
Though her husband's affairs had long disinterested her, Lizavetta had continued to cater to her husband's whims when it came fantasies, thus it had truly been by his own design that his death came 'round. His wife had always had an artisan's approach to crafting motives and maintaining a thorough, well-rounded character design for the citizens of her worlds, methodical and deliberate was every word she penned, to the point that each seemed a self-aware, real individual for all extents and purposes. So when caught fraternizing with his own groundskeeper's wife resulted in a particularly enraged groundskeeper bludgeoning her husband to death, Lizavetta felt only a momentary pang of guilt before sweeping her child away to another fantasy of her own design--unaware of course that her barely talking child had witnessed the entire event transpire.
Lizavetta had crafted their new home long before, but her now deceased husband's whims had always come first and she'd never truly had a chance to live there before that. It was based on many of her favorite novels' as a child and it seemed a fitting enough place to raise her toddler daughter. Until it was that the kitten she'd written for her daughter strayed too close to one of the world's realistically portrayed badger--it hardly crossed the woman's mind to censor wildlife at the time--and the creature first mauled the curious kitten, then the small child that ran to her companions rescue, Lizavetta herself only managing to intervene and wrangle the berseked creature from her daughter's form after it'd successfully torn the kitten to shreds, her daughter nearly to pieces, and herself mangled to the point she could barely drag herself for help.
It'd been by luck she and her daughter survived, even with the advanced development of medicine she'd written into the world's structure, and seeing the damage wrought on her tiny child's form was the last blow Lizavetta could take to an already vulnerable psyche. She began working relentlessly on the perfected world for her daughter, a world where nothing could hurt her, every character was written for her, to help her develop and become the kind of person she'd only dreamed her daughter could, she worked in elements from every story she'd ever loved, every work she'd ever penned, and this time made sure no animal would ever hurt her. By the time her daughter was in any state to even be moved, Lizavetta had completed her life's work. She stayed with her daughter for one more day within that world and as soon as her young daughter had fallen asleep, she whisked her away in the night to what would be her new, hopefully eternal, home.
Nadezda awoke in a bed much like the one she'd always slept, in a house much like the one's she'd known before, and with the mother and father she'd always known there to greet her. She told them worriedly, in her broken toddler words, of the horrible fates they'd endured, of her father's death and the kitten's mauling, and all the blood--and as she went to look where the wounds had been, she found nothing. For a good, long while they stayed with her as she sobbed away her troubles, and then, when she'd finally stopped her sobbing, with careful, soft words they explained that nothing had happened to mommy and daddy, but from now on they'd have to be around less and less, they were busy people and though they loved her very much, there'd be some new people taking care of her from now on. They wouldn't be completely gone, they stressed to the girl as her eyes began to tear again, they'd always come back for her, but she'd have to be strong girl and be good for her new friends. When it was that the girl finally accepted their proposition, though still gripping tightly to her parent's legs none-the-less, her parents ushered in two birds donned in extravagant attire. One an owl, male by the looks of his outfit, his brows furrowed and golden gaze near piercing the girl, the other a pink dove and female were her laced dress and bonnet any indication.
Perhaps rightfully, Nadezda panicked a bit at the sight; it'd been her first actual experience with an anthropomorphic creature in any of the world's she lived and though they weren't ghastly abominations, it's still quite an oddity to see fashionably dressed avians. Her parents reacted curiously to her shock, acting as though she were the strange one, that all this was perfectly reasonable, and though the young girl told them she'd accepted her words, she held her reservations. But as the days passed by, turned into weeks, then months, and finally years, and her parents grew further and further away, the strange anthropomorphic animals became the norm, she the oddity in their world though they accepted her readily. It was hard not to accept it, even if she often felt a twinge of wrong about this, remembered the cat bleeding out in her hands, the pain of claws and tearing teeth, the sight of her father broken and bloodied; even if it was a lie, it was lie she was glad to have in a way and unconsciously she was quick to accept the world as it was, obviously wrong as it was.
As her eighth birthday rolled 'round, Nadezda for the first time in all of her years within the world, truthfully in any of the worlds, strayed outside of her manor home. Her mother had always been absolute in her control over her daughter, and in her place her avian guardians had been likewise, always restricting her to her rooms and her studies as her mother too had been restricted. But she'd had enough, she'd seen one of the local town girls picking their flowers that particular morning as she often had before and rather than run away as soon as she caught the girl's gaze as she had the other times, the girl had waved to her that morning, if quite timidly and the slowly, ever so slowly, motioned for her to come.
For a great while she'd paced back and forth, looking back every so often to see if the girl was still there before continuing to pace as the girl again motioned for her to come. With what seemed an eternity of deliberation and the chance of friendship held so close at hand, Nadezda finally decided on an escape. She tied her bed sheets together, knotting them as tightly and as best she could, tied them to her bedpost, and then opened the window. The young rabbit girl below waved at her curiously, asked those few key words Nadezda hadn't even known she'd wanted to hear, "Want to Play?" and Nadezda essentially catapulted herself from the second story, landing a bit harder than anticipated in the hedges below. The world was essentially injury-proof, so her exploits luckily hadn't resulted in any grievous harm, she merely brushed her clothes off quickly and went off to talk to the girl. She learned her name was Mairin, and though they talked for a long while that eve, Nadezda was too fearful of her guardian's wrath to stray further with the girl and with the rabbit's promise she'd return to play again, the two parted.
She'd been right to expect her guardians would be upset, they met her at door as she returned, her bed sheet escape broken after her fall. They expressed a disappointment that she hadn't asked them to go outside, but, much to her surprise, expressed a desire to actually allow her to play with the girl. The sudden shift in stance on her going outside seemed odd to her, but in truth the entire event had been carefully orchestrated by her mother prior, as every event up until that point and nearly every event of her future would likewise be.
Mairin quickly became the girl's best friend, as she had always been written to be, taught her of the world outside her manor, the world her mother had crafted so painstakingly and, for all extents and purposes, acted as yet another guide in the grand scheme that was Nadezda's life. For it was that the mint haired girl developed many of her passions from her friend, her love of pastries, tinkering with the random bits and pieces 'round her room, she'd only known of botany from the girl's influence, and tea wasn't nearly as delicious before Mairin started making it. Even her fashion sense was a reflection of the rabbit's own tastes and Nadezda was more than happy to cling off of her friend entirely, Mairin was always the one to talk first, to introduce her shy companion to the faces around town. It helped the girl shake off her insecurities a tad, and she warmed up quickly to the townsfolks, particularly to the bookkeeper of the town's archives, a fox gent' by the name of Wynn. Though Mairin expressed a bit of a wariness in his presence, as did her poor fowl guardians, Nadezda was persistent enough in her pursuits of his friendship and their acceptance of her new companion that she got her way. It'd been one of the few things her mother hadn't inherently intended for her child, she'd expected her to instead befriend the tabby baker, but it worked within her writings none-the-less, her mother had been methodical in her fail-safes, there was nearly enough wiggle room within her writings to suit an infinite variety of choices in her daughter's life, so long as they led to the same events in the long run.
As she aged further and began to tire of just study day in, day out, Nadezda began to desire for a more interesting use of her knowledge and so began her era of sleuthing, intrigue, and the occasional apprenticeship under whatever trade she had a fleeting interest in. Mairin and Wynn accompanied her often in all her pursuits, though in truth it'd all been the design of Mairin once again, her recommendations and badgering often getting the desired effect she wanted of her mint-haired friend. It was with purpose that the rabbit steered her friend towards the detective's line of business, it was the ultimate resolution of her mother's work that upon her seventeenth birthday, what Lizavetta has considered the eve of adulthood, she would discover the ultimate deception of a lifetime.
And so, by the aged words of her mother's all powerful whim, Nadezda discovered exactly what she was always intended to, and her reality shattered. She'd always vaguely known it to be a lie, always suspected in every crevice of her mind and heart that she'd been deceived and this was all
wrong
, so very, very
wrong
, but her heart was still torn asunder the same. All her friends were a lie, her father dead since that day so long ago, her mother missing since first Nadezda entered this world, her entire life had been a lie and she'd been all alone with it, completely alone, for the entire life she knew. And then there was that, what did she really
know
? She hadn't known it all to be a lie, she'd suspected it sure, but never truly
known
, and if reality wasn't where she lived, what she knew, she knew nothing at all, only lies and fantasies of a woman that abandoned her...Abandoned her with such care and love though that she couldn't decide between rage, despair, or just completely numbing herself as she thought of all the woman had done to her, for her, for
herself
.
She'd been frightened out of her wits at the prospect of what lay beyond the only reality she'd truly ever know, but the notion of returning to those hollow echoes of a most likely dead woman's words seemed so immensely worse that, after an entire eve spent merely staring at the passageway out of her world, Nadezda took her first steps towards her own story and finally closing the pages of her mother's.
"When you lose what makes you, you, what does one become...?"