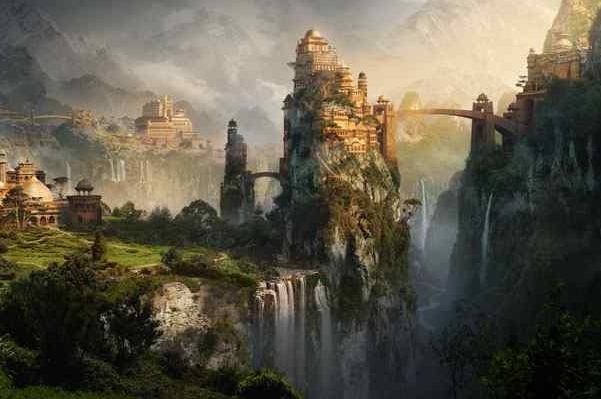 This was once a Kingdom of great Prosperity. Now we are only a province. A shadow was cast upon our kingdom, and the king let him walk all over him. His name was Elias Zankora VII, Emperor of Zankor Empire. He regaled the King of our Land with tales and promises and best wishes on birthdays. But the more these promises were made, the more Elias eroded the King's judgement.
And then it happened, his army invaded like a whirlwind, and wiped out most of the Royal Family. Our darling Kingdom, our Beloved Orina, taken in a single night. Now it is Orina Province, with our Capital now the Emperor's summer home. It was either submit or die. For nearly twenty years the People of Orina have lived under the yoke of this Tyrant, our hope for a bright future all but snuffed out.
But on the nineteenth year of those Twenty years, we received a sign.
One of the Guardhouses of the Capital of Orina was burned down. Several corpses of the Zankor guards were seen, along with the symbol of our once proud nation, the Blue Lion, along with this testimony.
"People of Orina, on this day, of which nineteen years ago I was born into this world, our homes were taken, our food stolen, our People enslaved or plunged into debt or forced to be lapdogs to The Young Emperor's Game, or to slave labor in other provinces. They took husbands, wives, sons, daughters, brothers and sisters. Killed them if they resisted! No more!

People of Orina, Rise up! As my Father's people you must fight! I am Elena Valeera, Daughter of your King, and true Heir of the Throne! Rise up and join me in Rebellion!"
And so, the rebellion began to form, in secret. Some of us come to free Orina, some for the Money and great reward, some have personal Grudges on The Emperor himself. Where do you stand?
Name: || Age: || Gender: || Role: || Face Claim: (Optional)|| Status:
Name:Oberon Azura || Age: 22 || Gender: Male || Role: Rebel Lieutenant|| Face Claim: Nier || Status: Taken By Firewind
Name: Elena Valeeria || Age: 20 || Gender: Female || Role: Rebel Leader || Face Claim: Saber || Status: Taken by SolanaNight
Name: Tacitus || Age: 25 || Gender: Male || Role: Bodyguard to Leader || Face Claim: Masrur| Status: Taken by CutUp
Name: || Age: || Gender: || Role: Spymaster || Face Claim: (Optional) || Status: Reserved By Igari
Name: || Age: || Gender: || Role: Diplomat ||Face Claim: (Optional) || Status: TBD
Name: || Age: || Gender: || Role: Imperial Defector || Face Claim: Guts || Status: Taken by raspberryberet
---
Code: Select all

[center]Fontmeme of name[/center]

[center](Image!)

[color=color]"Quote"[/color][/center]

[hr][/hr]
[left][img]image!!![/img][/left]
Name:

Age:

Gender

Theme Songs:

Physical Description:

Equipment:

Strengths:

Weaknesses:

[hr][/hr]
[right][img] another image!!![/img][/right]
Personality:

Likes:

Dislikes:

History:

[hr][/hr]

Other:

Face Claim:(optional)
---
Welcome! If you've read this far, Welcome to my story! I only have a few Rules to give out. Along with some passwords for reservation!
1. No Godmodding!

2. Pictures should be anime or fancy drawing, Face Claims, as Stated above are optional, but only if you want them.

3. Password 1: What is Your Favorite Fantasy Novel?

4. Romance, Cursing, and violence is permitted. Don't go overboard (no smut, take it to the PM otherwise)

5. Passoword 2. (Optional but it lets me learn about you.) if you watch RWBY, who's your favorite Character??

6. Have Fun!
Taking place in...
16 posts here • Page 1 of 1
16 posts here • Page 1 of 1
Arcs are bundles of posts that you can organize on your own. They're useful for telling a story that might span long periods of time or space.
There are no arcs in this roleplay.
There are no quests in this roleplay.
Here's the current leaderboard.
There are no groups in this roleplay!
Welcome home, Promethean. Here, you can manage your universe.
Arcs are bundles of posts from any location, allowing you to easily capture sub-plots which might be spread out across multiple locations.
You can create Quests with various rewards, encouraging your players to engage with specific plot lines.
Settings are the backdrop for the characters in your universe, giving meaning and context to their existence. By creating a number of well-written locations, you can organize your universe into areas and regions.
Navigation
While not required, locations can be organized onto a map. More information soon!
There are no groups in this roleplay!
By creating Collectibles, you can reward your players with unique items that accentuate their character sheets.
Once an Item has been created, it can be spawned in the IC using /spawn Item Name (case-sensitive, as usual) — this can be followed with /take Item Name to retrieve the item into the current character's inventory.
Give your Universe life by adding a Mob, which are auto-replenishing NPCs your players can interact with. Useful for some quick hack-and-slash fun!
Mobs can be automated spawns, like rats and bats, or full-on NPCs complete with conversation menus. Use them to enhance your player experience!
Current Mobs
No mobs have been created yet.
Locations where Mobs and Items might appear.
You can schedule events for your players to create notifications and schedule times for everyone to plan around.
Add and remove other people from your Universe.
The Forge
Use your INK to craft new artifacts in Resistance: Shadow of the Tyrant. Once created, Items cannot be changed, but they can be bought and sold in the marketplace.
Notable Items
No items have been created yet!
The Market
Buy, sell, and even craft your own items in this universe.
Market Data

Market conditions are unknown. Use caution when trading.

Quick Buy (Items Most Recently Listed for Sale)
None
Discussions
Topics

Replies
Views

Last post
Most recent OOC posts in Resistance: Shadow of the Tyrant
There have been no posts in the OOC topic for this roleplay!