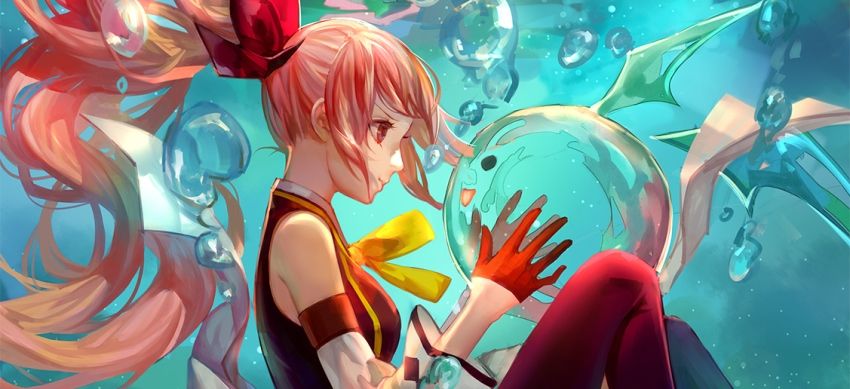 ⌈

Name

⌋


Rei Meena Rowen



⌈

Nickname(s)

⌋


Mimi, Raven, Pi, Cheshire



⌈

Age

⌋


27



⌈

Gender

⌋


Female



⌈

Sexuality

⌋


Panromantic Asexual



⌈

Appearance

⌋


Appearing perhaps demure and a tad eccentric, her lithe stature is accented by various hues and a bright smile. She stands at around 5'6" and weighs a little under 140lbs. She has long, cascading hair--a faded pinkish color that can appear more white in the sun. Her hair tumbles past her waist, leaving her to be more inclined to put it up in a ponytail when she indulges an escapade. Her eyes are a startling crimson, contrasting with her pale complexion. Small ears, high cheekbones, and a smooth jawline all contribute to a highly effeminate appearance.

She will wear just about anything that can appeal to a mood--and she isn't a woman to mind showing off a bit of skin either. The body is simply the tool one uses to complete tasks, and there is nothing special about her legs over another's. She rarely preoccupies herself with the semantics of "decency" because her fashion choices aren't really affecting anyone but herself. She does prefer wearing blacks and reds, half-gloves are a bit of a staple for any outfit she is wearing. She is also very fond of stockings, or at the very least, high socks. She makes it her business to hide any and all weapons on her person.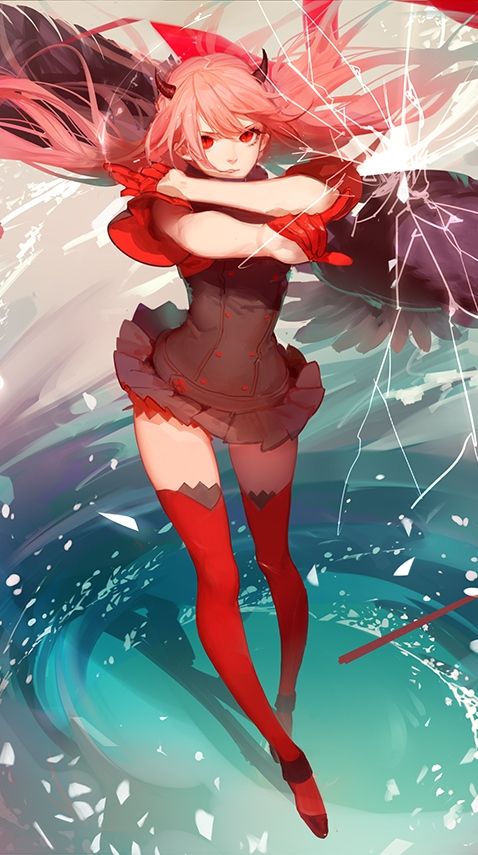 A walking contradiction to many of whom will meet her, she is simultaneously the most polite person one may meet and perhaps the snarkiest. She's a ball of endless entertainment to those around her, and likes to think she brings the cheery disposition to an otherwise somber gathering. Unaffected and rarely offended by tense atmospheres, she's always got a smile ready, a quip handy, and a comeback on reserve. She doesn't let things really get to her, at least not in the moment. She likes to laugh off discomfort and absurdities--and often comes across as an odd contrast to many of the rebels around her.

When she isn't blasting someone with her outrageous sense of humor, they may be instead awed at her astounding courage. There are very few things that scare her. And those things that do, she confronts quickly and immediately. Fear is a mechanism that halts forwards motion and she isn't one to dawdle. She enjoys the adventure, of what such endeavors can reveal about a person, about herself, and about a situation. She is a straight shooter, she says it precisely how it is without so much of a regard for the "social etiquette" of a situation. Everyone and everything is fair game in her books, there's a sprinkling of humor somewhere. It's hard not to enjoy her sincerity in this regard, because she most certainly won't exclude herself from this little game.

To outsiders, she is what she needs to be. The sultry lover, the militant follower, the abandoned preacher. She is good at donning a face, donning a role. She is startlingly perceptive, reading body language cues to alter her lies, her speech patterns, and her tonal inflections. She'll put on a damn good performance, because she's only in the interaction for one thing: information. Seemingly mundane questions feed into her web of intrigue and theories and bring her closer to the truth that she seeks. She's good at coaxing out what she's after. And once she's gotten it, she's gone, a memory, perhaps sour or sweet. To her, information is like a bounty. And the bigger the bounty is, the bigger the payoff will be in the end. And that's an exciting prospect.

Her acting ability and casual flippancy can put others at somewhat of an unease. To those that don't know her, she is avoided with some modicum of respect and caution. She doesn't have the best reputation with those that aren't in her direct influence and that can sometimes hurt her social interactions. She gets the job done, but rumors always surround it. That she's ruthless, that there's no price she wouldn't pay for anything, that she is a blatant liar. She laughs it off because she can't afford to let those insecurities eat at her. She chose this path, and she's a determined little sprite--but that doesn't make it easy. Her impulsiveness doesn't help with this image of her character, as she can appear shallow or inconsiderate when she runs off. Seemingly abandoning "friends" for the next big lead. But that isn't true, she is just a curious little miss.

Her bravery can sometimes lead to shows of near arrogance, since she might not always know when to back down from a seemingly impossible situation. Sometimes running away is the smarter option, and her tenacity can get the better of her. And her very profuse love of explosions. She's intense and can be serious when it comes to tasks she is assigned, and in that regard, perhaps she is relentless. She doesn't let something go. She doesn't forget. And she can hold a grudge. That intensity can alienate her, and it can also encourage acts of disrespect between her and her associates. She believes in what she does and anyone that questions it clearly isn't as committed as she is. She can be a bit singular minded at times.

Overall, she tends to be a pleasant experience and has a fondness for those that can handle their jobs well. She is very... open about this, and it's pretty easy to tell where one might fall on her own personal social hierarchy. She can be a bit of an entertaining gossip, and also a wonderful confidant. She can be bombastic in her approach, yet cautious in proper situations. She's the life of any party, and also the quietest one in a room. She's clear dissonance, and that sits just fine with her. After all, she knows exactly who she is, and knows where her loyalty stands. The same cannot necessarily be said for others.


⌈
Quirks
⌋
She paces when she thinks

"It helps stimulate the blood flow!"

She braids her hair when she's nervous

"I'm not... too bothered..."

She rubs her horns passively when she smokes

"They're just for show but they are comfy-feeling."
⌈
Likes
⌋
Loud Explosions

"Remember that loud bang I mentioned?"

Learning Damien's most embarrassing secret

"I'm sure it's an amusing one."

Exposing amusing tidbits among friends

"Did I tell you about that one time Elena..."

A wonderful home-cooked meal

"Nothing quite like it."
⌈
Dislikes
⌋
The Tyranny

"They're scum, self-explanatory."

The dreariness of her companions

"Try to lighten up? You know how boring your frown is."

Losing in her personal endeavors

"Failure isn't a viable option."

Lies

"Don't even try me."

To those practiced in the arcane arts, magic requires due diligence, a firm will, and a versatile knowledge base in order to draw upon it properly. And if there is one thing she's learned from intense study, it is that all spells can be manipulated if one alters gestures, wording, and energy. Considered "unfounded experimentation" and "corruption of the natural course of magic" by peers and outsiders, she likes to refer to her practice as merely moving energies to different levels of stasis.

She can conjure and manipulate magic into a high-octane form of energy that she releases from her hands. It usually forms into the shape of an orb before taking on the vague shape of a gun--firing off at her target(s). Her aim can be impressive and she rarely misses. She can control the output, which can effect how stable her energy source is. With concentration, she can alter the form of her magic--thus adding tangibility to what she summons. She likes to use this technique to take the form of knuckles, which assist her in hand-to-hand combat as well as climbing. She is very good at using her body during a fight, she is acrobatically inclined and uses her legs a lot when in the midst of a tussle. She has good balance after all, and it helps that her magic can assist her method of fighting.

Her magic can be used to form other objects as well--each of these summons take on the same magical sheen of her orb. Bright in appeal, almost a wispy, translucent white. She can use it to make a variety of things--rope, small blades, et cetera. It is the main reason she has no purpose to carry weapons on her person. She can fabricate them from mana. These things that she creates will not last for an incredibly long time, as it requires her active concentration in order to bring them to life. The energy that she can expel from her palms, per se, can be mutated into something of an "elemental standard" if she so wishes it. She rarely imbues it with this touch, however, perhaps out of personal preference.

If she can apply her magic for other purposes, she hasn't made it known to those that she is in frequent contact.


With her eidetic memory and cunning tongue, she is able to coax details out of others and string together the pieces of a puzzle that perhaps were not as obvious to the naked eye. She remembers all of her interactions perfectly, maybe a little too perfectly for others around her--and can recite back word-for-word these encounters. It's what makes her so good at procuring contracts in a way. She is agile and nimble on her feet, and able to think clearly in an otherwise perilous situation. She isn't fazed easily and can keep her head in the game when it matters. She can be sociable regardless of the crowd and can easily get along with others when it is called into question. She can adapt quickly to a given scenario--and takes her job quite seriously, with a very heavy touch of intensity.



Her brash nature and sharp disposition can sometimes be difficult to get past. She can leave a tart after-taste, and she is incredibly unapologetic about what she has done to other people. She doesn't feel the need to feel guilty over her flaws, and this might not be the most endearing trait to others. She's a little too enthusiastic about her pyromania and this reckless indulgence can endanger the lives of other people. In addition, she has something of a profound hatred for the Zankor Family and will feel something akin to blind rage when in proximity. It can be difficult to talk her down from this mindset once she is in it, since she rarely listens to outsiders. Her selfishness surprisingly can get in the way at times, since she can sometimes think that she is the most dedicated person to a certain cause, and she can find it hard to relate to others, or see past her own nose. She has a casual addiction, nothing too harmful but her smoking can be a bit hazardous. She will also never turn down a drinking contest.
Born to the Rowens was a vibrant girl with startling crimson eyes and scant locks of pinkish hair. She had always been curious, even before the days that she could utter a few comprehensible syllables. She sought after others with vigor, she would chase her parents and relatives around as fast as her small, pudgy legs could take her. When she got old enough to talk, she would insist that nothing need be repeated more than once because she had the memory to recall it instantly. This was disbelieved for a few years until it was accepted that she had superb memory. She had always been talkative, always sociable, and always eager to learn something new.

When she learned how to write, her first request was a small diary to keep her thoughts it. It turned more into a compilation of the data she learned from other people. Even in her early years, it was evident that she knew how to talk to people. She knew the right sorts of things to say, others could say that she was "charming" but they would be giving her information. For those years, it was passed off as "she was a child, so she wouldn't understand what she was given". She learned how to strum her advantages and press them, whether it be her age, or when she came of age, her looks. Boys liked her, she was attractive, and she had no problem using that for her own gain. Sex never meant anything to her, it was the emotional connection that she kept sacred, and the one that she never really forged with anyone.

As she grew closer to being of age, her aptitude for magic was very apparent. She was sent to formal schooling within the Republic of Vrepan. She was treated to some of the best education that magic and money could allow, and the results showed in the form her abilities took. And of course, her information gathering did not relent. In fact, it was here that she was to meet her companion, Fi, who was also studying at the institute. The other girl was much younger and quiet, but something about that demure nature was attractive to Rei. The two bonded and spent quite a bit of time together, studying into the late hours as exams tended to be rigorous and unforgiving. She never quite earned the "honor" to attend a gladiator match during her time there, but she had heard of how stunning they were. It is not something she necessarily regrets.

She left the republic before Fi, as the other woman had education to finish. She returned home, to whispers of a rebellion. Scant, quiet, and barely there. But she followed them, and began formulating her own plan. If there was to be a rebellion, then she wanted to be on top of it. And she knew just where to begin. She called upon her childhood companion, Xi, and once Fi returned, the three of them began to string together their network. It didn't take long for all the pieces to align correctly. A few years passed and there was a commotion in her home village. During a communal meeting, she was met with a... peculiar man. He was requesting aid, perhaps assistance from the homelands. Many shook their heads, but she stepped forwards. How could she ignore the Empire, and how could she say no to this man, who seemed sincere?

She introduced herself to him, and made it known what she could provide. If no one else would step forwards as a representative, then she would. She ignored the hesitation, she ignored the warnings--because there was no more time for waiting. And she took her first steps forwards with him--with her allies to surround her, and offered her services to the cause. Her station was pretty well-set early on--as she and Oberon quickly developed a sort of mutual kinship for their upbringing. He understood where she had gotten her resources from, but she never stopped keeping to herself to a degree. She would share her skills, but she would never relinquish her network, not to anyone. Where she goes, they do as well, and she made sure to be very clear about that. Well, clear and brief. After all, there was work to be done, and a rebellion doesn't happen overnight.