Age: 19
Faction: None. She is a street performer and is mostly homeless in the Gamma district. She refuses to join any guilds as she has never been dedicated enough to team spirit or cooperating.
Appearance: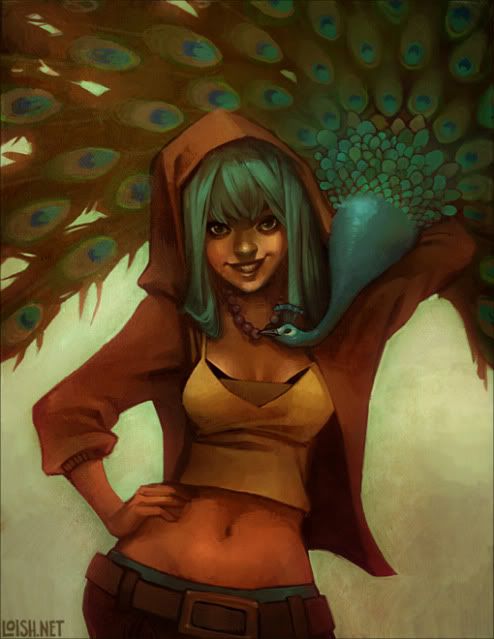 Tinder looks like a street performer, truthfully. With her bright, teal hair (colored by an undercover, rather fortunate mage in her group of performers) relatively dirty garbs, and a fit body. Tinder is usually doing something odd, almost always walking on her hands or doing flips or something of the sort. Getting the girl to just walk is like trying to make an fish just fly- possible but difficult. She stands at an average height for a girl, about 5'5" or so, with mildly tanned skin and chocolate eyes. Tinder is never very far from her retarded peacock who goes by the name of Harry. The stupid thing had strayed away from a circus group when it was a chickling, having been hit in the head (probably by the boot of a pedestrian) and Tinder just happened to stumble upon him. Tinder had thought it was just a regular bird at the time since he'd been mostly brown, but as the thing grew, it was discovered that he was, indeed, a peacock. Harry is honestly very dumb, and will squawk loudly if Tinder ever gets too far. Tinder says that he was domesticated by retardation. While she'll complain about Harry very often, she honestly does care for the pet. Anytime a person tries to touch him without her permission first, she tends to cartwheel over to him and whisk him up into her arms. She's very possessive. Tinder doesn't wear shoes, and tends to wear loose cotton materials which don't restrict her movement. She's quite the sight to see, really. When she's trying to be stealthy, she'll drop Harry off somewhere, pull up her hood, and blend in with the crowd.


Personality: Tinder is a bit imp like, with a primitive mischievous aura and a wide, unsettling grin. While she usually doesn't steer away from her clown-esque charade, her toothy smile and "polite", "friendly" remarks ever present, you can tell that she's hardly sincere. In fact, when she's performing for the folks in Beta and sometimes Alpha, you'll often find that her cutesy cries are double entendres and more of a snarky swipe than anything. Mocking higher ups and getting away with it is one of her hobbies. That along with swiping all the mula they got on them. She'll always play the fool when confronted, hiding behind her mask of chivalry with "What ever do you mean? I would never insult such a fine, hard-working man.". She is more spiteful and vindictive than mentionable, and it's easy for a person to see that Tinder has a lot of negative feelings boiling in her chest toward nobility, scientists, and assassins. Anyone who has a smidgen of power is an enemy in Tin's book.

Truthfully, she's a bit eerie. When it's clear that she has no good intentions nor any empathy for your causes, yet she continues to act like the performer she is, you tend to get creeped out. Tinder is constantly making fun of those around her in her own passive way, and despite her dislike of most people, she avoids conflict. She doesn't get into physical fights if she can avoid it, instead just stealing in the shadows and cursing from a far.

Tinder is a lot like a small child at times. It's very easy to bribe her with the things she likes (chocolate and candy, specifically) and she can become increasingly jealous when pushed too far. As soon as Tinder realizes that she's being duped, it unlocks a nastier side to her. She is relatively obsessed with being the one with the control, and having it backfire makes her go mad. In these situations is when her facade is dropped and she reacts like an angered cat, her smile replaced with an even scarier frown and the disdain she has locked away surfacing up to the top. It is at this point that a person should be on their toes, because Tinder will take whatever means necessary to make them suffer, her sadism unleashed.

Equipment: Would Harry count as equipment? Probably. He's practically an accessory when you think about it. An annoying, loud, stupid accessory, but one nonetheless. Aside from this, Tinder has a pouch tied to a loop on her pants that holds her money and a dagger attached on the other side.


History: Tinder's parents were street urchins much like herself. Her family has been a long line of Gamma-dwellers, never bad enough to downgrade to Delta but not successful enough to branch out to Beta. She was the second to youngest child in a family of 8, and Tinder found her existence to be a bland one. She did anything possible to stand out, which lead to her taking up acrobatics to an extreme. All of her siblings did it, but she really did it. She obsessed. One day, a man came to her house and shot her entire family dead. Tinder still doesn't know why, but it left her virtually alone in the world and it filled her to the brim with hatred. At fifteen, she'd become as bitter as a seventy year old magi. The young, just slightly bad girl had suddenly turned into a sadistic performer, lost the hope that kept most people going and replaced it with cynicism.

That's when she got up and left her nest, discarding her old name (which no one knows) and replaced it with Tinder. Again, it wasn't dramatic or unexpected. No one searched after her, and she was only mildly homesick. She went on to make a living for herself. She hadn't gotten a formal education, but she picked up the superiority complex of one who had. Perhaps it was the lack of love in Tinder's life that sculpted her into the oddity she is today. Perhaps she was born how she was. Perhaps it is the experiences she's faced that's made her hate everything. It's a combination of it all.

In any case, Tinder has learned to be quite selfish. She doesn't give a damn about much of anything, so long as she'll be gaining something. Tinder doesn't have many friends. She has people that she talks to, but she looks down on them the same way she looks down on everyone. It's just her and Harry and the rest of the world are one inconsequential blur. If everyone keeled over and died, Tinder wouldn't blink an eye.

While she hasn't told anybody, Tinder has been suffering from chest pains of late. She's almost positive that she's slowly dying, though she obviously hasn't seen any medical attention. Lately, it's gotten so bad that in the midst of her performing, her chest will heave so violently she'll have to stop and take a break. She's mostly embarrassed by this secret, as one of the only things she's been able to pride herself with was her fitness.