Please do not submit characters to this RP. It is complete, and the story is finished. Feel free to read it if you like, though. Thanks!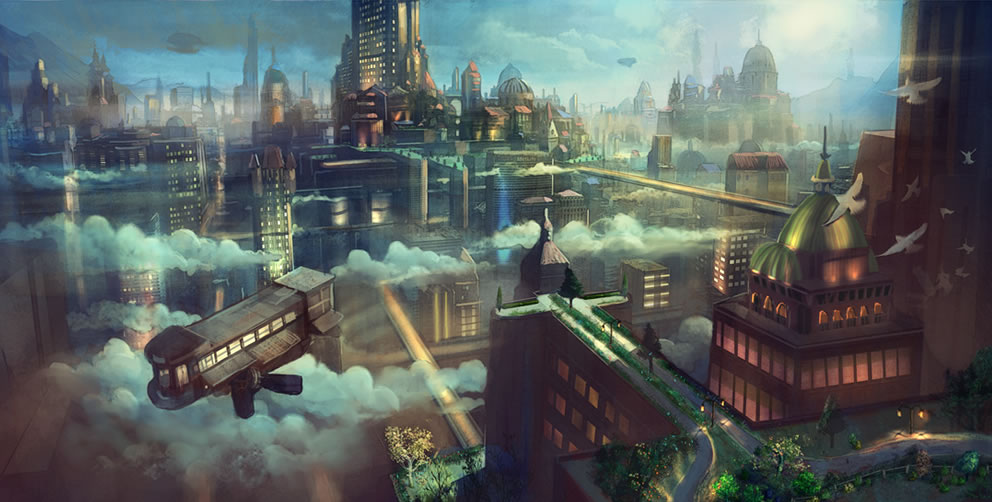 The Skycity of Revelation is fracturing, and everyone can see it. Little over a year ago, the event that precipitated everything else occurred: Marquis Adam Goldwater, a prominent politician and supporter of mages' rights, was assassinated, a taboo act even in a city where professional murderers are regularly utilized. While most turned their scrutiny upon the Assassins' Guild, some citizens were privy to the truth, fragmented as it was. On the night they met to fit the pieces of this truth together, they were attacked, and there was no doubt that the fight that evening was only the beginning of their troubles.

In the year since, they have returned as much as possible to their lives, but even the limited peace they may have been able to find is too fragile to last. Seven nights ago, Dr. Prometheus Vanderbilt, Director of Marchfield Laboratories and brilliant scientist, stumbled across something that might better have been left unknown. In his pursuit of a cure for the lung disease that runs rampant in the city's outer districts, Dr. Vanderbilt utilized Manatechnology, or the use of artificial magic, to create an agent that while indeed able to subdue the toxic lung pollution is also possessed of a number of unfortunate side-effects.

The bodies of most people are not designed to filter magic, artificial or otherwise, and thus any cure based on Mana would be useless without the intervention of a mage or some other way of bypassing a human being's natural immune response to magic. Vanderbilt found a way to overcome this immune response- destroying it. As a result, anyone to whom his cure was given became sensitive to the workings of magic, able to sense the presence of a mage from a distance. So too, did they become susceptible to more than just the cure. All magic worked on them, benign or malicious, had double the effect that it would on a normal person.

But even more extraordinary was what happened when Dr. Vanderbilt tried injecting his magi consultant, Miss Pandora Elling, with the solution. Her ability to use magic disappeared, and her other symptoms were identical to non-mage patients. She did not regain the use of her abilities for twenty-four hours.

When news got out, the discovery was immediately seized upon by the majority faction in Parliament, and Vanderbilt's invention was mass-produced as swiftly as possible, but withheld form the disease-stricken populace it was meant to serve. And why not? The men in power finally had what they wanted: a biological weapon that could lay low the thing they feared the most: magic. What was once a medicine was now The Cure, the solution to what so many saw as the greatest bane of Revelation's existence.

It was not long before the Liberation Movement, an organization of mages and slum-dwellers ready to demand better lives, got wind of the discovery. Where once they had been limited to small armed robberies and skirmishes with the city guard, now they readied themselves to attack.

And standing at the center of it all were those who still hoped for peace.

-From the Journals of Amon Gregory, Assassins' Guildmaster
---
Revelation: The Cure
is a continuation of the events written in
Revelation: The City in the Sky
, set a year afterwards. It will deal with the continuing repercussions of those events as well as entirely new problems, including the emergence of a full-scale class war as those citizens forced to live their lives in poverty and squalor rise up against the nobles who want for nothing.
Truthfully, though, even the class conflict is but a facade for a much deeper, older hate: the animosity between the government and the magi. Their history is long and storied, so much so that some wonder what could possibly have kept them from fighting each other for this long. Those caught in between may be forced to choose sides or suffer from both ends, and the prospect of a peaceful resolution was all but destroyed with the invention of The Cure, hailed by the upper class as a much-needed method of weakening the magi.
---
Character Creation Guidelines:
Though this is a continuation of a previous RP, new characters are encouraged and welcomed. The background information on what Revelation is and the people it houses can all be found
here
. Included is information on the city's layout and class system, notable factions, how magic and science work, and also a summary of information from the last RP.
When creating a character, please read through that information first. It's quite a lot, but a knowledge of the things it explains will assist you in creating a character that can successfully integrate into the setting. There are a few other general rules to keep in mind for creating characters, though:
-Because of the number of Assassin characters returning from the previous installment, I will only be considering truly exceptional applications for this faction, so keep that in mind.
-The storyline is written collaboratively between players, so it is not simply a matter of myself as GM deciding to do something and then going with it. So if you create a character with something unique to offer, chances are you'll be able to contribute more to the plot. Just keep this in mind.
-In the same vein, creating characters that have already thrown their lot in with one side or another is advised against, but not totally unacceptable. I envision the cast being relatively small and mostly neutral, though, so for ease of character interaction that is your best bet for now.
-I'm a nice person, I swear! What I mean by this is, I am absolutely willing to work with you through PM to come up with something. So if you like the setting but are stumped on what kind of character to create, let me know and I will help. In fact, I'd prefer you consult with me on your character. It doesn't guarantee acceptance, but it helps. If you have any questions that are not addressed by the info thread, tell me. I have spent more time than is probably healthy developing this world, but if I've missed something, I have been known to accept input gleefully.
-Your character application is perhaps my first chance to see your writing, so make sure it's exactly what you want me to see before you submit it.
-Players are allowed multiple characters, but let's keep it at two for now, and please don't submit a second until I've approved your first.
Code: Select all

[b]Name:[/b]
[b]Age:[/b]
[b]Faction:[/b]

[b]Appearance:[/b] Pictures are acceptable if you like them, but by no means required. A written description is required, however.

[b]Personality:[/b] What is your character like on a general basis? In times of duress? Do they have any odd quirks or prejudices? Balanced characters are far more interesting than than saints or bloodthirsty psychopaths. Plus, if you were a crazy murderer, the Assassins would have killed you by now.

[b]Equipment:[/b] Unless your character is completely homeless, they likely carry something around or to work. It doesn't have to be a sword or a gun to count as equipment.

[b]History:[/b] As this will be a collaborative story, any information that you would prefer to keep 'secret' should be PM'ed to me, so that I can make sure nobody inadvertently writes anything that clashes with it. Other than that, include what you see as relevant. Keep in mind that hierarchy and ancestry are pretty important in Revelation. A scientist or noble is not likely the child of someone in the outer districts, unless infidelity was involved. Also, any character older than about 50 is going to remember what it was like when magi were prisoners of the state. Anyone younger than that will not.