Brett Martin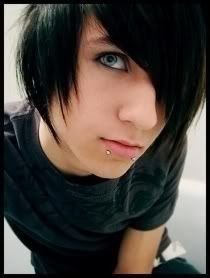 ---
"Don't look at me. I'm no hero... I never will be."
---
-Nickname
Snake (Not that he likes it)
-Age
17
-Gender
Male
-Role
Human Child 6
-Abilities
Dream Walking:
Brett can enter the dreams of others and even participate in them, influencing the direction of the dream. He can only do this if he himself is asleep.
Penance Stare:
If Brett should lock eyes with someone, it will kill them very painfully. They freeze slowly from the inside out. As this happens, their skin cracks and when it is finished, they disintegrate It only works if they look each other in the eye, but once the eye contact is made, it is impossible to look away. Also, this only works on people with a soul.
Side effects may include seeing the ghosts of those he has killed using this ability, being haunted by them.
-Motive
Brett wants to prove that he isn't a monster, both to himself and to others. He wants to prove he is good, and he can't do that in this imprisonment.
-Side
Brett is with Michaline. He wants to exact his revenge upon those who turned him into this monster.
-Personality
Brett has become quiet and reserved, not really socializing with anyone. He has cut himself off from everyone else around him, mainly for their own protection. He has really bad self esteem issues due to the experiments performed on him. He finds himself to be a monster due to his powers, invading people's dreams and killing anyone he looks in the eye. He pushes others away from on purpose, needing to protect them. He feels he doesn't deserve any friends. He is really a sweetheart, but his powers cause him much emotional pain. However, he will protect all those around him if he finds them worthy. His quiet and dark demeanor has caused him to become quite introverted, and caused him to think a lot. He digests information, and often listens quite attentively, allowing him to understand many things and piece stories together.
---