Name:




Oboro Meizu


God form
Human Name:
Adam Copper
Human form
Age:
16 years old (as a human)
99,749 years old (as a God)
Sexuality:
Homosexual
Personality:
Adam is the quiet character of the bunch. He doesn't talk much to strangers but is more willing to talk to people that he knows and in comfortable with. He hates the color pink, peppy and happy music or things for that matter and would much rather hang out in the shade of a tree listening to music than deal with regular people. People like to call him an emo or a goth, though he doesn't believe so. Black just fits him more is all. And he prefers it that way. Adam has a wonderful policy:
"I hate you until you give me a reason to like you."
Though he may seem distant and antisocial, Adam is actually very loyal and prefers not to lie or beat around the bush. Feeling that it is pointless to give people false hope if something bad is going on. Tell them upfront.
History:
Oboro was the God of Darkness who reined over the shadows and what humans often called Hell. He was not a God of Death, just the dark part of people's mind and the world. He was the source that caused things like the Black Plague or lead people to become clinically insane. People automatically think he is full of hate and evil. And to a point, that is true. He loves death. He loves gore and blood. Suffering and pain. It brings him happiness and isn't afraid to admit it. He was always more of the outcast of the Gods and preferred it that way.
Human History:
Adam grew up in a family of two. Just him and his mother. His mother, just to keep food on the table, has to work two jobs and is never home. When he was little, he used to have a fear of the light rather than the dark, and this had concerned his mother greatly. Now she just labels him as different. It took him a bit longer to make friends with his current friends, but now he wouldn't trade them for the world.
Other:
Adam always gets the odd feeling that something is staring at him from the darkness. And before bad things happen, he always sees this black cat out the corner of his eye.
Appearance: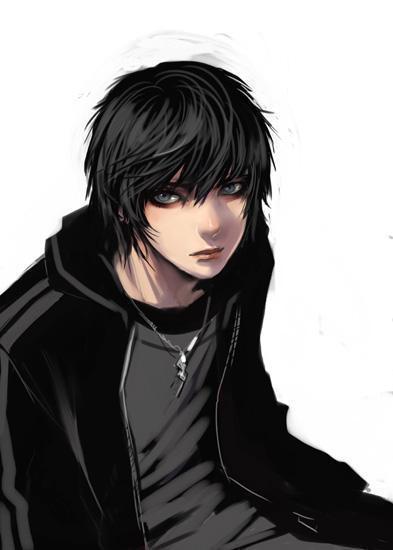 Grey eyes that have a habit of turning red in certain light
Black shaggy hair
Skinny to the point of his ribs showing
About 5'7"
Always wears black