Kaname Seiji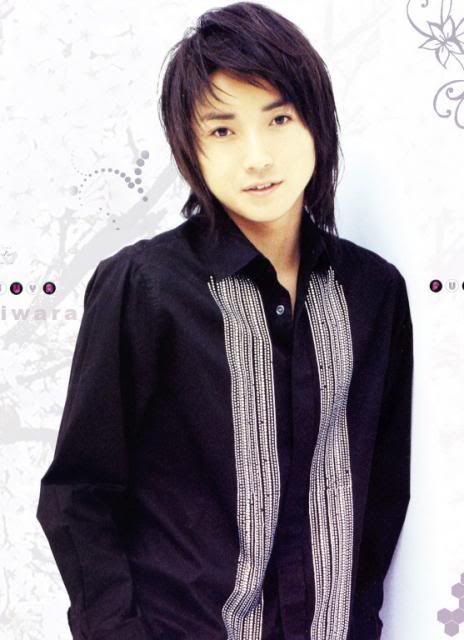 ::NICKNAME(S)::
Sei || Kana-chan || Kana-kun || Ka-kun
::AGE::
24
::GENDER::
Male
::BAND::
Calico Ghost Town.
::ROLE::
Rhythm Guitarist
::PERSONALITY::
He hardly ever takes anything seriously and likes laughing. A lot. He's also a prankster and enjoys watching people fall for his tricks and for his stories. He's a lot like a little child, Seiji. However, he is very protective of his band members. Whereas he might always appear to be uncaring towards them, Seiji loves his friends and his band with every fiber of his being. He's always watching out for them, which he believes is his job as one of the older members of the band. The type to be secretly ruling the world, Seiji doesn't show it or flaunt it much.

With a devil-may-care attitude, Seiji tends to take everything in stride, unless, of course, it has to do with insulting those close to him. Then those he can never forgive. Seiji never backs down from a challenge. He will take up anyone who has a good dare to offer him and he'll do it without ever regretting it. He lives for the thrill and loves the adrenaline rush it gives him. Because of this, he's tried several drugs, gotten at least three tattoos and has two piercings in...better left unspoken places.

A flirt, Seiji is never left in want for female company. However, he only wants a relationship with a girl with substance - not the party girls that he is often seen hanging around.

::LIKES::

American music
Canada
Snow boarding
Sakura blossoms
Sushi
Pineapple tea cakes
Flying
Heights
Adrenaline
Dogs
Cats
Kites
Shrines
Music in general
Apples
Mangoes
Pocky
Dolphins
The color orange
Anime/Manga
Meeting fans
Hanging out with fans
Hosting at Club 7
::DISLIKES::

Thieves
Mud
Jazz music
Porcelain dolls
Puppets
Iguanas
Clowns
Over-sleeping
Being late
Not being able to get his revenge
People who think they're better than everybody else
Those that care too much
Horror movies (unless they're Japanese. Then they're okay)
The annoying damsel in distress characters
Monotone voices
Overachievers
::APPEARANCE::
Seiji is rather average for his age. Standing at 5'10", he weighs in at 130 lbs., which is pretty average for a man of his build. On the older side, Seiji nonetheless keeps his youthful expression and aura. He is well-built, and has a great body. He works out regularly, thus the six pack and the strong arms. Despite this, Seiji prefers not to flaunt his strength. He seems to almost like to blend into the background, and then strike at the least suspecting moment.

His laugh is hard to miss. He has a very distinctive laugh, and a very distinctive voice. Sometimes easily excited, his voice rises a few notes when he has something he really, really wants to say. He tends to flap his arms when he does this as well, and it's rather amusing. This has not always been the case, however. There seems to be a 'before' Seiji and an 'after' Seiji. The 'before' Seiji was calm and quiet, a gentleman to the utmost, always listening to what other people said. But then...he changed and became who he is now.
::HISTORY::
From a young age, Seiji learned guitar. He learned it from his next door neighbor when he was six. A middle school girl at the time, his neighbor helped him buy his very first guitar. She was also his first crush, but when she moved away, Seiji vowed to continue learning the guitar in her honor. As he went through high school, he began realizing that school and an educational life afterwards was not for him. He began to focus more on his music, putting time he should have been studying into learning the guitar. Eventually, his grades slipped so much, he was never accepted into any colleges.

Despite this, and the the fact that his parents disowned him, Seiji traveled from his hometown to Tokyo, where he began hosting at a club named Club 7. With his looks and charms, Seiji rose to become one of the club's most popular hosts in a matter of a year. It was during this time that he also heard about Calico Ghost Town. After seeking them out, Seiji performed for them with his guitar skills.

He was accepted into the band and he left the club. Although he still visits sometimes, he never stays for more than a day, must in case he is ever coerced into hosting again. He loved hosting, no doubt about that, but it was a dangerous job. Handling that many jealous girls....Seiji suddenly knew why the owner of the club looked well beyond his thirty-seven years.
::OTHER::
Seiji has a collection of vintage guitars.
He wants a dog and two cats. Right now, he has two goldfish. It's a start.
His singing voice is rather good.
He doesn't know any other instrument but guitar. He wants to learn.
Seiji also has a collection of Pokemon plushies.