---
"You can't change the past, so you have to live in the moment while you have it."
---
---
| Full Name |
Elijah Ashleigh Delgado-Youngblood
"Yeah, I fucking get it, Ashleigh is a girl's name."


| Nickname |
Elijah doesn't mind his name, it's his middle name he hates. However he mostly goes by Eli, because that' what he's been called his entire life. He also gets Young quite often, mostly by the gang. The people closest to him, namely his family tend to call him Lijah or Lie, but that's strictly people close to him.
"Eli, Young, call me whatever the fuck you want baby."

| Age |
Twenty-Six
"In biker years that's like, 105."

| Gender |
Male
"Jump under the covers with me babe, then will see if your still asking questions."

| Role |
The Step-Brother
"Blood or not they're still my family and I'd still die for them."
---
---
| Distinct Markings |
Scars:
Eli has way too many scars to count. Most of them are from bar fights and extended stays in jail however he has a few that are more noticeable then others. He has one that runs along his entire forearm, from his wrist to the inside of his elbow, that has to do with a motorcycle accident he was in that almost claimed his life. Secondly he has one on the back of his neck from his current wife Veronica how smashed a beer bottle on the back of his neck and a piece of went pretty deep into the back of his neck. Lastly he has a few bullet hole scars on his chest.
Piercings:
At the current moment Eli has no piercings and he has no plans of getting any.
Tattoos:
He has several tattoos too many to count actually. However he has a few that are more important to he then others. He has a
Tiger
on his left arm, which represents both power and fear. He has
Los Angeles
tattooed on his right shoulder, representing where he was born. He has an entire
sleeve
on his left arm. He has the name
Anne
tattooed on his right knuckles representing his daughter who was killed. Lastly he has
Sabrina
tattooed on his ring finger out of respect for his first wife who was murdered.
"My scars are reminders and my tattoos tell a story."
---
---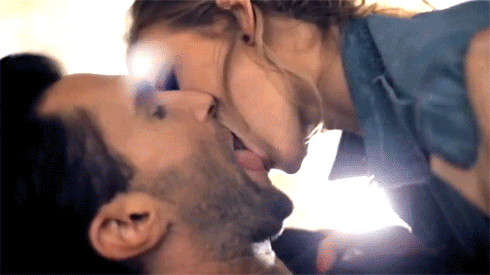 | Likes |
✯Blonde Girls
✯Alcohol
✯His Motorcycle
✯Veronica (His wife)
✯Jayden
✯Smoking
✯Weed
✯Drugs (Mostly Uppers)
✯Parties
✯Riding along the Coast
✯Bar Fights
✯Smacking Girls Asses
✯Starting Fights
✯Being a Smart-Ass
✯Being in Control
✯Long Rides
"Home to me, is the open."

| Dislikes |
⚓ Lying
⚓Commitment
⚓The Idea of Marriage
⚓Staying in one place for too long
⚓ His Real Father
⚓ Jaxon (A lot of the time)
⚓Bright Color
⚓Being Nice
⚓Snobby Girls
⚓Rich People
⚓His wife (sometimes)
⚓Hiding his Relationship with Jaydon
⚓Stupid People
⚓When his family is threatened
⚓Being Sober
⚓Sugar Coating Things
⚓When People avoid saying something
"Don't underestimate me sweetheart, I won't hesitate to pull the trigger."


| Fears |
| ☠| Love:
No don't mistake his fear of love for not believing in it. He whole-heartedly believes in love. He just knows how it can destroy you and bring even the strongest of men to their knees. It is single handedly his biggest fear. He believes love is a beautiful thing, but it is so fragile that he wonders whether it's even worth the fight.
| ☠| Letting his family down:
Mr. Delgado will always and forever be his father, the same way the Delgado boys will always be his brothers and the Delgado sister's will always be his girls. It never mattered to him that they weren't blood related. He'd fight for them and he'd most definitely die for them. However, he fears due to his temper, his unhealthy feelings for Jayden, and his bad habits eventually he will end up letting them down in the worst way.
| ☠| His Temper:
Lijah has a bad temper and a short fuse and when someone pisses him off he will beat the shit out of them, only sometimes he takes it too far, he can't help himself. He turns into a completely different person when he's drunk and high and his rage always gets the better of them. His own temper scares him.
"Fuck fear, I've got a gun."
---
---
Despite the God-awful events that Elijah has endured, he's actually a fairly decent guy,
most
of the time. He's very loyal and that probably his best trait, you could betray him a million and one times, but if his loyalty lies with you then he'll forgive you every single time. He lives and breathes that word integrity, he hates liars and has never been one. If he were to cheat on his wife, he wouldn't tell her, but if she asked he sure as hell wouldn't lie. He believes in the phrase "What they don't know won't hurt them." However, if he's asked about something he will always tell the truth.
Eli hates when things are sugar coated or when people beat around the bush. He's blunt and he'll tell you straight up how it is even if it hurts your feeling. He doesn't see it as being mean however it most definitely comes off as him simply being an ass-hole, which he has no problem admitting to being one. This being said, he's an open book when it comes to moat thing and he doesn't have
many
secrets.
Family comes before anything else, he'd die for his family no questions asked. He blames himself for not being able to protect his wife, Sabrina and his daughter from what happened to them. He carries that guilt every day of his life and often times it drives him to shooting up and drinking to the point where he over doses without meaning to. He believes that you can't change the past, so you have to live for what you have now, before it's gone.
Most people who know Lijah are scared of him, even if they pretend not to be, especially if they've seen his temper. Eli is a deadly man, dangerous and wild doesn't even begin to describe it. There is a whole other side of him a monster that he can't seemed to control when pushed. He's hurt loved ones before and almost killed Jaxon once or twice. One of his darkest secrets that he refuses to admit and the one thing he will lie about is the pleasure and rush he gets from killing someone. He won't hesitate to pull the trigger and when his rage takes over, he will think without acting. Eli is a very hard case that most girl will consider a lost cause however that only makes him more desirable, because they want to save him.
Elijah tends to have an acquired taste for things he shouldn't. He wants the things he can't have. Just because he's not liar doesn't mean he doesn't have his secrets. He has dark secrets, darker than most, which fuels his darker side.
---
---
| History |
Elijah had a decent start at life, well as good as it could be for the sun of a prostate and a biker. Hi mother loved him unconditionally and his father was hardly around. He became close to his mother, whom did whatever it took to keep food on the table for him and be there for him when she could. When his father was around, he was never sober and he'd hit around his mother and when Eli tried to stop him then Eli would become hi target. When Eli was about ten his father stopped coming around all together and his mother was devastated, Elijah can clearly remember his mother crying herself to sleep every night and praying for his father to come back, because as much as she hated his abuse deep down she loved him.
After a year, his mother started seeing Victor Delgado, he was the leader of the infamous Saints the gang his father used to ride with before he disappeared. Victor swept his mother off her feet and treated her the way she deserved to be treated, he wasn't perfect and he was rough, but he was a good man. He took Lijah in as if he was his own and Eli instantly became very close with Jaxon Delgado, Victor's real son. As he grew up no one ever really asked questions and when they did, Victor told them that Eli was his son no questions asked.
Jaxon and Eli started following in Victors footsteps when they were thirteen. They'd hang out in the bars and start fights. It wasn't until Eli was fifteen that he shot up for the first time and then he'd become hopelessly addicted along with his step-brother. The two of them were a tornado of trouble, they did what they wanted when they wanted with little to no consequences. Elijah killed a man for the first time when he was sixteen, his taste for blood was something that to his surprised he liked.
When it came to Harley and Jayden, Eli became very protective of them. He'd always loved the two of them. He'd often be asked to babysit Jaydon from time to time, which he didn't mind. By the time he was eighteen, he'd been to Juvi a total of twenty times, he'd been caught with drugs, pulled over for DUIs, and been caught for vandalism. He was an arrogant ass hole who felt like he was untouchable and the truth of it was, he kind of was invincible. However when he was nineteen, him and Jaxon were at a party where he meet a young girl by the name of
Sabrina Temple
. He fell in love with her from the start and that was when he started to clean himself up.
After a year together he'd finally gotten his act together, sobered up, and stayed away from the drugs all together. Underneath all the drugs and gang life, Victor Delgado had raised a decent man and Eli was grateful for that. Eli married Sabrina after he found out she was pregnant. His life was seemingly perfect. After two and a half year of marriage and a beautiful three year old daughter, his life turned into a living hell. The Saints had started shit with another gang and by being the son of the leader of the Saints, he paid for their mistakes. They broke into his house, beat the sit out of him and killed both Sabrina and his daughter Anne.
Elijah lost it completely. He went after them and with Jaxon and even Harley's help killed them. It was then that him and Jax found out that Harley's fiancé was part of their rival gang and they set out to kill him, only someone else got to him before they got the chance. Then him and Harley got closer and he spent more time with his siblings, when he'd started to realize that he felt a little more for Jaydon, but he ignored the feeling.
After the death of his wife and daughter he was never quite the same, he reverted right back to his drugs and drinking. He'd was tossed in and out of jail and finally he met a girl by the name of Veronica, after a night in Vegas they married and have been together for a few months. He was tired of being alone, but now he regrets marrying her.
---
---
When I'm Gone
- By 3 Doors Down
There's another world inside of me
That you may never see
There're secrets in this life
That I can't hide
Somewhere in this darkness
There's a light that I can't find
Maybe it's too far away...
Or maybe I'm just blind...

Or maybe I'm just blind...

[Chorus]
So hold me when I'm here
Right me when I'm wrong
Hold me when I'm scared
And love me when I'm gone
Everything I am
And everything in me
Wants to be the one
You wanted me to be
I'll never let you down
Even if I could
I'd give up everything
If only for your good
So hold me when I'm here
Right me when I'm wrong
You can hold me when I'm scared
You won't always be there
So love me when I'm gone

Love me when I'm gone...

When your education X-Ray
Cannot see under my skin
I won't tell you a damn thing
That I could not tell my friends
Roaming through this darkness
I'm alive but I'm alone
Part of me is fighting this
But part of me is gone

[Chorus]

Or maybe I'm just blind...

[Chorus]

Love me when I'm gone...

Love me when I'm gone
When I'm Gone
When I'm Gone
When I'm Gone

____________________________________________
____________________________________________
If You Could Only See
- By Tonic
If you could only see the way she loves me
Then maybe you would understand
Why I feel this way about our love
And what I must do
If you could only see how blue
Her eyes can be when she says
When she says she loves me
Well you got your reasons
And you got your lies
And you got your manipulations
They cut me down to size
Sayin' you love but you don't
You give your love but you won't
If you could only see the way she loves me
Then maybe you would understand
Why I feel this way about our love
And what I must do
If you could only see how blue
Her eyes can be when she says
When she says she loves me
Seems the road less traveled
Shows happiness unraveled
And you got to take a little dirt
To keep what you love
That's what you gotta do
Sayin' you love but you don't
You give your love but you won't
You're stretching out your arms
To something that's just not there
Sayin' you love where you stand
Give your heart when you can
If you could only see the way she loves me
Then maybe you would understand
Why I feel this way about our love
And what I must do
If you could only see how blue
Her eyes can be when she says
When she says she loves me
Sayin' you love but you don't
You give your love but you won't
Sayin' you love where you stand
Give your heart when you can
If you could only see the way she loves me
Then maybe you would understand
Why I feel this way about our love
And what I must do
If you could only see how blue
Her eyes can be when she says
When she says she loves me
---