Flynn Aegis Rowe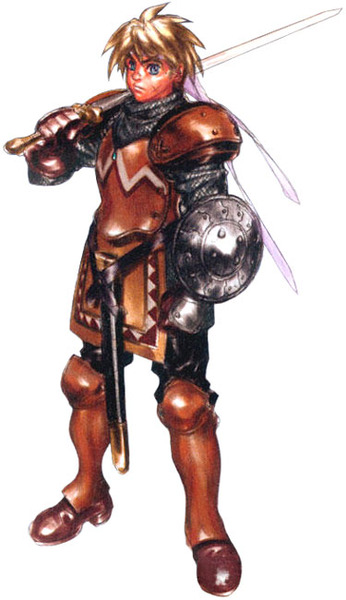 Role
The Stranger
Age
20
Nationality
He's unsure at this point...
Gender
Male
Personality
Essentially a newborn with a handful of skills and the ability to communicate, Flynn was very much at the disposal of his environment. Thankfully, the enigmatic rift dropped him off at the unassuming village of Ley, filled with peaceful farmers, clerics, and otherwise down to earth townies.

Because of this, Flynn has developed a laid-back, accepting, and somewhat naive demeanor. He is constantly trying to make himself useful, and refuses to rest until there is absolutely nothing he can do. He is known for being very formal (many times overly so,) and is very humble, even in situations which do not call for humility.

He has a noticeable soft spot for women and children, and a healthy respect for his elders. He often seeks counsel of those wiser or stronger than him, and will oftentimes request the tutorship of such individuals.
Pros
- Has an innate knowledge of military strategy, tactics, and weaponry. Because of this, he is able to size up a combat situations at a glance.
- In addition to his theoretical knowledge, his skills with fighting in general are above average. Though he adopts a more defensive and reactive style, he can essentially pick up any weapon and wield it with some degree of mastery.
- Is quite hardy. It seems that Flynn was some kind of warrior in his previous world, or at the very least, was made to take a beating.
- Possesses a strong sensitivity to magic and has a vast mana pool, though he seems incapable of casting any spells.*
- Seems to have a peculiar affinity to dragons. These abilities are far too dormant to comment upon presently.*
*- indicates that Flynn does not yet have knowledge to this fact, and needs to be exposed to a certain situation to have it realized (or in the case of his potential for magic, should be consulted by a mage.)
Cons
- Latent knowledge appears to be limited to military practice and fighting techniques.
- Is a slow learner of new skills and concepts.
- Abhors violence, and will try (sometimes to a fault) anything to prevent fighting.
- Tends to lose all sense of logic and 'the greater good' when he is protecting someone- all of his energy goes into protecting, even at the cost of his own life.
- His kind and accepting (i.e. naive) demeanor can be easy to take advantage of- especially if an adversary appears to possess knowledge of his origins.
- His reluctance to harm women and children is very hard to surpass- even when such individuals are a threat to his own well-being!
- His sensitivity to magic is a double-edged sword, as he appears to succumb more easily to its offensive influence than most.
- Though he possesses the ability to adequately wield most weapons, he is by no means a master. His style is also very passive- he expends only as much energy as necessary, preferring to ward and outlast opponents rather than adopting an outright offensive.
- Most notably, Flynn remembers nothing about his origins.
Appearance
A healthy young man of an average build, Flynn stands square and firm at 5'9. His golden blonde hair almost shimmers despite its thickness. He weighs in at a solid 180 lbs of mostly muscle, sporting a desirable warrior's body. His eyes are a mesmerizing, enigmatic shade of gray, and he sports a scar in the shape of a cross on his lower-left cheek.
History
He would like to know just as much as you!
I Shall Not be Moved
The Dirty Dozen Brass Band
Other
He fell from the rift with nothing (not even clothes!) save for an ornate shield bearing an unfamiliar symbol. He doesn't remember its significance, but as it is his only physical clue to his origins, he values it as a prized possession.