Iridian Valka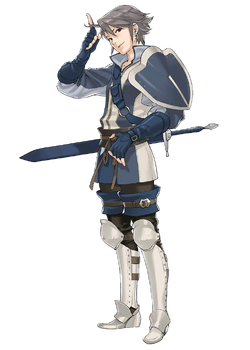 Role
The Squire
Age
18
Nationality
Akhar
Gender
Male
Personality
Dutiful. Iridian's a soldier and he's willing to prove how up to the job he is. His era of being a recruit is over and the little assignment in Ley is nearly at the bottom of his to-do list before becoming a full-fledged Akharian soldier, an accomplishment he is quite proud of. Just as he is proud of his Akharian blood, heritage and land. Irid is highly patriotic (practically the reason he signed up for the armed forces) and will gladly partake in a conversation regarding his home country. From Kallistos to Ley, there is nothing not to like about his nation, heck, they were the first ones to discover magicite and its use. He accepted the post in Ley because it stands in a part of the country he hadn't appreciated before.
Despite not being a recruit anymore, he still is a young man. His age still betrays his sins. He can be brash, impulsive and hard-headed. Or as he'd rather put it "quick to spring to action when I'm needed." For all his... enthusiasm, he is still open to teachings and an avid fan of learning from mistakes. After all, he rather not be bested on the fields in which he thrives.
Pros
Dedication, definitely. Regardless of talent, Iridian is an idealistic young man who completely believes in his station and the duty of the Akharian armed forces. To uphold the name of his country he needs to be good at what he does and there is one surefire way to get good at swinging a weapon: train, train, train. Fueled by his youth and ideals, he has honed his form and style and is able to match older soldiers blow by blow. He's no master lancebearer or ultimate swordsman, but he likes to believe he is on his way to become one. Talent is well and good but constant work and improvement is even better. For his age, his ability with a lance is impressive, whereas his swordplay is merely above average.
A good soldier also needs a good head twisted into his shoulders. Quick thinking is of the essence in battle and an analytical vision highly useful when seizing up opponents. His thoughts are as fast paced as his sword slashes, and his communication skills just as effective.
Cons
Taking the points above and shedding a different light on them, he's a young soldier whose idealization of the army can lead to him being dangerously impulsive who rarely takes the time to think twice about any given scenario. His views on battle are fantasized and not entirely true and he has yet to realize so.
Further, he has a highly nationalistic drive and spirit, believing Akhar is one of the better nations in Taakeira, if not the very best, although he knows better than to be disrespectful of other countries. Akhar and its army are in such a high pedestal in his mind, he would gladly put anything on the line for his homeland.
An extra? He has quite the incapacitating fear of bats.
Appearance
With a dark head of hair atop light brown eyes, the soldier is of an average stature and is leanly muscled. From being out in the sun so much, his skin is tanned which contrasts against his paler eyes, for an effect that's not entirely nice. His dark hair is always ruffled, most of the times toward the back though he does follow the Akharian army's hair specifications. Iridian wears the standard uniform for soldiers, without the badge that recognizes him as being officially done with training. Despite the sword being pictured, his ability and preference for lances are greater.
Although his feet are noticeably below average, they don't affect his posture and the air of duty it exudes. His stare carries a glint of battle that is only augmented by the brilliance of the spearhead on his lance. Furthermore, Irid makes sure his uniform is as clean as he can get it, they're the clothes that designate him as protector of the people of Akhar and their homeland, it wouldn't do for them to be dirty. That is perhaps the same reason for why he doesn't seem to collect stubble.
History
The Valkas are of some renown if you know which sector of Kallistos to look in, some might even say they're of some influence within the capital city. What can be definitely said is that they're a family that dates back several generations, they're Akharian through and through. And proud of it. So proud of it, in fact, that it might've found its way into their genetic code. A code that Irid shares. He grew up in Kallistos, exposed to the patriotic ideas of his elders and listening to the battle stories of his grandfather, who took part in the Holy War himself. Despite how the Valkas were, like many, frightened by the Reformation and the possibility of a new war, the warnings they spoke into young Irid's ear all fell flat. The young man had already seen the romantic side of battle, of serving one's own country through the tales of his family and, as such, decided to enlist in his younger years.
As a recruit things were hard on him, sure: the food, the ungodly training regime and the tongue of commanding officers. Yet, Irid was there with a motive, a clear picture of what he wanted to do with his life. He didn't want another war (did anyone?), but he wanted to serve the country by protecting its citizens. There is no higher honor! He survived the recruit period and was promptly sent to soldier training which meant they had already weeded out those unfit to serve though the training of the rest had barely begun. He was sent to different parts of Akhar, mainly due to his hard work, which let him serve under a variety of commaders. As he approached the end of his training, he was offered a post in Ley. Now, this one was particularly exciting because the town was too small to merit a commander. Soldiers, like he would soon be, were the only protectors responding to a lieutenant in a nearby city. Iridian interpreted it as he would be able to be on the top level of Ley's army hierarchy and saw it as an opportunity he could not pass by. He signed up immediately.
Soldier
Where did all the people go?
They got scared when the lights went low.
I'll get you through it nice and slow,
When the world's spinning out of control.

Afraid of what they might lose
Might get scraped or they might get bruised.
You could beg them, what's the use?
That's why it's called a moment of truth

I'll get it if you need it,
I'll search if you don't see it,
You're thirsty, I'll be rain,
You get hurt, I'll take your pain.

I know you don't believe it,
But I said it and I still mean it,
When you heard what I told you,
When you get worried I'll be your soldier.

Funny when times get hard,
At the last moment when you're supposed to charge,
Always on the longest yard,
Oh, they feel their feet getting cold.

Hiding here, hiding there,
Find them underneath the stairs,
People hiding everywhere,
Trying to be still like a stone.

I'll get it if you need it,
I'll search if you can't see it,
You're thirsty, I'll be rain,
You get hurt, I'll take your pain.

I know you don't believe it,
But I said it and I still mean it,
When you heard what I told you,
When you get worried I'll be your soldier.

My aim is so true,
I wanna show you,
I'll try forever,
I'm never gonna say "surrender".

I'll get it if you need it,
I'll search if you can't see it,
You're thirsty, I'll be rain,
You get hurt, I'll take your pain.

I know you don't believe it,
But I said it and I still mean it,
When you heard what I told you,
When you get worried I'll be your soldier.

I'll be your soldier
Well I'll be, oh I'll be your soldier
I'll be your soldier
I'll be your soldier