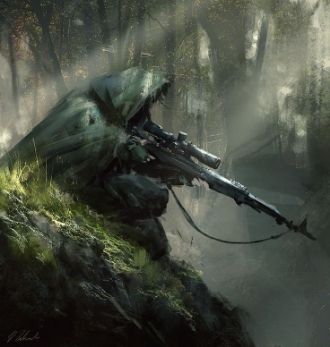 Full Ghost
- When Alicia is in stealth mode, she is eerily quiet.
Name
Alicia McBride
Age
26
Gender
Female
Orientation
Bisexual
Role
Marksman
Equipment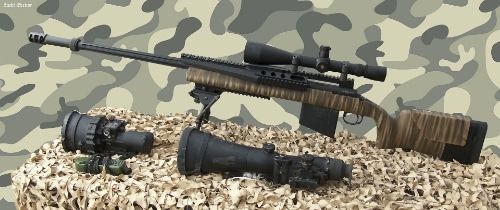 Alicia's primary weapon is the HTR 2000 [Lapua Magnum]. Bolt action, 10 round detachable box magazine and suppressor.
Her sidearm is the M1911. 7 rounds.
If things get hairy, she has the H&K MP7. 30 round mag.
Melee - HK-717
Likes
Alternative Rock - Meg Myers is her favorite
Cardio [especially marathons]
Kickboxing/Jiu Jitsu
Vodka [Screwdrivers]
Beating men at manly things
Dislikes
Cowards
100% white collar silky bitches
Hangovers
Cults
Missing a shot
Fears
Most mercenaries don't have much fear, other than the day their mind might break down on them or that bullet that ends their days strikes deep home. Alicia hates not having control. If she is being held against her will, or if there is nothing she can do to help in a situation, it drives her crazy. Part of it has to do with her background with her parents being in a cult. Also, being captured behind enemy lines and tortured was not an enjoyable experience.
Personality
Alicia has seen a lot of horrors in her life, but they don't bring her down. She likes to live in the moment and live life to the fullest. Sometimes she comes across as overconfident. She is aware of herself and her limits, but Alicia just could not give one shit less. If someone so much as looks cross-eyed at her, they could get into a fist fight, then finish up at the bar later as friends. She is wary of any institution. Be it religion, a corporation, etc. It always seems that as anyone gets more power, they become corrupt with the need for money or power. Alicia drifts around a lot, being a part of Revan's merc squad is the longest she has stayed aligned with anything other than the cult she was brought into as a child.
History
Alicia was born in Arizona, both of her parents losing their jobs at the same company a few years after she was born, lost in the shuffle of a company buy out and merger. The loss was too much for them to cope, and they got mixed up in a survivalist cult deep in the desert. She was raised by the whole damn village. Her parents mights, scattered like buckshot, allowed her to roam around. She was abused mentally and physically, but with no other life experience, thought that was the way things were. When she was eleven the federals got involved and she was placed in the foster system. Shuffling from home to home until she was adopted by a military family.
The family happened to be relation to Revan Steele, team leader of the expedition. The father was Revan's uncle. He instilled discipline into Alicia, taught her that the things that were done to her were not acceptable things. Before she had been taught survival and how to use weapons, but the self-defense was amateur from the cult. She got real training in this family. Alicia went into the military and showed an aptitude for marksmanship, and so began her rise to prowess. By no means was she the greatest sniper on Earth, but in the military circles, she was among the discussion as one of the top shots.
She did not meet Raven until she Alicia was nearly 18, but they became quick friends. He didn't drink at all and was far more religious, but still knew how to have a good time and didn't browbeat her about the choices she made. Alicia figured deep down Revan would prefer she stop boozing and having lesbian occursions. If so, he kept it to himself.
One mission deep in the heart of enemy territory left her stranded. Her squad would have stayed with her, but they were literally cut off by an unexpected troop transport. To fight back through to her sniper's nest location would have been suicide. Alicia was captured and tortured. It would have been nice if a crack military squad had come to her rescue, or if she had gone Rambo and wiped out all of the bad guys and escaped, but in the end she was traded for a few secret prisoners on the hush-hush. No media ever caught wind of it. Being captured brought back a lot of memories, they failed to bring Alicia down though. It just fueled her desire to kill.