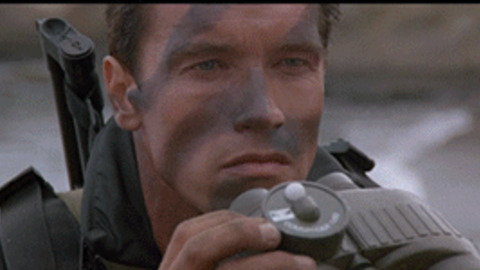 Name
: David Antonio
Age
: 29
Gender
: Male
Orientation
: straight
Role
: Support
Equipment
:
M2O2 FLASH
A four barreled rocket launcher that The M202A1 features four tubes that can load 66 mm incendiary rockets. The M74 rockets are equipped with M235 warheads, containing approximately 1.34 pounds (0.61 kg) of an incendiary agent. The rocket launcher is attached to his back with a sling with only 16 spare rockets
M134 Mini Gun with turret mount
The M134 Minigun is a 7.62x51 mm NATO, six-barreled machine gun with a high rate of fire. It is belt loaded which doesn't require changing of clips. He has 3 spare Boxes holding 5,000 rounds each. Usually found in his hands or mounted on a turret stand next to him
He also has a flask filled with beer, 3 packs of cigarettes, 2 lighters, the Medal of Honor, a backpack to carry all his stuff, and a bulletproof vest with a pair of green pants
Likes
: Explosives, Guns, Cigarettes, beer, fighting
Dislikes
: Cookies, Incompetent people, Traitors, Running out of ammo
Fears
: Getting killed in the most painful and slowest way possible, or the most humiliating way possible
Personality
: David is a man who can laugh in deaths face, punch him in the face, then walk away alive. In other words he is a brave idividual who can stand in front of a whole army and give them the middle finger while smiling. He is also known to brag a bit about his military adventure and he does not take things seriously, he could be faced with disarming a nuke heading to the U.S. and he would say, "In the case we fail, we can hope it kills Justin Beiber so we don't listen to his crappy music." So don't expect him to be serious about things. He also loves to fight no matter what it is, he would fight a lion with an axe if given the opportunity, whatever the case he is always eager for a fight.
History
: Born in Texas on the US of A. As a young child he never knew his mother except for when he was a baby and the story his father told him was very simple: his wife divorced him after kicking him in the groin to go with another man. Fortunately for him, his father who used to be a engineer in the army now turned redneck taught him about guns, explosives, and the most important thing he taught him was beer and cigarettes.
As time passed he turned 21 and decided joined the army just like his father to serve in Iraq. He was accepted and made the heavy weapons man in a squad called "Barker". He and his newfound friends served for four years and in those four he had the time of his life. He was blowing up vehicles and mowing down terrorists on a daily basis. On the fourth year "Barker" squad was surrounded by hostile forces in a canyon with their air support grounded by a RPG. Things looked bleak until David entered the downed helicopter to use the still working machine gun and risking his life to stall the enemy advance causing them to retreat.
After their final battle "Barker" squad was honorably discharged and David was given the Medal of Honor for his bravery. For two years he was living normally and doing part time jobs but there was just one problem: he wasn't earning enough money with the work he was doing and with that an idea came in mind. He decided to become a mercenary to earn more money and relive the thrill of combat again.
It had been two years since he became a mercenary, then he got a call from the DAC asking him if he would be part of a security detail for a expedition. The pay the offered was unusually high for an expedition but he agreed to it.
Anything Else
: Following an adventure to a bakery shop. David wanted to buy a bag of cookies but on the same day he would hate cookies for a long time. Although no one was recording this event some say the cookies were rotten to the core and he ate two cookies before realizing it was rotten.