---
❝The mind isn't a vessel to be filled, but a fire to be kindled.❞
---
---
---
| Full name |
Kai Atropos
| Gender |
Female
| Age |
17
| Mage Type |
Fire
| Rank |
S
---
---
---
| Eye Color |
Amaranth
| Hair Color |
Salmon Pink
| Height |
5'6"
| Weight |
115 lbs.
| Skin Tone |
Light Ivory
| Distinct Markings |
N/A
| Physical Description |
Kai is a natural charmer looks wise. She is very beautiful and the rare times she smiles, it enhances her unnatural beauty. Being a mage of 'passion', it's only natural she looks the part. She is of average height and weight, sleek but powerful. The one oddity about her is her lack of emotion … ever. Kai always has an apathetic expression, not giving any hit of emotion ever with eyes that seem to be absent of a soul. Her light ivory skin has a bit of a glow about it and her hair is a silky salmon pink. She is very much in physical shape, despite her petite figure, her training leaving her in top condition for someone her age. Kai's aura is practically invisible or none existent, making her hard to notice unless you are really paying attention. Yes, she is a beauty, but she can go unnoticed for days at a time. Kai is light on her feet and quick.
---
---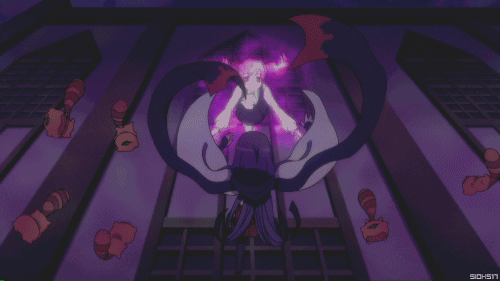 | Powers |
-Main Power Area:
† Bombfire: Certain symbols are drawn on a piece of paper and set in any spot. After the certain time symbol is up, the spell activates and it explodes, causing a raging fire until it can be stopped.

† Dragon Breath: Allows Kai to breath various amounts of fire at different speeds.

† Dragon Wing: Gives Kai the ability to form wings of flame or actual dragon wings. The flame wings are only good for defense and offense, not actually flying.

† Pyre: Kai can summon hellfire at command which can burn through most any non-magical object or cause serious damage to any other mages that come in contact with it.

- Special Move:

† Infernus: Infernus, one of the Seven Demons of Hell, offer's contracts with fire mages. When they summon him, he appears as a giant skeleton on fire and follows their every command while they remain attached to him. When a mage's agreement comes to an end with him, he consumes their soul, dragging them back to hell with him.

-Secondary Area: Air

† Pressure Bomb: Kai can create spheres of pressurized air and when it comes in contact with anything, it bursts, clearing anything within 10 feet of it.

| Weapons |
✔ Brass Knuckles
✔ Kusarigama
✔ Martial Arts
| Likes |
♥ Food
♥ Training
♥ Warmth
♥ Cooking
♥ Drawing
♥ Reading/Books
| Dislikes |
✖ Cold/Snow
✖ Disrespect
✖ Being Hungry
✖ Getting Up Early
✖ Sadness
---
---
| Personality |
There are many ways to describe Kai; showing little or no emotion, not interested or concerned, indifferent or unresponsive. This is all true, well, for the most part. Due to her training before she came to Henry Jefferson High, she learned that emotions were a hazard and a weakness. So she locked her emotions away and never bothered to dig them back out. Kai is perfect, both in looks and in fighting which scares most people off. Kai is agile, stealthy, quick and strong. If she was given direct orders from a superior, she would carry out the order without hesitation, whether it be murder or theft. She is a perfect soldier, silent but deadly.
Kai is selectively mute, meaning she can talk, but she chooses not too. One of the only people that ever bothered to get close to her was her ex-partner, Josephine. But anyone who takes the time will see that Kai is one of the most caring people on Earth. She loves to hang out, spar and be friends with anyone who is willing to. When her friends are upset, she wishes to help in anyway. Kai is very intelligent and keen on telling what people are feeling. She extends her perfection in everything she does, grades to cooking. If something's wouldn't have happened, Kai probably would be a drone-like girl, but now it is habit.

| Theme Song |
Missing – Evanescence
---
---
| History |
Kai's first memory was of her crying in her bed, everything around her on fire. Her father had run into the room, scooping the three-year-old from her bed and running out of the small apartment. That was the day she learned what she could do. She didn't really grasp it until she was about five-years-old, when her father finally thought she was ready for training. Kai's mother had died on a mission when Kai was only two, so it left her with her father, whom worked for the government. He was also a fire mage, but didn't wish to work for the Council. He was a field agent for the CIA, no idea what they would train his daughter to do.
Kai was placed in a secret training program where she met Josephine, a girl who would soon become her best friend.
"You must show emotion," they would be told over and over. "It'll kill you." Josephine was far more rebellious, but Kai was determined to help, to be so good she could protect everyone she loved. Within months of isolation, Kai was a robot that followed any and all orders. Little did her father know was that she was training to be an assassin. On her ninth birthday, Josephine and Kai were sent on their first mission. They were to track and kill a drug lord that was passing though a town a few miles away from where they were trained.
When they returned successful, Josephine was worried about her friend. She had been so cool about murdering so many, about following the orders to a tee. Josephine had somewhat hesitated when Kai killed the drug lord's guards. But Kai had told her it was for their protection, they couldn't leave witnesses. Kai had official become the perfect soldier. Her fighting was superb and her use of weapons was astounding.
That was about when Lee appeared to her. He had narrowly escaped being murdered; she thought he was an intruder. Lee explained to her that he was her demon and every mage had one.
Within the years leading up to her seventeenth birthday, Kai had carried out many more of the governments wishes.
Her father managed somehow to convince the government to let their precious killing machine go and travel to Henry Jefferson High, where she could learn from some of the best mages of the time. It was a long and sad goodbye with Josephine, and then her father drove her to the school. That was where Kai started her life as a normal girl with her demon, Lee.
---
---
---
❝This is how you start a war.❞
---
---
---
| Full name |
Lee

| Gender |
Male

| Mage Type |
Earth
---
---
---
| Eye Color |
Black

| Hair Color |
Brown

| Height |
8"

| Weight |
3 lbs.

| Distinct Markings |
Leaf on his head and stripes on his tail

| Physical Description |
Lee is about the size of a house cat, but much more snuggly. He is very light, so Kai carries him around everywhere. He has a leaf that remains stationary on his head, a symbol of his type, and Earth demon. The stripes on Lee's tail and the raccoon mask on his face actually makes people thin he is a raccoon.
---
---
| Weapons |
✔ Claws
✔ Teeth

| Likes |
♥ Tea
♥ Trees
♥ Climbing
♥ Playing
♥ Kai

| Dislikes |
✖ Cold Weather
✖ Being Squeezed
✖ Dark Places
✖ Not Being With Kai
✖ Being Small
---
---
| Personality |
Lee is feisty, loves to play and climb trees. If he had the ability to, he would pull killer pranks on everyone. But considering he is tiny, it wouldn't work. He doesn't like being called cute or tiny, but loves being carried around all the time by Kai. He absolutely adores Kai but worried tremendously about her. Lee isn't afraid to bite and claw at people who are mean, annoying or he just plain doesn't like.
| Theme Song |
Lullaby - Nickleback
---
---
|Thoughts on Other Characters|
WIP
|Anything Else|
-Kai only talks if she really needs too.
---