Minerva Behemoth Deuseques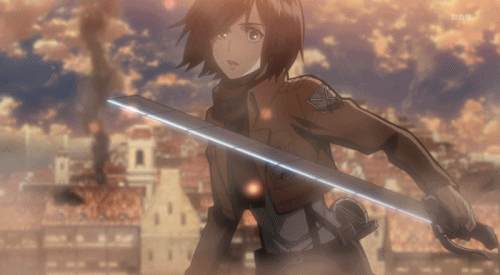 ---
❝You either kill or you are killed.❞
---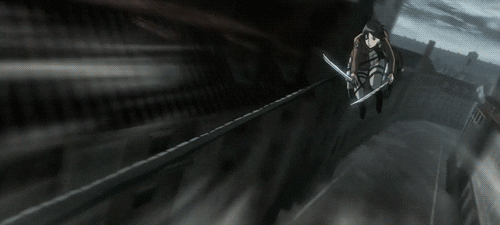 ---
---
| Full name |
Minerva Behemoth Deuseques
| Nickname |
Min
| Gender |
Female
| Age |
17
| Mage Type |
Earth
| Rank |
U
---
---
---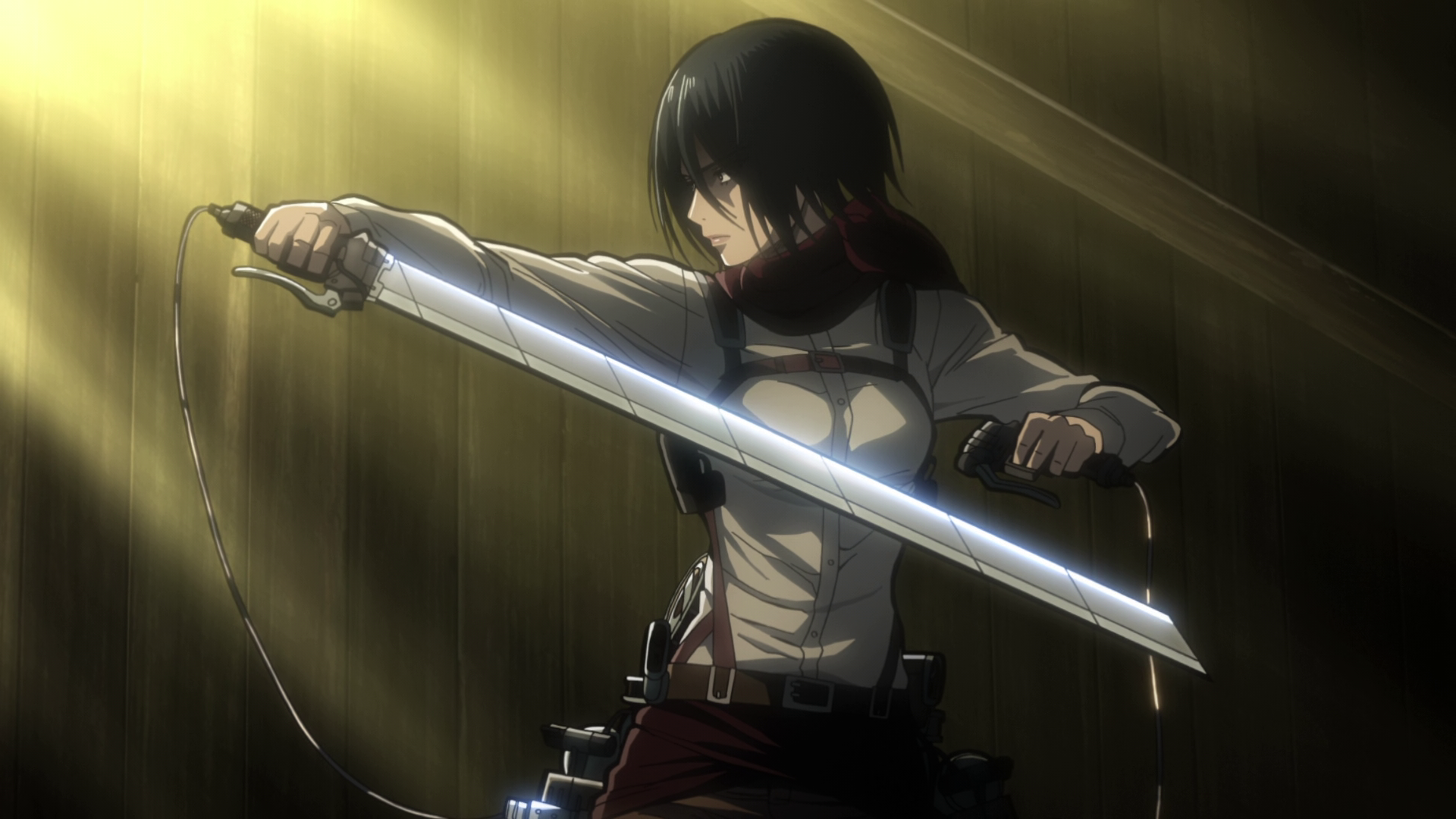 | Eye Color |
Grayish Black
| Hair Color |
Black
| Height |
6ft/182.88cm
| Weight |
180lbs
| Skin Tone |
Peach
| Distinct Markings |
N/A
| Physical Description |
Min, as she is called by most, has the build of a female boxer. She, due to her quick metabolism, does not gain weight as quickly as others do and can eat quite a bit. Her hair is cut to chin-length for ease in battle, her preferring to be safer than sorry. She, when on missions and if she has enough time to prepare, tends to wear a custom-made battle suit. She uses

Manuever Gear

that allows for easy movement around tall buildings and through forests, yet requires immsense skill to use. She tends to always wear a red scarf around her neck without having explained why to others so far. Min's face tends to be a blank slate most of the time, but it does change when she's happy, angry, or experiencing any other emotion.
---
---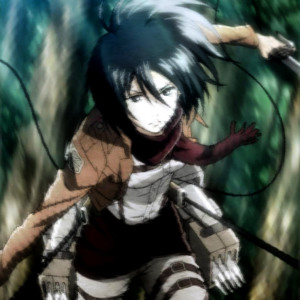 | Powers |
-Main Power Area: Earth

†

Gaea's Vigor

- Passive - This ability is passive in the sense that is constantly used by Min. The ability itself allows Min to have a supernatural amount of strength and speed for a person of her weight and height, as well as a high healing factor. This ability has three tiers. The First Tier multiplies what her normal speed, strength, and healing would be twice and takes little to no energy to have constantly used. The First tier is the one most commonly used by Min. The Second Tier multiplies her base speed, strength, and healing by five times. The second tier causes a slight strain on her body yet can be used for about four hours with moderate pain, while the first can be used continously without stop. The third tier is one that multiplies the aforementioned traits by 10. This tier can be comfortably used for an hour and a half, but any farther than that and it'll feel like if she has ran twenty miles nonstop.

†

Earth Manipulation

- Active - This ability must be actively used by Min to have any effect. Using this ability, Min is able to manipulate the Earth and it's minerals to a limited degree. The massiver the part of the Earth she's trying to move, the more effort it'll take and the sloppier she'll get. As of the moment, she can move objects with four times her mass comfortably.

†

Adamant Shield

- Active - This ability allows for Min to consciously make a diamond-like covering over any part of her body. Min cannot move her joints if they are blocked by this covering and has to worry about the weight of the covering. She can, if she uses too much a time, immobilize herself and end up on the floor until she can remove the covering. It takes about 1-5 seconds to remove a covering depending on the size of the covering.

- Special Move:

†

Atlas' Vigor

- Active - This ability is a much more advanced version of

Gaea's Vigor

. This ability however, is actively used. When using this ability, Min's strength is upped by a factor of forty, her speed by a factor of twenty, while her healing is upped by a factor of forty-eight. Min can keep up this ability for a maximum of eight minutes and then loses the effects of this. After losing the effects of this, she'll pass out as she would have without having had the healing factor and will have the extra exertion cancelled out by her healing. This way, she'll only have to wait the time she'd have to wait normally to wake up and not have to rest as she would had she not had the healing factor.

-Secondary Area: Wind

†

Flight

- This ability allows for Min to move quickly through the air when she does not have her manuever gear, but is slower than the gear would be. .



[font=Courier New]| Weapons |
✔ Min uses two twin nearly-unbreakable blades as her main weapons.
✔ She has Two lightweight, P226 9mm x5 Level 1 Stainless Centerfire Big Sauer Pistols with Silencer attachments, in case her blades fail her.
✔ Mixed Martial Arts

| Likes |
♥ Mixed Martial Arts
♥ Warfare
♥ Comedy
♥ Anime & Manga
♥ Art


| Dislikes |
✖ Bullying
✖ Fear
✖ Reluctance to kill
✖ Madness
✖ Rock Music
---
---
| Personality |
Min, to many people, is a terrifying female that could probably beat them to a pulp. She, if she wasn't in the 'Medieval Club', would have joined the Martial Arts Team. She tends to scare most people with the serious and violent aura she gives off, but she isn't violent to people with no provocation. She can be terrifying if you anger or scare her, just don't do so and you'll be fine. Most of the time however, she's pretty awkward and nervous. If you try speaking to her and she seems to ignore you, she probably just doesn't know what to say and is internally panicking. She may speak coldly to you, but that's just her way of speaking. She gets average grades and tends to understand most subjects acceptably, but her intelligence is mostly centered on warfare strategies and tactics.
She has an understanding of the vehicles and weaponry used in warfare second only to Gabriel. She herself however, prefers to use swords to guns for the preciseness of swords and the fact that she can't use her strength with a gun. She does have a sense of humor and laughs at a lot of things, from corny to thought out jokes. She herself actually tries to tell jokes, but is honestly terrible at it. She absolutely refuses to explain any jokes she has told, meaning that you'll probably never get her jokes. She tends to be more casual when around people she's comfortable with, so you'll probably not hear her telling jokes unless you get to somehow be her friend. If you do manage to become her friend, you'll find that she's a loyal person at heart and will do nearly anything to protect those she's fond of.
Min is a neat and organized person that has a place for everything and can have a lot of her hard work destroyed by the simple changing of one thing.
Min doesn't use

Gaea's vigor

casually for speed, seeing as she'll probably fail at doing things with her increased strength getting in the way. She does however, use the ability when she needs to lift something heavy quickly and efficiently, not telling anyone she does so.
If you were to enter her old room, you would probably find mangas and anime neatly ordered on a shelf. This is due to her obsession with them, especially the ones including action and fantasy. IF you happen to like anime or manga, you could probably get her to open up to you easily without her even knowing.
| Theme Song |
Jiyuu No Tsubasa - Originally by Linked Horizon
---
---
| History |
---
---
---
❝Did you really think I was so sweet and innocent?❞
---
---
---
| Twelfth Duchess of Hell Azathoth |
| Gender |
Female
| Mage Type |
Wind
---
---
---
| Eye Color |
Normally blue, seems to be red on some occasions.
| Hair Color |
White
| Height |
5'6
| Weight |
Approximately 110-124
| Skin Tone |


Hampton

when in light
| Distinct Markings |
N/A
| Physical Description |
Azathoth, if she were to be described by most, would be called a short and non-threatening female with white hair on porcelain skin. Azathoth plays the part of a small, innocent, and weak human girl quite easily. She seems to lower her head and attempt to make herslef as small as she can, easily fooling most humans into thinking that she's harmless. When angered or when she gets bored of putting on this facade, a cold and calculating expression goes over her face. Contrary to what one would assume from her body, she is quick and strong.
Azathoth wears dresses as her clothing a lot of the time, but does change when the situation requires her to. She has two katanas sheathed on her left side and hidden from beings with no magical abilities. These katanas have small grooves on them allowing for a more aerodynamic design and are able to whithstand approximately 200 kN.
---
---
| Weapons |
✔ Two Katanas visible only to creatures with magical abilities.
✔ Industrial-strength wires, with small blades attached, capable of cutting through metal.

| Likes |
♥ Idiotic or foolish Enemies
♥ Genius or powerful Allies
♥ Battle
♥ Candy
♥ Music - specifically piano
♥ Sadism
| Dislikes |
✖ Rock and Roll
✖ Religion
✖ Messes
✖ Games of Luck
✖ Morality
✖ Self-righteousness
---
---
| Personality |
Azathoth, the twelfth Duchess of Hell, is a strange demon to say the least. She dislikes most of those who sell their souls to demons, and can tend to ignore even the best of deals proposed to her. She, most of all, hates religion and what it does to people, but can do little about it. If she were to stand against most of the prominent figures in the underworld, she would most likely be instantaneously decicimated by hordes of crazed demons. She does not however, only dislike the 'religion' of the underworld. She dislikes the religions of the self-proclaimed holy figures and detests their hyprocrisies. She detests that they could so blissfully kill in the name of their gods and call themselves 'heroes'. She herself however, does not pretend to be any better.
She is, if you couldn't tell by now, quite proficient in lying and does so easily. She pretends to be a small, innocent, and harmless girl to hide her slightly sadistic nature. When she gets angered or threatened, she reveals how she truly is and surprises a lot of the most experienced psychological experts. She does not waste time in her killing, she cleanly and quickly kills those she must without an introduction. Most of the time, the creatures she kills only hear the faint sound of a blade flying through the air before they're beheaded. Azathoth does however, tend to be a slightly over-bearing demon when it comes to matters concerining Min.
| Theme Song |
Special Death - Mirah
---
---
|Thoughts on Other Characters|
(To be Added as story progresses)
|Anything Else|
Min is bisexual
---