---
❝There's a crack in everything - that's how the light gets in.❞
---
---
---
| Full name |
Oralee Ilene Mahina Breslau
| Gender |
Female
| Age |
17
| Mage Type |
Light
| Rank |
U
---
---
---
| Eye Color |
Ocean Blue
| Hair Color |
Lily Pink
| Height |
5' 8"
| Weight |
112 lbs.
| Skin Tone |
Light Peach
| Distinct Markings |
Has a tattoo of two ''chibi'' wings on her back, centered in the middle, though up by her neck.
| Physical Description |
She is very tiny, almost fragile, carrying a crystalline look while she uses her powers. Naturally, she tries to avoid the stereotyping that she has at home, about being very dainty; she has given up, though, and carries on as if it doesn't exist. Though, she is still pale - her skin usually fades closer to marble, even when she is not channeling, and finds herself looking in the mirror to see a ghost.
Her hair is taken care of with volcanic ash, mostly something that she brushes off Akiari when her phoenix is re-born. (It's a horrid crime, but it keeps her hair nice). The pink is soft for at least two days after a thin coat of the ash.
Her eyes are usually watery, due to her over-reactions to everything and her raging emotions.
Mostly, she wears the same outfit because she's usually too lazy to wash anything more than the same thing (so has several pairs of the same outfit!), though she finds it is very comfortable to live in. The choker can get annoying easily, though, and sometimes ends up taking it off.
---
---
| Powers |
-Main Power Area:
†

Light of the Rising Dawn

- Can summon a large blast of light, in a circular area, giving blinding effects for a period of time. Also is known to cause the occasional fire, due to scorching heat.

†

Light of the Blessed Spirits

- Can summon either one, or multiple, Spirits of Light - to be offensive, defensive, healing, etc.

†

Lightning Storm

- Can summon a storm of light. This is often misinterpreted, as it tends to lean towards a lightning bolt with the ferocity and heat, but nonetheless is a storm of jagged bolts trying to kill people, it's all the same to her.

- Special Move:

†

Light of the Phoenix

- Can summon hailing showers of light. It lasts for a decent amount of time, unless ended by herself or her demon, and carries the same scorching heat of the sun.

-Secondary Area: Water

†

Moonlight

- This is actually a healing move of hers. It summons tiny sparks of light, like snowflakes, which circle around a person. It's a slow heal, but has saved many lives by using it, and requires little-to-no energy.

| Weapons |
✔ Amazing with a bow and arrow
✔ Proficient with daggers
✔ Mildly poor with swords, though retains better than the average person.
| Likes |
♥ Music - playing, discussing, listening, etc.
♥ Fighting to practice, or for real
♥ Being alone
♥ Pretending her troubles don't exist
♥ Summoning light spirits for fun; and hearing their excellent tales!
| Dislikes |
✖ Being in a crowded space for too long
✖ Being put on the defensive side, when it's not for healing
✖ Being put out of fighting entirely
✖ Someone damaging an instrument
✖ Someone who sings like a banshee
---
---
| Personality |
She is a loner, as she prefers. After being raised on the streets, she sees more of life for what it is; somehow retained her light powers through the whole mess, believing whole-heartedly that they would convert to shadow. However, she can socialize for small periods of time, being cheerful and happy when she is needed to be.
More often than not, she is seen alone reading a book, or doing something music-related. When she is not, she is either socializing with the bare minimum of people that she must, or practicing her fighting with Akiari.
| Theme Song |
I Sang Of Leaves - Tolkien Ensemble
---
---
| History |
She was abandoned when she was young. Not at an age that she could really fend for herself; fortunately, she knew that her demon, Akiari, existed. (Often times Akiari would hide from Oralee). Her parents had found that she was ''different''; often times, while eating her favorite food - (those cute little soldier cookies, with that chocolate on top!) - she would summon Light Spirits, thinking it entirely normal. And she saw them as her companion friends, at that age; why not, to summon friends? They left her on the side of the street, Akiari circling her with her fiery tail.
Akiari ended up becoming a large role model to her, and taking care of her for a while - stealing what she could (money, food, etc.) and moving Oralee from building to building, trying to keep safe. Akiari forgot about herself in the time, but she kept a good friendship with Oralee. The two both enjoy music, and Oralee finds that her demon's company is much more pleasant than others, preferring to keep ''to herself''. When they moved to the school, Akiari found a chance to find herself again, and has become the old whining pleasantry she started as.
---
---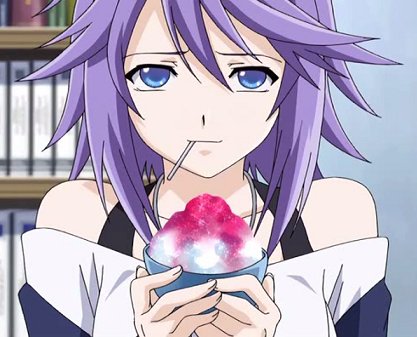 ---
❝Moonlight drowns out all but the brightest stars...❞
---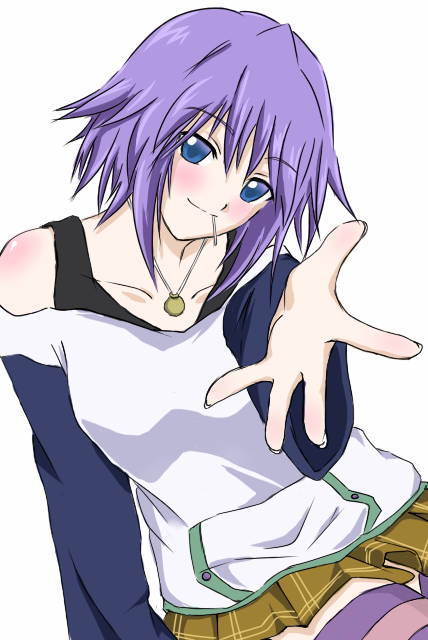 ---
---
| Full Name |
Akiari Laini Mizore
| Gender |
Female
| Age |
22
| Mage Type |
Fire
---
---
---
| Eye Color |
Blue/Purple
| Hair Color |
Violet
| Height |
Human - 6' 0"
Phoenix - 3' 0" (Prefers her phoenix shift)
| Weight |
Human - 138
Phoenix - 26
| Skin Tone |
Milky-rose
| Distinct Markings |
Wears a ''cat collar'' for Oralee. It helps her know where she is, hearing the light bell tingling; after all, when she's a phoenix (which she usually is), her flight is soft as a snow owl.
| Physical Description |
As a human, she is larger than most. She embraces this, being perfectly fine; since she rarely uses the body, she gorges on ice cream and sweets, hardly exercising. Which suits her fine; she hates lumbering around in the skin of a human, preferring the feel of fiery feathers to her skin. She knows that as a human, her dress is weird; she was inspired by cats when she was younger, and usually dresses in striped leggings due to this, wearing shorts and overly-large shirts. It's only to keep comfortable, Akiari says, but Oralee fears that one day she'll end up rolling everywhere, and will have to intervene with her demon.
When she is a phoenix, the collar is very annoying; she wears it only when they must, for adventuring outside, she prefers to be the hunter she always was - minus the burning of a building, every so often. Her feathers are usually not burning, but when she gets cold (which is very fast), they ignite to help her keep warm.
---
---
| Weapons |
✔ Cute, little, powerful fire crackers.
✔ Daggers, hidden up all of her sleeves.
✔ Ancient swords, carrying runes of cities.
| Likes |
♥ Music - A phoenix's voice is said to carry healing powers.
♥ Being alone. Especially alone. Not-with-Oralee alone.
♥ Caring for her "child".
♥ Flying as a phoenix.
♥ Staying warm.
♥ Eating. Especially eating.
| Dislikes |
✖ Being in crowded areas.
✖ Being a human for too long.
✖ Having to exercise her human self.
✖ Seeing her food be taken away.
✖ Going through the process of Phoenix re-birth.
---
---
| Personality |
She is very reserved. She stopped voicing a lot of her complaints some time ago, after being forced to turn into a motherly being; she learned that her life is very little, really. She sees open areas as a perfect space to fly in, and enjoys it, breezing her wings out - but prefers to ditch the bell. She loves her freedom more than food; she hates the cat bell dinging at her neck, but still wears it obeyingly.
Akiari lost her true personality after becoming a mother. Before, she was a reckless person, taking pride in the dangers of life and not looking to see what tomorrow held in store; she knows her ways, now, and does what is best.
| Theme Song |
The Eagles (feat Renée Fleming) - Howard Shore
---
---
|Thoughts on Other Characters|
She doesn't socialise enough, and has yet to form her own opinions.
|Anything Else|
Would trade nearly anything for a day of music.
---