---
---
---
---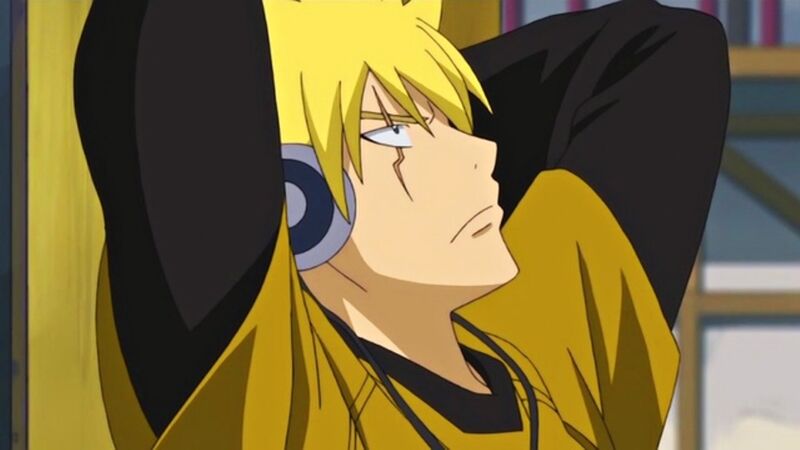 ❝Quote.❞
Normal ||
Bad Blood | Bastille
||
Fighting ||
The Fire that Burns Evil Hearts | Yasuharu Takanashi
||
Death ||
Anakin's Betrayal | John Williams
||
Angry ||
Amaimon | Kiroyuki Sawano
||
Out of Control/Insane ||
On the Precipice of Defeat | Shiro Sagisu
||
---
---
---
---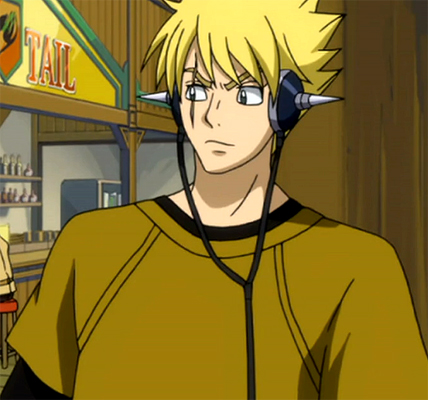 ∞ Full name ∞
Zachary Junhazard Reinhardt
∞ Alias ∞
Answer Here
∞ Age ∞
Seventeen, soon to be eighteen.
∞ Gender ∞
Male
∞ Sexuality ∞
Straight, Heterosexual
∞ Rank∞
Answer Here
∞ Occupation ∞
Student, full time. Keeper, Part Time. Captain of the Henry Jefferson High Fencing Team, Seldom
∞ Face Claim ∞
Laxus Dreyar, Fairy Tail
---
---
---
---
∞ Side ∞
Keeper
∞ Height & Weight ∞
Zachary weighs, approximately, 212 lbs, and stands 5' 10" tall. His build is stocky, with wide shoulders, but his muscles are lean. Zachary is in very good physical shape, which only makes sense, seeing as his main power area is Earth. His BMA (Body Mass Index), is roughly 5.4 percent, meaning that just about all of Zach's weight comes from muscle, there is very little bodily fat on him.
∞ Hair color ∞
Zachary's hair is a fantastic golden blond. His hair is shiny, and soft, but is very thick as well. He has a particular cowlick, making his hair stick up in the back.
∞ Eye color ∞
Zachary's eyes are brown, however, when he uses his powers, they change to a shiny, steely grey.
∞ Distinguishable Facial Features ∞
Apart from the lightning shaped scar over his right eye. Zachary sports no odd facial features.
---
---
---
---
∞ Likes ∞
♥ Physical Activity, all forms of it.
♥Cute things, but it's supposed to be a secret
♥Juice after "playing" (fighting) as he calls it.
♥ His friends.
♥ Being warm.
♥ Sweet things (candy, chocolate, etc.)
∞ Dislikes ∞
✖ Being Lazy.
✖ People underestimating him.
✖ Spicy things.
✖ Coffee. (even though it's warm it's bitter, gross!)
✖ Being cold.
✖ People who disrespect their families and peers.
∞ Talents ∞
✔ Swordsmanship. Zachary is an expert swordsman, and is vastly superior at using such weapons to his peers. His innate knowledge of swords make him equally good at using them and defending against them. His knowledge of swordplay is vast, and he is proficient in many styles and disciplines of swordplay, from the eastern styles associated with the katana, to the whirling dervish like styles of the scimitar.
✔ Hyper-Speed Combat. Due to the nature of his Ultimate Skill and his own brand of swordplay, Zac has become very used to fighting at extreme speeds. The movements of opponents occurring at normal speed, slower than sound, almost appear to be happening in slow-motion to Zachary.
✔ Zachary is, lastly, incredibly proficient at Earth based magick. It is his area of focus, however, as a Reinhardt and due to the nature of his contract with the Earth, Zachary is vastly more prodigious at Earth and Metal based magicks than a Keeper of similar age and experience.
∞ Hobbies ∞
✔ Fighting.
✔ Napping.
✔ Being with his friends.
∞ Flaws ∞
✘ Stubborn.
✘ Rash. Prone to overreacting.
✘ Excessively Loyal.
✘ Hasty. Prone to acting without thinking.
✘ Proud. Prone to underestimating his opponents.
---
---
---
---
Main Power Area:

Earth. His ability allows him to form the earth around him into steel swords. He can transmuteany rock, sand, dirt, etc into steel and then shape it into a sword relatively quickly (think Fullmetal Alchemist, he usually just pulls them from the ground and they do follow equivalent exchange/conservation of matter, meaning there will be a chunk of earth missing from the spot he's taken a sword from). The transmutation itself has to happen directly next to him, he can't pull a sword out of the ground way the heck away from him and then have it fly to him. He cannot transmute man-made polymers or other substances to steel. However, can manipulate available metal. Should the latter take place, Zachary's weapons or armor will only be as useful as they could be with that metal. For example, gold is a very poor choice for weapons and armor because it is soft and weak, titanium would be a very good choice because it's very light but is stronger than steel. Further, the weapons Zac makes from this ability are able to be controlled via his thoughts. However, the more he has and the larger they are, the harder it gets for him to keep track of them and control them so he usually limits himself to juggling 8 mid to small sized weapons. He could, simply, pull any number of swords out of the ground at once, and just throw them at a target, but he is still only capable of keeping 8 swords immediately next to him for use as close-quarters weapons at once. The swords Zac makes can have different shapes and styles. Meaning, he doesn't just need to create long swords. He can do rapiers, falcatas, daggers, and any other bladed weapon as long as he's seen it and knows how to use it. The swords have a range of about 150 feet, meaning he can pick them up from or shoot them roughly that far. His abilities are mostly combat based, he can't do very much with them out of combat.



Special Move:

Infinite Boneyard. Zachary summons an unknown, though visibly massive, number of blades of differing shapes and sizes from the ground and uses them to fight. In this state he can control many more blades than he usually could, he's picked up 6 at once without really trying he could probably max out around 68 at once. However, he cannot create any new blades. He has to work with what he's got. However, he is also capable of combining any amount of swords he wants into a single sword. The more swords that are combined in this manner, the sharper and denser the resulting sword will be. This does increase the sword's overall weight, but while Boneyard is active, Zachary will always be able to lift it, due to the nature of Boneyard's control over the swords themselves. If anyone other than Zachary touches one of the blades summoned in this manner, with the intent of catching it or using it against Zachary, its handle latches on to the thief, presumably by the hand, and then the weapon fractures and branches out into a giant spiked ball which will crush or impale whoever attempted to use it. The swords he creates in Infinite Boneyard are the only ones with the, "anti-theft" device. Meaning the regular swords he creates normally aren't booby trapped. If he runs out of swords early, meaning if they break or have their "anti-theft" device go off, the Boneyard will terminate. However, it's never happened before and probably never will.

After Zachary's four month intensive training session with the council member known only as Master Horatio, Zac's magic and fighting style have changed ever so slightly. He's become more fluid and proficient with both chain casting, and combat magic itself. Zachary no longer needs to chant for his spell casting, and he can cast multiple spells simultaneously. While he still focuses on swordsmanship based combat, Zac's ratcheted it up a few notches. For example, Zachary has become capable of extended Hyper-Sonic Combat, with a spell of his own creation. His massive reserves of raw magical power can fuel hugely increased strength, speed, and reaction time for as long as his body will hold up against the forces being exerted against it. Zachary has become very close to the Earth, and can call upon it to help him in battle with much more frequency and responsiveness than before. Further, he is much more adept at using elemental energies that aren't Earth based. He's particularly fond of using lightning and fire based magicks alongside his already strong metal and earth based spells. This combination has led to a development of a Pseudo-Secondary Ultimate skill. By combining his new-found strengths of metal control, electricity, fire, and earth transmutation, Zachary can suck up nearly anything made from the earth and transmute it into a massively dense, super-heated orb of steel that he will form into a projectile attack he calls the, "God Killer's Spear". When thrown, the spear creates a massive explosion, capable of destroying up to 8 acres of dense, old forest utterly and completely. Zachary can use this ability up to three times a day, but no more than that. If he attempts to create any more after the third, he will be putting his life in danger.

Accordingly, after Zachary's four month training session with his Master, the quality of Zachary's Boneyard is now slightly different. When Zachary casts Infinite Boneyard, his body takes on the properties of Titanium, though it doesn't actually become the metal. He becomes harder than steel, by a long shot, but simultaneously his body's density diminishes. This allows him to accelerate his body to supersonic speeds without succumbing to the air pressure. Further, for the duration of the Boneyard, Zachary's strength, speed, reaction time, and dexterity are massively increased, roughly double the amount provided by his Hyper-Sonic Combat Augmentation spell. This increase would stack with the increase provided by his Hyper-Sonic Combat Augmentation spell, however, the resulting damage to Zachary's body is much more severe should these two be combined. The raw force exerted on his body by the air pressure alone would kill him, if not for the increase in his body's durability, as provided by the Boneyard. Further, depending on how long Zachary keeps both effects active, the drain on his own life force could kill him. This combination, while massively powerful, would easily double the amount of time Zachary will need to recharge after casting the Boneyard. It would also, of course, result in a temporary comatose state during which time Zachary will be both completely unresponsive and unconscious.
---
---
---
---
∞ Personality ∞
Answer Here
∞ Romantic Interest ∞
Pitt, his own demon. Jury's still out on the implications of this union, however, the secret is, for the most part, well kept.
∞ Family ∞
Zachary's Father, Malcom, is estranged from him, however, they are still family. It is from his father that Zachary inherits the legendary powers of the Reinhardt family.

Zachary's mother, Angela, is human, however, this has done nothing to diminish Zachary's powers. She has had her memory altered in regards to the existence of keepers, and is now living apart from both Zachary and her husband.

Zachary's grandparents, on his father's side, are the legendary Georgia and Leonard Reinhardt. They were both especially powerful Earth Keepers, and are most famous for slaying the Cerberus, a giant, three-headed Hellhound. Zachary's mother was killed in a fight with the Messenger of the Dragon Kings, and the grief from her passing drove Zachary's grandfather insane. He passed away a few years after his wife's death, when Zachary was 15.

Lastly, Pitt, his demon, is someone Zac considers the closest person to his heart. He loves her romantically and deeply, and has considered her his family since the day they met.
∞ History ∞
Zachary was your stereotypical future jock. He was born into a house of two parents who loved each other very much and were relatively successful. He was an only child, though he's always dreamed of having siblings. He spent his days playing outside, getting dirty and into trouble, and visiting his grandfather whenever he could. Zachary had a wonderful relationship with his grandpa. He would always go over on the weekends to spend the night, and his grandpa would watch movies with him, play with him, and generally dote on his only grandson. HE always told Zachary the same story before he went to sleep:

"From the beginning, there have been creatures, both dangerous and friendly. And there have been those who have been chosen to defend those who matter and annihilate those who pose a threat. To keep the world in balance, there must be those who protect secrets. Those people are called The Keeper's. They are the ones who must conserve and protect the second world...."

Zachary never heard past that part, he always fell asleep before his grandfather could finish. But one night, the last night Zachary would ever see his grandfather again, he stayed awake for the whole story. He was shocked to discover that it went like this:

"From the beginning, there have been creatures, both dangerous and friendly. And there have been those who have been chosen to defend those who matter and annihilate those who pose a threat. To keep the world in balance, there must be those who protect secrets. They are called The Keeper's; they are the ones who must conserve the second world. The Ruinosus have been around since the dawn of time, trying their hardest to take what they think is rightfully theirs, the world, and turn it into a surface hell. Though they are strong, the Keepers are stronger. From Mongolian Deathworms to Shadow People, from The Four Dragon Kings to the Drac of Romania, there are many different types of monsters, both weak and strong. Different monsters have different holds on the world, to keep it balanced and well. But if they are influenced in the wrong way, their grips will loosen and all with fall, inevitably bringing an end to the world. Not all creatures are under the influence of the greater good, and are under the black wings of the Ruinosus. Under the surface of the earth, there is a battle waging back and forth between the dark and the light, between Keeper's and Ruinosus', between order and ruin. The Ruinosus have a way of persuading, and now they are getting more and more over to their side, to come forth and fight. The Keepers are up for a challenge they might not be able to face on their own. They need strong and brave little boys, like you, to defend our world from the machinations of the Ruinosus."

The next day, when he told his father the amazing story his grandpa told him. His father became very angry. He threw a massive fit, yelling at Zachary and his mother. He left their house for several hours, slamming the door as he went. When he finally came back, he told him that he would never visit his grandfather again. Since then he's grown up normally. He had a normal life and completely forgot about his bedtime story. Until he was 11 years old. He woke up one morning to find Pitt sitting on his chest. The stereotypical and very much cliche situation unfolds, and Pitt tells him he is a Keeper and she picked him because his magical power matches the best to hers. She said they'd be together for a long time. Zac, who'd never had any siblings, latched onto Pitt immediately, thinking of her like a younger sister. When he told his father what had happened, and about Pitt, his father cried for hours. When he finally regained his composure he told Zac why they never went to visit his grandfather anymore. Long before Zac was born his father, grandfather, and grandmother were a team of Keepers that worked together. They were a very successful team. That was until their last mission. Zac's grandmother died. His grandfather went slightly crazy with the grief and had planned to use Zac as a means of redemption. If he could raise a Keeper strong enough to beat the monster that had slain his grandmother, that everything would be ok. His father, on the other hand, vowed to never take up the mantle of Keeper again. So, Zac's father tried to raise Zac to be a normal boy. He did so by sealing Zac's magic with a powerful spell. However, Zac's lineage couldn't be denied. At the age of thirteen, Zac finally met his demon, Pitt and became a true keeper. He ran away from his father's house after learning what he'd done. Zac was immediately sent to Henry Jefferson High because that is the place where Keepers are taught. He left as soon as he turned 15. He hasn't been home since. His father moved and began a new life and his grandfather died. Zac's mother has never been heard from after he left her house for the dorms. She left Zac's father after she found out he was a Keeper, however, it was still a safe place for him to stay while he waited the two years required to go to Henry Jefferson. His mother's memory has most likely been wiped again, Zac doesn't know or care, she was a terrible mother to him. Pitt and his grandfather's spirit are the only family that matters to him. Every December 26th Zac will become somber and much less energetic than usual. The next day he'll skip class and go visit his grandfather's grave.
---
---
∞ Demon Information ∞
---
---
∞ Name ∞
Pitt
∞ Appearance ∞
While Pitt was still restrained by her seal, she appeared to be a something like a wingless fairy. She was blonde, had brown eyes, and stood about six inches tall. She was still very physically attached to Zac, mostly due to her stature. Her body was frail, and weak, which made Pitt prone to napping. Thanks to the Intercession of the Earth, the Bindings placed on her and Zac were finally removed for good and her true form was revealed. At first, she appeared to be a five year old girl. She was still very attached to Zac, due to her stature, but her hair color changed to red, and her eyes lightened, and became more auburn. Thanks to their four month training session with Master Horatio, Pitt and Zac trained intensely. Because of this, Pitt grew to her full size and power. She now stands just under six feet tall and is as developed as a twenty year old woman. Usually, she wears your average, everyday clothes, though she prefers the freedom of movement that skirts provide. She likes to dress smartly, as if to make Zac look even better, just by being next to him.
∞ Abilities ∞
Main Power Area:

Light. In combat, Pitt is very powerful. Her main ability to change whatever arms and armor she is currently using with any of the arms and armor that she has stored within a special closet within her and Zac's Wardrobe. This is, essentially, long-range teleportation of an object(s) from within her wardrobe onto her person and back again, if necessary. Her closet has a special seal inscribed on the floor, allowing her to access anything within her closet without taking all of it at once. Essentially, she can pick and choose any of the arms and armor from her closet, and transport them onto her body at will. This ability functions at any distance from the wardrobe, although it does become harder the farther away she is from the wardrobe. While this ability is very useful in combat, it is very challenging to use. She always has to be aware of everything within her closet, she becomes vulnerable for a brief moment while one armor vanishes to make room for the other, and she has to remember which armor is good for which situation. She, much like Zac, focuses on close-quarters combat, and has taken to his use of Hyper-Sonic Combat. This speed, coupled with her ability to change out her arms and armor at a near instantaneous speed, allows her to maintain constant forward momentum while fighting, as she can always have whatever she needs to fight. This ability, much like her master's, is almost useless when out of combat.
∞ Personality ∞
Pitt, unlike Zach, is very lazy. Further, she is still getting used to her new form and is constantly tripping over things. It takes a lot of work to get her going in really any direction whatsoever and actually make it to her destination. Surprisingly, she gets very riled up very easily if she argues with Zach, which she does quite frequently. She likes to spend most of her time lying on top of Zach's head and whining at him to think of something to do. This is much sillier since her size has increased dramatically. However, their banter hasn't changed. He'll often suggest something she's very interested in, but then she'll still complain that it's too hard and continue to be lazy. More often than not, she has very extreme reactions to anything Zachary says, causing him to freak out and knock her off of his head. This will create a pointless argument that the two will pick at four hours if left unmolested. She's also very ditzy, but she isn't stupid, she's not even naive. She mostly just puts on the act so that no one will ask her to do anything hard. However, the second Zachary or any of his friends enters a crisis situation, she drops her unhelpful attitude like a bad habit and snaps into being incredibly helpful. She'll often come up with a course of action on the spot and will not stop giving advice and encouragement until Zachary is out of danger. At which point, she will immediately enter lazy mode and not move unless it's time to eat.
---
---
∞ Other ∞
None as of yet. More will be added as needed.
---
---