---
---
"If you can't beat 'em, well, don't join them either!"

Face Claim ♦ Izumi Reina {Musaigen no Phantom World}

Dialogue Colour ♦

#4EEE94


Thought Colour ♦

#AEB05D



「表裏一体」Hyori Ittai | ゆず


---
---

♛
♛
♛
♛
♛
♛
♛
♛
♛
♛
♛
♛
♛
♛
♛
♛
♛
♛
♛
♛
♛
♛
♛
♛
♛
♛
♛
♛
♛
♛
♛
♛
♛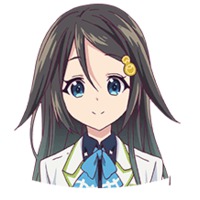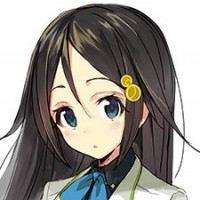 ~Full Name~
Kimura Shiori || 木村 栞
~Nicknames~
Shiorin || What she asks people to call her
Shiori-chan || Friends
Shi-tan || Family
~Age~
19 / Nineteen
~Birthday~
November 22nd
~Gender~
Female
~Sexual Orientation~
Heterosexual
~Nationality~
Japanese
~Species~
Pure-blooded Ghoul
~Allegiance~
CCG
---
---

♛
♛
♛
♛
♛
♛
♛
♛
♛
♛
♛
♛
♛
♛
♛
♛
♛
♛
♛
♛
♛
♛
♛
♛
♛
♛
♛
♛
♛
♛
♛
♛
♛
♛
♛
♛
♛
♛
♛
~Hair Colour~
Brown
~Eye Colour~
Blue
~Appearance~
Shiori stands at a height of 157cm, and weighs in at 46kg. She has a slender, almost fragile, looking body and fair skin, which draws out the intensity of her blue eyes. Her hair is long, reaching down past her waist. It seems to get lighter as it goes, fading to an almost grey colour at the tips. Her big blue eyes, framed with thick black eyelashes, have a certain sparkle to them. This, paired with her small face and flushed cheeks, gives off the impression of an immature youth, and she is often mistaken for a girl of school age.

Shiori is usually seen with a wide smile on her face. She has a childish spring in her step, even when the occasion doesn't necessarily call for it. Her young appearance often causes people to talk down to her. When she's serious, however, you can tell. Shiori walks tall and with purpose, her eyes looking straight ahead towards the horizon. Often when she's very angry, she'll fix everything and everyone with a piercing glare. She usually doesn't reach this point though, so the majority of the time she's just cheerful and silly.

Shiori has made a habit of collecting school uniforms, especially the ties. She's on a quest to find the most impractical school uniform in Japan -- she even has a blog about it. Most of the time she doesn't actually wear them, at least not all together. She likes to wear the school skirts and socks, but wears blouses and tops for adults. Sometimes, due to her height, she has to shop in the children's sections of shops, but she's actually glad about it because the clothes are way cheaper than adult clothes. Despite her strange choice in clothing, she's actually quite stylish --- the way Shiori mixes and matches can make a usually plain outfit look amazing. Most of her formal clothing is sewn by her, since she can't afford expensive dresses. Her shirt or blouse is always un-tucked in case she needs to slip out her kagune in an emergency.
---
---
♛
♛
♛
♛
♛
♛
♛
♛
♛
♛
♛
♛
♛
♛
♛
♛
♛
♛
♛
♛
♛
♛
♛
♛
♛
♛
♛
♛
♛
♛
♛
♛
♛
~Kagune Type~
Bikaku
~Kagune Description~
Two thin tails that extend from her tailbone, only conjoined at the very top, while the rest is separated. These can be used akin to whips. At the tips of each tail are multiple feather-like points, which can be hardened into spikes, at the loss of versatility due to the weight. The spikes are able to rotate like an electric mixer, but the kagune cannot be swung around when the spikes are rotating. Usually Shiori uses this once the kagune is already inside the victim, and then grinds up their organs.
~Mask~
A handmade golden mask of a coyote, made from leather, with holes for the eyes. The ears expand upward, while the snout extends over past the nose, leaving the lower half of the face exposed for ease of eating. There are intricate swirls on the mask itself, along with black outlining around the eyes and ears.
---
---
♛
♛
♛
♛
♛
♛
♛
♛
♛
♛
♛
♛
♛
♛
♛
♛
♛
♛
♛
♛
♛
♛
♛
♛
♛
♛
♛
♛
♛
♛
♛
♛
♛
♛
♛
♛
♛
♛
♛
♛
♛
♛
♛
♛
♛
♛
♛
♛
♛
♛
♛
♛
♛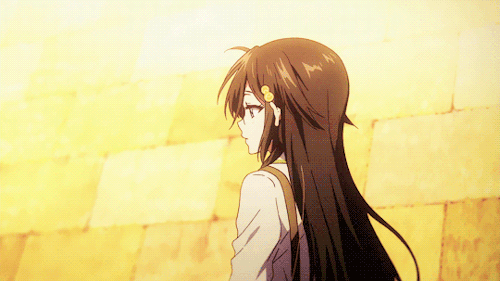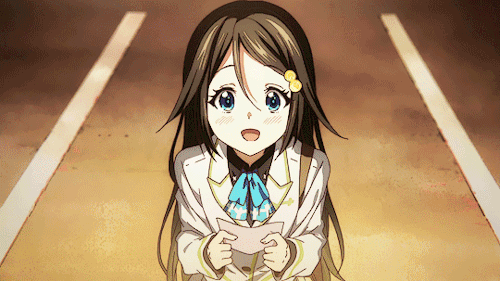 ~Personality~
[Selfish, Resourceful, Adaptable, Playful]
Shiori is a very clever young woman. She knows what she wants, and will do whatever it takes to get it. She's an opportunistic go-getter, who will see an opening and pounce on it. She's spunky and determined, ready to take on the world. Her raw drive is the very epitome of youth. However, she knows when to change her attack. She might be ambitious, but Shiori isn't stupid -- she can see when something is beyond her. So she'll find another way. She's creative and resourceful, finding loopholes and bending rules to get her way. Even when things don't work out in her favour, Shiori will bounce right back. She's cheerful and playful no matter what the situation, and is always up for fun and games.

Some people underestimate just how far Shiori will go to get what she wants. She's willing to become a criminal if it means she gets something out of it --- after all, she already is one, being a ghoul, so what is there to lose? She will throw anyone and everyone under the bus if that's how the tables must turn, and in turn she trusts nobody to be loyal to her. Iit's not that she's eager to betray, she just does so when she has something to gain. It doesn't necessarily mean she doesn't care about anyone, but rather she cares about herself more. She doesn't let herself really get close to people for this reason -- in case she needs to betray them in the future. Shiori works for herself, and only herself -- but the one person she will never betray, and the only person she truly trusts, is her older brother.

Seeing as she only eats properly once a month, Shiori likes to get a bit creative with her meals. She doesn't play with her food, she ends them nice and quickly. She cuts them up and brings them home, and then likes to imitate food that humans would eat -- but for ghouls. She enjoys playing chef, as it makes her feel just a little more human. Some would say that it's cruel and sadistic, but she enjoys it.

Shiori sees humans rather like pets. Most of them are so cute and innocent, with a few rabid weirdos as well. She thinks of them quite like humans think of puppies -- adorable and amazing, but not to be taken seriously. She wishes she could be like them, not having to worry about anything other than school and jobs. Really, she sees anything without a kagune this way, which is why she does respect the CCG as equals -- after all, they have quinques, don't they?

Shiori has a rather developed sense of adventure. She doesn't like being bored, and tends to do a lot of strange, dangerous things for the sake of entertainment. For example, once she slipped a little bit of human meat into her friend's meal to see if he'd notice (he didn't). She can sometimes get a bit overconfident with this, but her risks have yet to backfire. She really just likes anything that gets her adrenaline going.

Despite her overly-chirpy manner, Shiori is very sharp and clever. Her resourcefulness is impulsive, it just comes naturally to her. She's smart, but sometimes she fails to assess and react to a situation properly and gets cocky. One of her greatest strengths is her ability to just trust her instincts.
---
~Quirks~
⚜
Giving everyone nicknames
⚜
⚜
Collecting school uniforms
⚜
⚜
Making meals out of human flesh
⚜
⚜
Hums and sings constantly
⚜
---
~Likes~
⚜
Humans - They're cute, clueless and so lovable! She just wants to squeeze them to death.
⚜
⚜
Cooking - Even if it's just two ingredients --flesh and coffee -- She enjoys trying to get different flavours out of them.
⚜
⚜
Coffee - For her, coffee is a link to the minds of humans. This is the sort of stuff they drink, and she can see why.
⚜
⚜
Making Friends - By now, she's mastered the ability to not get too attached to people, so there's no problem with it. It's fun, and besides, there's strength in numbers, right?
⚜
---
~Dislikes~
⚜
Easy Things - She likes a challenge. Easy activities are simply boring.
⚜
⚜
Mentioning her family - Except for her brother. She's still on bad terms with the rest of them.
⚜
⚜
Hesitance - People who doubt themselves are just silly. Risks make the world go round, so why can't they just go ahead and do it?
⚜
⚜
Clingy People - Seeing someone who's that attached to you isn't even cute, it's just pathetic. They need to learn how to live on their own.
⚜
---
---
♛
♛
♛
♛
♛
♛
♛
♛
♛
♛
♛
♛
♛
♛
♛
♛
♛
♛
♛
♛
♛
♛
♛
♛
♛
♛
♛
♛
♛
♛
♛
♛
♛
♛
♛
♛
♛
♛
♛
♛
♛
♛
♛
♛
♛
♛
♛
♛
♛
♛
♛
♛
♛
~Family~
Mother | Kimura Nagisa, née Akinori | 43 | Living
Father | Kimura Kousuke | 44 | In containment (for 6 years)
Elder Brother | Kimura Daichi | 21 | Living
Stepmother | Kimura Kayo, née Tachibana | 37 (at time of death) | Deceased
Stepsister | Tachibana Nanako | 11 (at time of death)| Deceased
Half Sister | Kimura Mikoto | 0 (at time of death)| Deceased

~History~
Shiori was born in Otaru, a city on the northernmost island of Japan, Hokkaido. She lived there peacefully with her mother, father and elder brother. Her mother, a wild, strong woman, would hunt for the whole family. Her father, a charming guy, would stay at home and take care of the kids. After 8 happy years of her family all together, Shiori's home life began to fall apart.

Nagisa, always a free spirit, wanted a divorce. She felt she was meant for more than a port city on an island, and so, after a year, when all of the paperwork had been worked out, she left for America. Shiori's father, however, didn't take this well -- he blamed his wife's absence on the children. If it wasn't for them, he could have gone with her, if it wasn't for them, they wouldn't have had to settle down, so he told himself. Soon enough, however, he entertained himself with a new wife -- a human. Shiori and Daichi were angry of course, trying to warn him about how dangerous this was, but he didn't listen.

They had a new stepmother and a stepsister, and their father was more distant than ever. It was like a civil war, with Shiori and her brother on one side, feeling resentment towards their parents for abandoning them, and Kousuke on the other, angry at the kids for taking his beloved wife away from him. The two humans in the family found themselves caught between this tension, and Kayo started to regret her decision to marry this man. It was too late, however, as she was pregnant with a child. A half-ghoul, half-human child. Kayo and Nanako had no idea the consequences of this, while Shiori and Daichi were disgusted with their father for allowing such a thing to happen. Shiori, though, was secretly hoping that her little half-sister would come out okay, that she would survive. She had always wanted a sister, after all.

The birth didn't turn out the way she had wanted, however. Kayo died in labour, along with the stillborn Kimura Mikoto. Kousuke, not exactly grief stricken, didn't particularly care. In fact, he had wanted to eat the woman he had claimed to 'love', along with her child. Daichi, deciding that enough was enough, managed to out their father to the doves without revealing himself, getting Kousuke locked up in Cochlea. For almost a year, Shiori, Daichi and Nanako lived on the streets, unable to get food. Occasionally they would get food or money out of pity from strangers, but Nanako was the only one who benefited from that, as the two ghouls were too weak from hunger to even try to hunt. One day, she finally reached her limits. At night, as Nanako slept, Shiori made her very first kill -- her stepsister. Once she was certain she was dead, she called her brother, and together they ate their first meal in months. They know that they would have died if not for that sacrifice, but it still haunts both of them to this day.

Daichi somehow managed to snag himself two part time jobs, and rented a small apartment in Tokyo. They were able to pay to give Shiori an education, and when she got home she would try to teach her brother what she learnt. It was when she started going to school that she realised just how detached she'd become with people -- she felt above them, and was incapable of forming long-term bonds with any of her 'friends'. There was a block, a disconnect in her mind between herself and them. 'This is for the best' She told herself, not wanting to let herself grow close to anyone again.

Time flew past, and soon the siblings were adults. Shiori, at the age of 18, found herself scouted out to work for the CCG. It seemed like everything they offered her was perfect -- she had pay, she got food provided for her, and she didn't have to worry about being sent to Cochlea. So she accepted. Soon, a threat began to surface called Shinku Fang, and she got put on the team to try and stop them. Pretty fortunate for someone looking for excitement, huh?