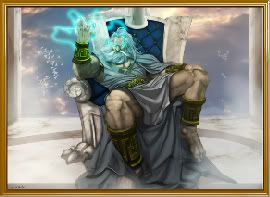 Father of Gods and Man - God of the Sky, Lightning and Thunder
"Even the gods who are not his natural children address him as Father, and all the gods rise in his presence" - Walter Burkert (Illiad, book 1.503;533).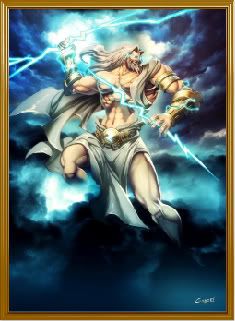 Aliases
Zeus, King of the Gods, Father of Gods and Men, Jupiter, Tinia, cloud-gatherer, Dios, Zeus Olympios, Zeus Panhellenios, Zeus Xenios, Zeus Horkios, Zeus Agoraeus, Zeus Aegiduchos (Aegiochos), Zeus Meilichios, Zeus Tallaios (Solar Zeus), Zeus Labrandos, Zeus Agamemnon, Zeus Velchanos Zeus Lykaois Zeus Meilichios, Zeus Chthonios, Katachthonios, Plousios, Trephonius, Zeus Hospites, Zeus Philoxenon, Olumpios, Astrapios, Bronitos, Kasios, and Ithomatas.
Basic Appearance
Zeus tends to dwarf the other gods as he stands like a mountain with flowing hair as white as the clouds and a full stach and beard. He wears no armor but the armguards upon his forearms which assist in his ability to produce lightning from his hands. He wears flowing battle skirt and sandals that weave up his solid calves. He resembles the father and king he is always protrayed to be, and eminates a presence of power, fear, and divinity. His hair and body bears a gentle celestial glow and his eyes are pure white and will often crackle with electricity.
Background
: [
nutshell
] Brother to those above, father to those below, victorious in the Titanomachy and Gigantomachy, slayer of several giants and people, punisher, man whore, and is now King of the Gods because of a pulling of straws. Zeus assigned the various gods their roles.
Personality
: Zeus, if ever needing to be in god form is often serious and warm. He is easy to befriend and also easy to offend. He demands respect from everyone and everything, and he always enjoys his women. Whenever important matters need to be discussed, he'll summon all the gods of Olympus to meet with him whether for ceremonies, marriages, or war. When in battle he is ruthless, taking his fights seriously, and vigorous with determination. His relationship with his children goes: He gets along with everyone even though Ares is the oddball and often disliked. He sympathises with his son and can always come talk to "dear old, Dad." The other oddball god, his brother, Hades he doesn't see much but when he does, he's always glad to see him despite his cold and reserved attitude. He loves all the gods (especially Aphrodite, ssh.)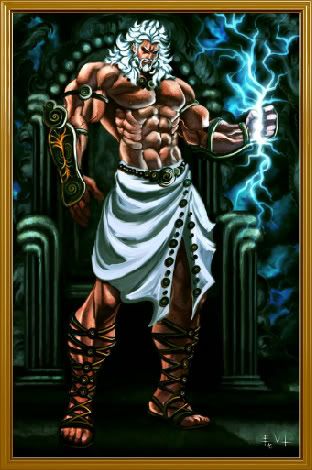 Most Prized Possessions
: Thunderbolt and the throne of Olympus.
Possessions
: Thunderbolt, bronze chariot, throne of Olympus.
Patrons
Cronus and Rhea
Other Patrons
Amalthea, Adamanthea, Cynosura, Melissa, and a shepherd family.
Wives
Aega, Aegina, Ananke, Antiope, Callisto, Carme, Danae, Demeter, etc. TOO DAMN MANY!
Siblings
Hades, Poseidon, Demeter, Hera, and Hestia.
Offspring
Aphrodite (or in some cases no), Apollo, Ares, Athena, Artemis, Dionysus, Hebe, Helen, Hephaestus, Heracles, Hermes, Minos, the Muses, Persephone and Perseus. Also, TOO DAMN MANY!
Symbols
Thunderbolt, eagle, bull, oak, and scepter.
Domain
Mt. Olympus
Weapon(s)
: Thunderbolt and Brute Strength
Powers
:
Lightning - he controls anything that has to do with lightning including, electricity, static electricity, electromagnetism, etc. This also include machines and anything electrical.
Thunder - pretty much the control of sound, where he can make thunder claps whose waves and vibrations can destroy anything in its path and cause warriors to shit their pants.
Strength - He is the epitome of strength. He gave birth to it. His godly prowess is near boundless.
Cloud & Wind Manipulation He can draw the clouds together to generate rain, fog, or mist. He can call upon the winds to amplify the ferocity of the storms he brings.